Rotary Club of Hungerford

Home | Membership | 25th Anniversary members' photograph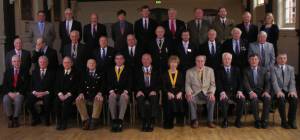 As part of the 25th Anniversary of Charter, the club arranged a group photo of current members in January 2012.
Please note... this is a temporary photograph. A much better quality one follows soon!
Front row from left: Dr Hugh Pihlens, David Small, Allan Snook, Ray Stebbings, Nick Fritz - Senior Vice-President, David Wallis - President, Annabel King - Junior Vice President, David Liddiard, Eric Smith, David Howard, Mike Hancock.
Middle row: from left: Bill Brown, Bruce Mayhew, Ron Rowland, Graeme Sleeman, David heather, Mikde Doward, Mike Clarke, Keith Haddrell, Geoff Adams, Tom Knibbs, Veronica Bailey.
Back row from left: Alistair Taylor, Llyn Robins, Robin Kellow, Dr Jerry Bray, Dr Alex Anderson, James Brown, Tony Cornick, James Podger, Dr Barry Kempton.
Missing were Norman Sinclair-Baines, Alan Staddon and Myles Young.