Rotary Club of Bodmin

Sat Jul 14th 2012
Bodmin Rotarians supporting this event - 100km walk across the South Downs.
FINISHED Sunday am - Walking time 25.44hrs - Fantastic !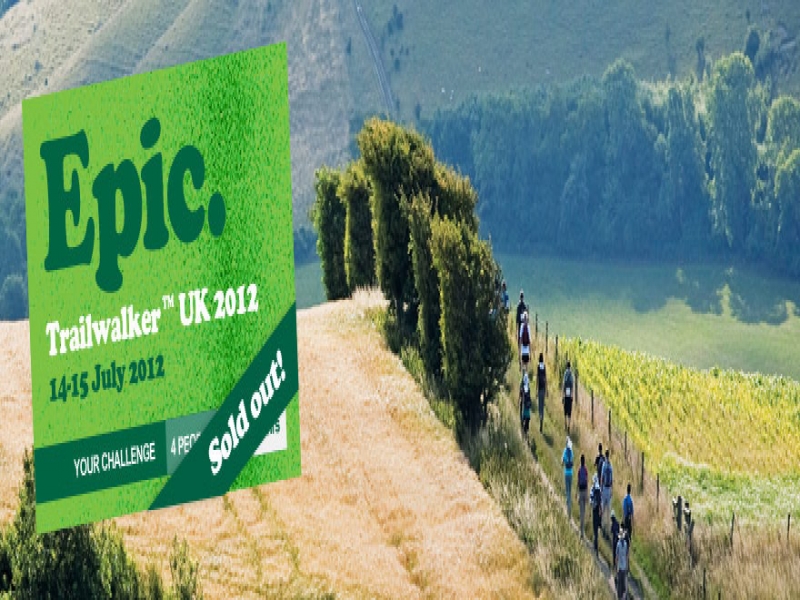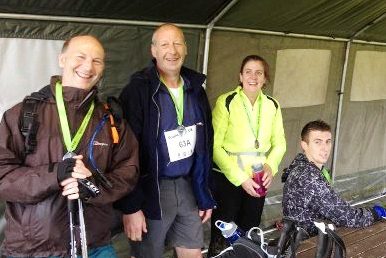 FINISHED Sunday am - walking time 25.44hrs - All well except a few sore feet !
Congratulations to the team: Colin, Phil, Wendy & Robert. - Thanks to the support team: Martin & Matthew.
The 'Trail Walkers' 100km walk started Sat. 14th 7am - despite the thunderstorm !
The challenge was supported and organised by the GURKHAS - 2000 walkers took part in teams of 4 - Walk started by the Gurkhas as a training exercise over 30 years ago.
The 1st team were QGS "A" (Queens Gurkhas) Time taken 10.54hrs (Ave. speed 6mph - double normal walking speed ! )
<>
<< Press Report - Non-stop trek challenge >>
Eight people from Bodmin who trekked 100km non-stop in atrocious weather have raised more than £4000 for charity.The money raised on the Oxfam Trailwalker Challenge on the south Downs in Hampshire and Sussex will be split between Oxfam and the Gurkha Trust. Four of the walkers from Bodmin were Phil, Robert and Wendy Bullen and town councillor Colin Bell.
Colin Bell said they finished the walk from near Petersfield to Brighton in 25 hrs 44 mins. "The weather was appauling; it was just so wet and muddy" " It was a pretty tough challenge and I have the blisters to prove it"
Cornish Guardian 27/7/12
'Trailwalker Challenge' July 14-15th
Petersfield to Brighton, Across the South Downs - 62 miles – 30 hours or less. Team of four.
Supported by Bodmin Rotary Club: (see below for donations)
Bodmin Rotarians taking part: Phil Bullen, Colin Bell and Phils wife Wendy & son Robert.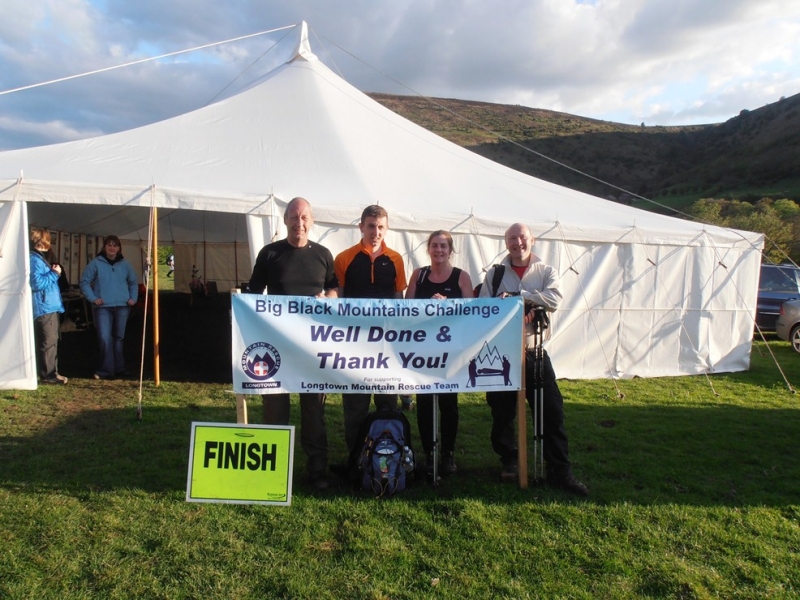 < The Team - Phil, Robert, Wendy & Colin
< Select photo for enlargement....
< After a Training Walk
This time next week it will be over one way or the other... Martin Taylor has agreed to help Matthew as support crew so we are now at full strength. The walking team are in the final stages of preparation, putting clothing and food into boxes for checkpoints, deciding exactly what food we will eat and briefing the two support crew on exactly what they have got to do; specifically how long we can be at each check point before they use the now accepted form of verbal encouragement to get off on to the next stage of "Right, you can p..s off now"
Fund raising has been a little difficult so far which isn't surprising as we are all hitting the same pot constantly, for that reason a sincere thank you to all who have so far supported us. We had our Treasure Hunt today, advertised as giving the opportunity of exploring the town finding hidden secrets & gems, which combined with our culinary exploits into the field of hotdogs we thought this event would be irresistible. Apparently not!! I'm not sure whether it was the hotdogs the walk around Bodmin or some bloke playing tennis but in the Eurovision parlance it was 'Nil points'!!! Not a sausage, well actually there was lots of sausages but that was it!!
Not to worry I don't mind eating sausages.
Having done a couple of similar things (I'm not talking treasure hunts now – move on...) it's easy to forget the feeling of apprehension & excitement that the team members who are new to this will be feeling over the next week. The training in the early stages has built a reasonable base & although for one reason or another the last month or so has not gone quite to plan I am confident that subject to injury we will all complete it. Robert has youth on his side and will no doubt still be dancing his way up the hills whilst the more mature of us are doing are best to think of anything apart from what we are doing. Certainly during the Black Mountain Challenge Colin expressed his dismay at watching him 'skip' up the final climb when all he wanted was to see a taxi!! The Black Mountains gave us a good insight into the problems that we will face as a team with each of us having high and low points at different times and how we need to support each other. I certainly learnt that I must listen to exactly what is being said to me or I may have to dodge flying walking poles but enough said about that!! As I've said earlier Robert is the king of the hills where as Wendy is the master of the flat so it can be frustrating when you are being told slow down or go quicker depending what terrain you are on and how much you hurt at that particular point! It will hurt as well, but pain is temporary – failure is forever.
This will be the first time that any of the other three will have been on their feet for this length of time which will bring challenges of its own especially during the 2.00am to 4.30am period. As the sun comes up you get quite a boost, I think it genuinely does re-charge your batteries. Hallucinations don't usually start until the second night so fingers crossed we will not have 'bogey men' jumping out of the bushes at us.
Thank you again to those who have supported us so generously so far and I apologise for plugging it again but if anyone else wishes to throw a pound into the coffers the internet link is below or failing that any one of us accepts cash!!!
Phil
www.virginmoneygiving.com/bodminbeaststrailwalkers
The history:
Trailwalker was first held 31 years ago as a
training exercise for the Queen's Gurkha Signals
in Hong Kong. Trailwalker UK has since grown
into a major fundraising event for Oxfam and the
Gurkha Welfare Trust (GWT), and helps people
to work their way out of poverty around the world.
The Gurkhas play a major role in the logistics and
organisation of the event – and their incredible
teams are always the first over the finish line.
16 Trailwalker events take place in
13 countries, and we're still growing. Trailwalker
UK is sponsored by State Street, which also
sponsor Trailwalker events around the globe.
wm
wmwm