Ian Campbell in South Africa Dec. 2011
In December 2011 Ian Campbell visited several Rotary Clubs in the Cape
Ian Campbell visited Cape Town , South Africa over the Christmas period and met up with Sue Swanepoel, a past Marlow Thames member, who is now President Elect of the Rotary Club Cape of Good Hope based 35 minutes South of Cape Town in the Seaside town of St James near Fish Hoek. Unbelievable Sea views , white streches of sand and towering mountains in warm , balmy Christmas weather made the scenery spectacular - but ladies beware, the South Easterly wind could also make your hairstyles look like a shock from an electric current !

Rotary Club of Good Hope http://www.thevalley.co.za/rotary/rotary.htm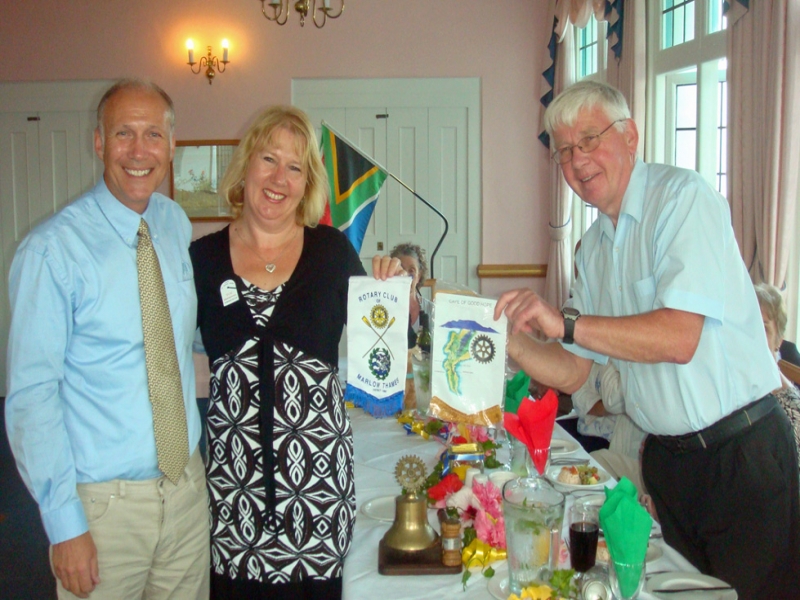 A banner exchange and short speech by Ian on the history of Marlow was met by a detailed history of St James and a very warm welcome, extended by their President Richard Parsons and all the members of Sue's Club at the two meetings he attended and he was also able to attend their annual Christmas Dinner which was quite an entertaining evening with members regularly standing up to tell their favourite jokes.

Rotary Club Cape of Good Hope has a mix of men and women and is about 25 members , their small number is well outweighed by their overwhelming enthusiasm and spirit and appear to be a Club of action and determination and a lot of fun to be with ...just like Marlow Thames. They support 3 Interact Clubs and have a Dragon Boat Regatta in October every year on the local lagoon. Projects are too numerous to mention but can be seen on their website.

Sue is working at Cape Medical Response, in Fish Hoek where she lives, and is responsible for their financial affairs. This is a self funding emergency Paramedic/Ambulance Service providing fast response to local situations as the nearest equivalent response unit is some 30 mins away .... their actions have saved many lives in recent years including the recent shark attack victim that has been a hottly debated subject in the False Bay and Fish Hoek areas.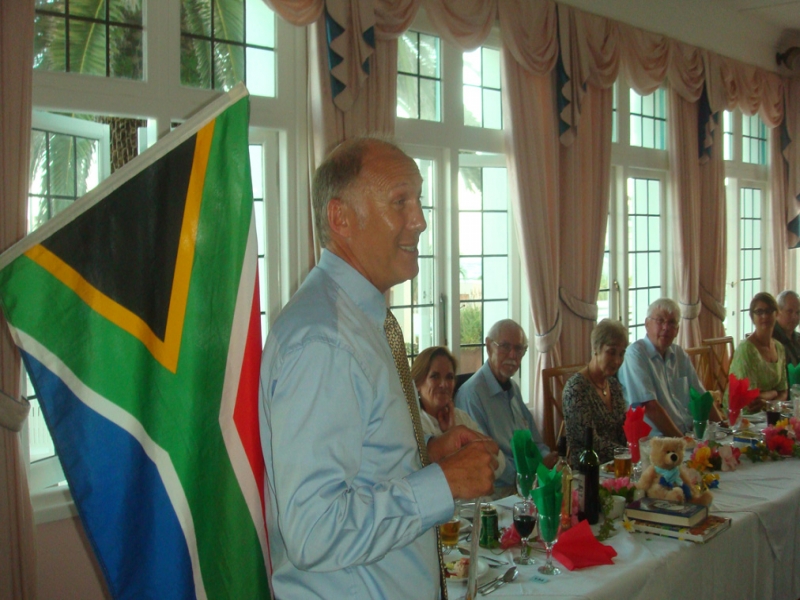 Sue is planning a visit to Marlow in April and hopes to bring with her details of a proposal for a joint project to support a preschool and Youth Centre in the township just above her local town of Simonstown which used to be a British Naval base and is now the South African Navy base. There is virtually 99% unemployment in the local township and children & families are in desperate need of sanitation, food and education. Preschool is a necessary prerequisite for children otherwise they cannot go onto main school education. Without reading & writing and basic education there is no future for many of these children.

Ian also managed to visit the Newland's Club , 75 members and youngish Club and based at the Kelvin Grove business Club in Newlands , President Janey Ball gave Ian a warm welcome and he managed also to be accepted into their Vets Squash team , which was a wonderful gesture of hospitality as well as making one feel part of the local community very quickly. Newland's Club , along with the help from other Rotary Clubs organise the annual Cape Argus Cycle Race around the whole of the Cape Peninsula in March each year, which takes enormous organising with roads closed for a day , manned by 1200 Rotarians and helpers, cats eyes have to be covered on the whole route to stop bikes having accidents ........ 35,000 cyclists ! and I thought our Santa Fun Run was big !

Another visit was also arranged to The Waterfront Club , a Breakfast Club based at the Granger Bay Hotel training College near the Waterfront in Cape Town. A club of about 45 members with enourmous energy at 6.30am in the morning with members from a wide area as many were commuting into Cape Town for work. Ian visited two District 6 schools to look at the problems of running schools in the poorest areas where the issues of having to bus in 99% of the pupils from townships , along with no play areas for break, ongoing theft and vandalism and total lack of equipment along with limited opportunities for hot food made running a school a nearly impossible task.

All in all the Rotary network gave Ian an immediate insight to the real local issues, the people and the aspirations & hopes of so many that have so little ........ the incredible time, dedication and effort local Rotarians went too to help make a difference. It's was an amazing feeling to be welcomed so warmly and without question and to see how the joined up thinking of Rotary in working together can produce such an impact on so many lives.