First Gathering of our Club
Wed 1st February 2012
The First Club Meeting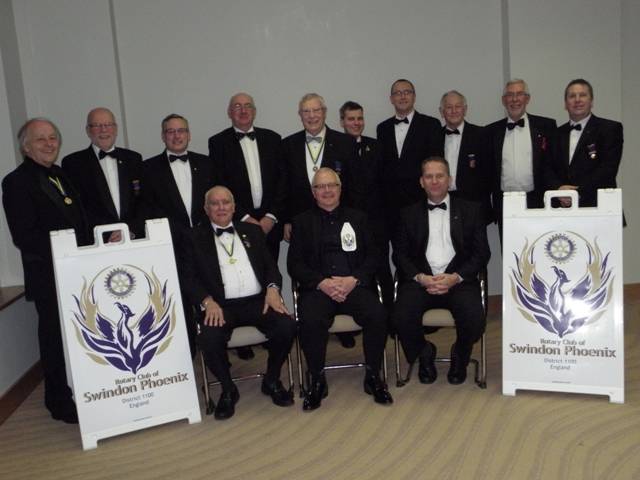 The first gathering of our new club was held on Wednesday 1st February 2012. It was held at the Jury's Inn Hotel located in the centre of Swindon. It was a Black Tie affair, not our normal weekly meeting dress code, but this really was a special night to celebrate. The two Club Banner boards were supplied by courtesy of Rotarian Andrew Gleed. Don't they look fab?
In the picture from Left to Right are;
Back Row
Peter Goldsworthy (PP&PHFS), John Fisher (PP), Nigel Causton (Rotarian), Andy Gleed (Rotarian), Kevin Brown (PP&PHFS), Steve Weisinger (Rotarian), Geoff Beale (Rotarian), Andrew Whiting (PP), Mike Slipper (PP), John Flanagan (PP)
Front Row
Peter Collis (JVP, PP & PHFS), David Coe (President) and Paul Parfrey (SVP)
The club was formed in January 2012 and at the first meeting we had 13 members, and rising! In case you hadn't been keeping count, there are 7 Past Presidents of which three are Paul Harris Fellow Sapphire's.........not a bad start!