7.15pm Dinner - Andrew Fairbairn: Water, Water Everywhere: Aquabox and Shelterbox
Tue 10th April 2012
Andrew Fairbairn from our 'mother' club of Banbury will tell us about his fundraising exploits on water and his role as Aquabox co-ordinator.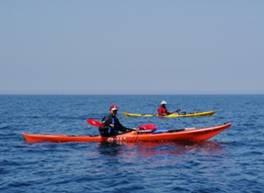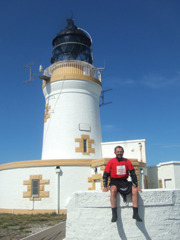 Andrew has been a very good friend to our club, frequently bringing over his Shelterbox tent and even staying to erect it for us on numerous occasions. Besides being White Zone's Shelterbox co-ordinator, Andrew is the representative for Aquabox on District 1090's International Committee. As we will be involved in filling Aquaboxes, this is a good opportunity to hear all the latest news about them and the many ways they have helped in disaster areas.
To Infinity and Beyond
A real man of action, Andrew has undertaken a number of major fundraising challenges. In 2010 Andrew raised thousands of pounds for the Leonard Cheshire Disability appeal Schools 4 All in Africa. Following two years of planning and a year of hard training, Andrew set off on his voyage from the Bishops Rock lighthouse on the southernmost point of the Scilly Isles on the first day of June and arrived at the the Muckle Flugga lighthouse on the northernmost tip of the Shetland Isles on 27 June. A gruelling 1,183 mile trek covering some of Britain's most beautiful countryside and wildest sea passages.
Delivering the Shelterbox Message to the 2012 Olympic Games by Kyak
With the endorsement of ShelterBox UK, the Rotary Club of Banbury is supporting a group of kayakers (led by Andrew) who intend to paddle along the south coast from Porthleven, Cornwall (close to the Shelterbox HQ at Helston) to Weymouth. This will take eight days passing landmarks, amongst others, such as The Lizard, Plymouth Hoe (Drake et al) and Chesil Beach whilst tackling the Portland tidal race on the final day.
A Shelterbox tent will be erected at each campsite. By giving presentations about the charity and the equipment during the evenings, through Twitter, Facebook and via publicity generated through the arrival timed to coincide with the Olympic Sailing Regatta week, their aim is to generate substantial interest and funds. On shore they will have a support team moving the gear each day and Rotarians from local clubs (or further afield) will be welcome to meet (bringing along friends, colleagues etc.) and join in with the evening festivities.
See Banbury Rotary Club Special Events page for full itinerary