Rotary Club of Plympton

Details of our 2012 Young Artist Exhibition
YOUNG ARTISTS' EXHIBITION - Winners
The winners of the 2012 Young Artist Exhibition have now been decided. They are: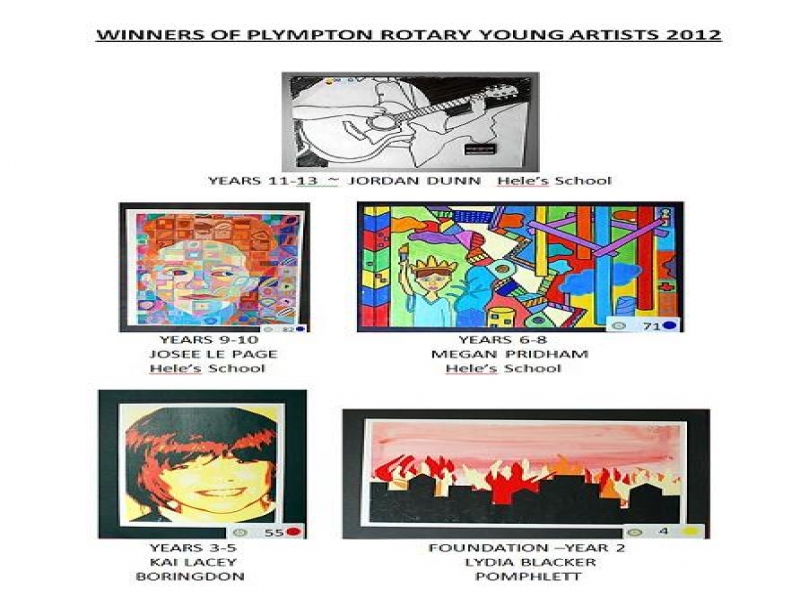 YOUNG ARTISTS' EXHIBITION
22nd March -18th April 2012
Since 2005, the Rotary Club of Plympton has been proud to showcase the artistic talent of schoolchildren from the Plympton and Plymstock areas of Plymouth.
Doubt had been placed on the 2012 Young Artist Exhibition with the closure of Plymouth Airport – home of the exhibition since its' start - but the Rotary Club are pleased that ABP and Brittany Ferries have stepped in to save the day and are hosting the event this year.
The 2012 Young Artist Exhibition has 91 pieces of artwork on show all produced by 4 to 18 year olds. Clare Thomas from the Rotary Club of Plympton said "This event brings young artists and their families together to enjoy and celebrate their achievements. It also showcases to the wider community the high quality of work that is being created by our pupils in Plympton and Plymstock Schools. It is a privilege for the Rotary Club of Plympton to have this event".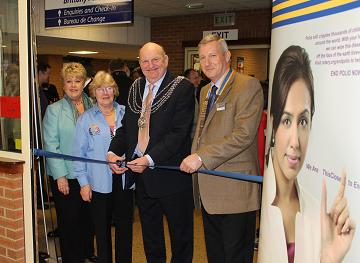 [The photo shows Rotary Club New Generation Chair Clare Thomas, District 1290 Governor Maxine Stoyel, the Deputy Lord Mayor and Club President Malcolm Carmichael]
Plymouth's Deputy Lord Mayor, Edward Delbridge officially opened the exhibition which runs at the ferry port until 18th April. But if you can't make it down to Millbay Docks, each piece is being shown in the "Photo Galleries" section of our website - see above. Here you can vote for your favourite piece.
Chris Kemp from Brittany Ferries said that "the exhibits are superb and of a very high standard. We are only too pleased to be associated with this event".
The schools participating this year are:
Boringdon Primary School
Chaddlewood Primary School
Glen Park Primary School
Hooe Primary
Old Priory Junior Acadamy
Pomphlett Primary School
Yealmpstone Farm Primary
Hele's School
Ridgeway School