Rotary Club of Worcester Vigornia

Home | New Members
New Members

Hello and welcome to our website. This page is especially for new members and here you can find out how Vigornia will support you in your first year. We are keen to explain some of those things that have puzzled other new members. If there is something you don't understand, just talk to your mentor or any member of Vigornia and they'll either give you an informed response or point you in the right direction.
First of all, as you know, our name is The Rotary Club of Worcester Vigornia. We are in area Zone 8 of the vibrant Rotary District 1100, our unique club number is 1969.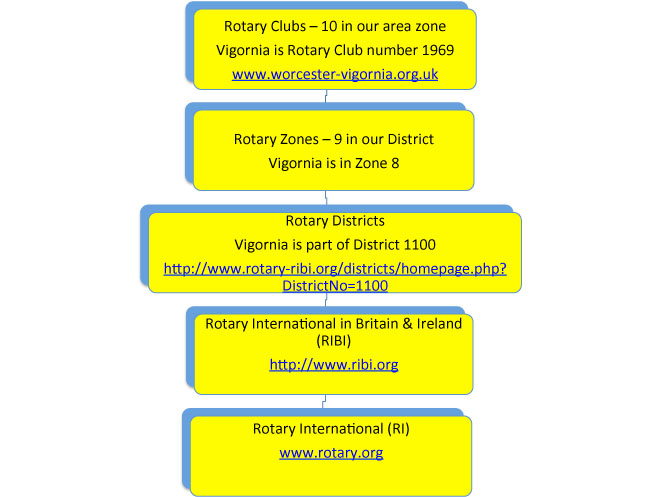 Rotary Mentors
All new members of Vigornia are given the opportunity to select their own mentor, we suggest someone with whom you've struck up a friendship in your first days at the club, it's a good idea to make it an established member as other new members are still finding their way around. If you haven't selected your mentor yet you may like to do as others have before you and ask the club who would like to mentor you! Just mention to the president that you'd like to ask the question.
The mentoring scheme is designed to last for a year during which time your mentor will support you as you visit the various committees in order to make an informed decision about the committee you'd like to join. You are asked to call the committee chair before the meeting to check that the date and venue and say you'd like to come along; you'll be given a warm welcome. You have three months to decide as it's important that you start to be a productive member of Rotary as soon as possible. You can find the timetables of committee meetings and more information about each of them on their webpages, click on the committee name in the column to your left.
Committees
There are six committees in Vigornia:
Administration (Admin)
Communications and Public Relations (C&PR)
Membership
New Generations
Rotary Foundation
Service Projects
We have transient committees for each event that is set up be it a social event, a community event or a fundraiser. Such committees report into one of the main committees and the chair of that committee brings the report to Council.
Council
Council is made up of the chairs of each committee, the president, the secretary, the treasurer and a club member representative. If you have a question to ask Council there are several ways that you can do this:
Let the president know in advance of the Council meeting and you will be invited to attend the meeting to put your question - please state your question clearly to the president before you attend, this will allow time to ensure it can be given full attention by the appropriate committee.
If you cannot attend the next meeting you may if you're already part of a committee ask your committee chair to raise it for you.
Ask the club member representative to take your question forward.
Any club member can attend Council at any time; again, you will find the timetable of Council meetings on this website or in the Club Directory - the folding booklet that was given to you at induction. The Club Directory also contains all of the names and contact details of every member of the club who was a member before June 2012 when the booklet went to print. Members can catch up with Council Minutes on the members only section of this website.
Newest Members of Vigornia
Here are some photos of some of our newer members at induction.
| | |
| --- | --- |
| | |
| Maggie Allen | Sue Smits |
| | |
| Ann Stuart | Lynne Newell |
| | |
| Alistair Druett | President Polly with our newest member Victoria Merrett |
| | |
| --- | --- |
| | |
| President Polly with Steven Thrush | RIBI President Ray Burman with Lee Parker |
| | |
| Marie Borthwick | Helen Cameron with Juliet Sparkes, Paul Wier & Gurdip Kaur-Brring |
| | |
| --- | --- |
| | |
| Lisa Bartrip and Paul Weir | President Polly with Grant Simmonds & Grant's sponsor Lee Gough |
Many of us work full time and all of us have other commitments, yet we've managed to join Rotary to help people who don't have the resources to lead the full lives that we do. We've extended our circle of friends, met people we might otherwise not have met, done things we might otherwise not have done. Rotary is rewarding on so many levels, each of us have our own reason for having joined. The phrases most used are 'to make a difference' or 'to give something back', Rotarians use the words 'service above self' sometimes referred to as a strapline, but actually, a powerful reality that builds trust between people – let's continue to do that together.' Polly Robinson, President 2011-2012
Reach Within to Embrace Humanity
'Reach Within to Embrace Humanity' is the theme for this Rotary year, the theme is changed every year by the incoming Rotary International (RI) president. The Rotary year runs from 1 July to 30 June.
Click on the blue link to find out more about this year's theme and the RI president
Keep up to date with Rotary
Our club president is always pleased to receive calls from club members, if the president is not available when you phone leave a voicemail or send an email - details in the Club Directory.
To keep up to date, click the blue links to the district website and the district facebook page also our own Vigornia facebook page and this website.
There are two regular publications sotto voce and Vigornia Voice; sotto voce comes out after Club breakfast meetings and supplements the quarterly Vigornia Voice.
Let us know if there are things you think should be included on this page, we constantly seek to improve our information to new members.