Rotary Club of Midhurst & Petworth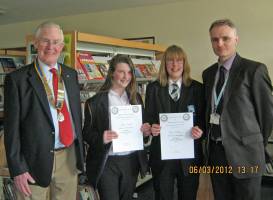 Local schools participate in the Rotary Young Writers competition
Young Writers' Competition
We are pleased to report that we had entries from both Midhurst Rother College and Seaford College this year, in the Senior Prose and Senior Poetry sections of the competition. Our three judges were John Connor of the Midhurst Writers Group, Jenny Mouland from the Midhurst and Petworth Observer and our own John Fitch. They were very thorough with their analysis of the work presented and all three have been contacted to thank them for their support.
The winners were both entered in the District competition:
Ebony McKay for her poem 'A Runner's Mind' (Midhurst Rother College)
Bethan Jerrett for her piece 'Pride' (MRC)
There was a presentation at Midhurst Rother College where President Paul Ryan awarded Ebony and Bethan both a certificate and a £15 book token. We were then informed by Michael Hart, the District organiser, that Ebony's poem had reached the final which was very exciting. Subsequently, we learned that none of the District Entries had been successful at National level but it was extremely pleasing that we had a finalist.
Although the response from schools this year was relatively small, it was encouraging that the teachers involved appeared keen to continue next year and hopefully will gain greater interest from their pupils. We have already been invited to address the MRC pupils at an School Assembly, before the end of this academic year, informing them of the different competitions on offer. It is also planned to approach the primary schools to see if we can include other age ranges in this and other competitions such as public-speaking and technology. We intend to set up meetings with schools before they finalise their plans for the next academic year and hope for greater involvement in the future.
As one of our judges commented, 'from little acorns, great oaks grow'.
Comments, once approved, will be displayed on this page
Your email address will not be displayed on the page, but is required should you require contacting.
all fields are required