Rotary Club of Midhurst & Petworth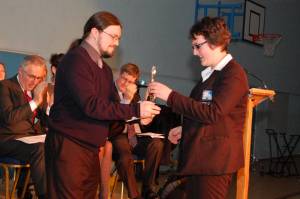 Music award on behalf of late Rotarians Tessa & Michael Kershaw
The Kershaw Music Award
The Kershaw Music Award was introduced to Midhurst Rother College (MRC) this year. An impressive treble clef trophy and £100 prize has been generously presented on behalf of the family of late Rotarians Tessa and Michael Kershaw who both had a passion for music, particularly opera.
Midhurst Rother College Year 11 Students of Music are invited to bid for this award by outlining how their talent and skills would benefit from winning the funds. The aim of the award is to encourage students to either experience a live classical music performance or to use it to progress their musical talents through the purchase of a better quality instrument, the one off purchase of a master class or to purchase more music.
This year the award was won by student Catriona Gibbon. During the evening of MRCís annual Gilbert Hannam celebration day the prizegiving was held in the Jon Barrott Sports Hall for the last time. Once work is completed on the new campus future prizegivings will take place in a new theatre style hall. President of the Rotary Club of Midhurst & Petworth, Paul Ryan, was delighted to accept an invitation to this prestigious event and saw The Kershaw trophy presented to Catriona Gibbon by Tessa & Michaelís son Jonathon.
Comments, once approved, will be displayed on this page
Your email address will not be displayed on the page, but is required should you require contacting.
all fields are required