Charity Contributions from 84 Charing Cross Road
Wadebridge Rotary Club benefits from play sponsorship
Show related pages

84 Charing Cross Road
" by Helene Hanff has successfully completed its 'run' in the unusual setting of a theatre created within St Minver Church. The production by members of First Edition Theatre was supported by the St Minver Link, St Minver CRUK and Wadebridge Rotary Club, with the latter two active in selling tickets for 'their evening'. The arrangement with both CRUK and Rotary worked extremely well - "84" had an audience and, following their members' dedication in selling tickets, significant sums from the production (after expenses) have been distributed; £590 and £580 respectively. In addition, once all the expenses have been finally accounted for, a donation will be made to Parkinsons-UK Mid . Thanks are due, in particular, to St Minver Parish Church which allowed and, indeed, encouraged the production to succeed.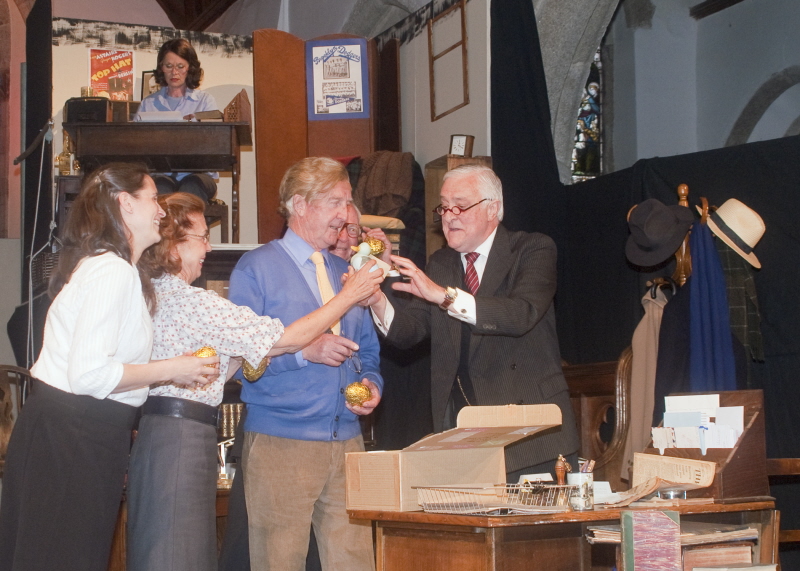 Pictured: Upper left, Tracey Renwick. L-R: Cherry Marshall, Sue Ferguson, John Harbinson (Harby),
John Holmes (hidden) and Graham Renwick
These are just two pieces of unsolicited emailed feedback:
This is just a brief note from a non Thespian to say how much I enjoyed the play on Friday evening. I thought your performances were tremendous conveying the humour and pathos of the tale. The set was so convincing that I would not have been surprised to step out from the Church and find myself on a busy London street with a red route-master bus going by. Thanks so much for the opportunity to watch and be absorbed in it. I look forward to the next one!

Thank you for a wonderful production which we so enjoyed. We were so impressed with the sheer professionalism of everything about the play and we can hardly imagine how much blood sweat and tears must have gone into it.
P.S. How did you get Harby's hair like that - a wig?