Rotary Club of Bishops Stortford

Home | Interact | RIBI President Ray Burman visits Herts. and Essex High School Interact Club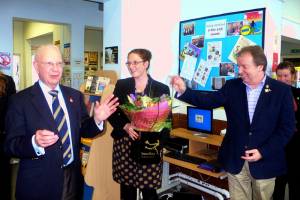 RIBI President Ray Burman visits Herts and Essex High School Interact Club
What an honour it was for the 1 year-old Interact Club at the Hertfordshire. and Essex High School on Tuesday 1st May when the head of Rotary in Great Britain and Ireland (RIBI), President Ray Burman paid them a visit during his tour of District 1240. The club, with some 30 members of year 12 students, was chartered in 2011 with District Governor Neil Muir in attendance. Accompanied by his wife, Victoria, and DG Neil, together with the President of Bishop's Stortford Rotary Club, Peter Amos, RIBI President Burman spent nearly an hour with the young people.
The Club was in the process of changing-over to the new team. Out-going President Victoria Robinson and her team welcomed RIBI President Burman, clearly undaunted by having the national president in the audience, and gave an enthusiastic summary of the Club's activities during its first year of operation. She proudly announced that during that time the students had carried out many projects while at the same time exceeding, by £2000, their original target of raising £5000 for international and local charities, an incredible achievement. She was followed by the treasurer, Harry Tsinga, secretary Lizzie Langley-Jones and vice-president Petria Gatziou. Each of the out-going officers expressed their gratitude at being given the chance to take part in Interact acknowledging that they had gained immeasurably from the experience in such areas as confidence, delegation, management skills, and persuasion techniques among others. The Club's main beneficiary during the year had been the Eden School in Uganda, which Lizzie will be visiting in the summer to see how their donation had been used.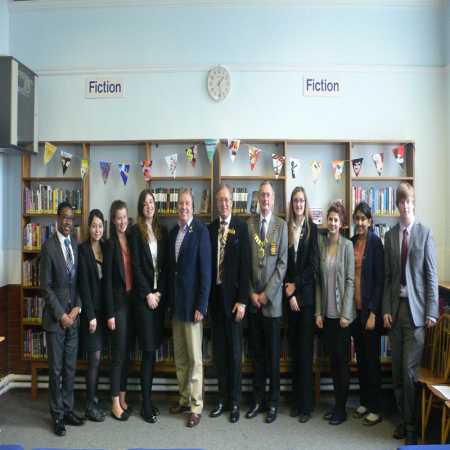 (out-going) Harry Tsiga, Petria Gatziou, Lizzie Langley-Jones, Past Pres.Victoria Robinson, with RIBI President Burman, Pres. Peter Amos, DG Neil Muir, (in-coming) Pres. Aimee North, Jakleen Diab (VP), Shaliza Malik (sec.), Henry Robinson (treasurer)
The in-coming President, Aimee North, then introduced her team of Vice-president Jakleen Diab, secretary Shaliza Malik and treasurer Henry Robinson. Aimee set out her programme for the coming year during which, in addition to re-enforcing the committee structure, she wished to focus on different charities, while wishing to build on the legacy from the previous year. Aimee wished also to have a closer relationship with the other two clubs in Bishop's Stortford, The Bishop's Stortford High School and Hockerill Anglo-European College. The enthusiasm of all the Interacters was most apparent.
RIBI President Burman, during his address, said how proud he is of the Herts. and Essex High School Interact Club. They had achieved an awesome first year which did them much credit. He was particularly pleased to hear about what they felt they had gained from membership of the club. He emphasised that they are now members of the world-wide family of Rotary with its1.6m members. They would be welcomed by all. He explained the considerable opportunities that they would share, including the range of scholarships available and Youth exchange programmes. Finally he congratulated all the Interacters for what they had done and what they could do in the future to change and save lives by their actions.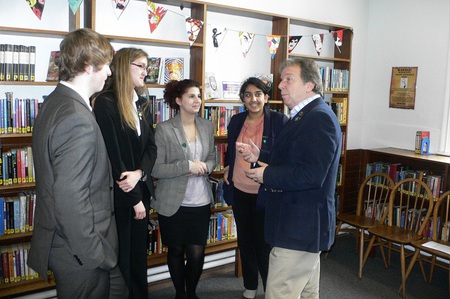 RIBI Pres. Burman chatting with the new team
It was acknowledged that without the enormous work done by the lead teacher, Jane Bennett, and the co-operation of Head Cathy Tooze, the club would not have achieved so much. To show the Rotary Club's appreciation, its Interact committee chairman, Brian Edwards, presented Jane with a bouquet of flowers.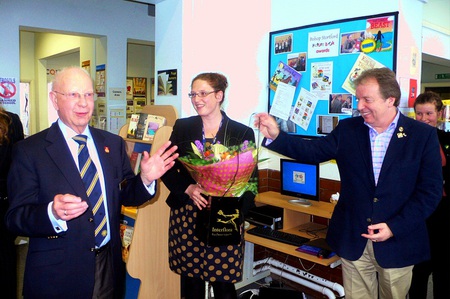 Rtn. Brian Edwards presenting Jane Bennett with a bouquet of flowers to the amusement of RIBI Pres. Burman
Then joined by all 30 Interacters, everyone enjoyed a sandwich buffet provided by the school.