Rotary Club of Sandbach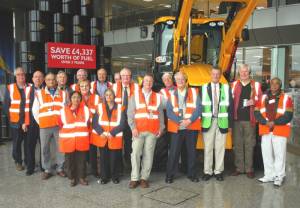 A group of sixteen people (Rotarians from our club and guests) visited the JCB plant at Rocester, nr. Uttoxeter on Thursday 10th May as aprt of our Fellowship activities. The visit was organised by Rtn. Bob Mynett, Fellowship Committee Chairman.
Fellowship visit to JCB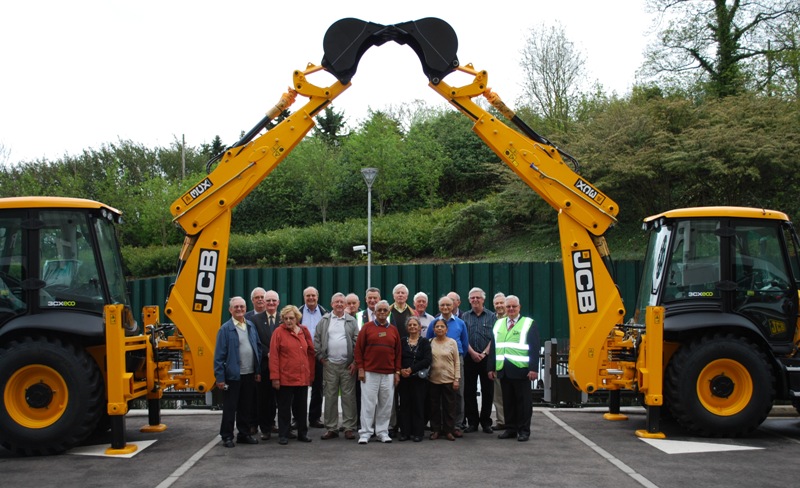 Sixteen Rotarians from the club including guests visited the World Headquarters of JCB at Rocester, nr Uttoxeter on Thursday 10th May. On arrival we were introduced to our personal guide in the most impressive Visitor Reception area where tea and coffee was provided. Our guide then provided us with personal headsets and orange tabards.
The tour commenced with a multimedia presentation on the history of the company, its development and growth since it was first started by Cyril Bamford in 1945. We were taken through the production lines and shown how 300 different types of machines that have been developed, manufactured and distributed from various factories throughout the world.
The guide then took us up to the huge first floor state of the art display area, an absolutely mesmerising experience where we saw displays of various models of JCB heavy earth moving equipment in the most stunning settings. We saw models of the two company helicopters plus their own jet aircraft. On display was the JCB DieselMax yellow torpedo, the Worlds fastest diesel powered automobile which achieved a record breaking land speed of 365 mph at Bonneville Salt Flats, Utah. None of the party had ever seen such a stunning and innovative display.
A 3 mile walk around the massive/awesome shop floor revealed the most fascinating high tech machinery, during which time our guide explained in detail the production process, with the occasional hilarious joke! Finally, a walk through the vast open plan offices. This site employs about 2,000 workers including office staff.
The cutting edge innovation of JCB is indicative of Sir Anthony Bamford's passion for the importance of engineering excellence to Britain. The company are now one of the World's top five privately owned manufacturers of construction equipment. JCB could stand for 'Just Can't Believe it!' At the end of the tour David Twidale commented 'It makes you proud to be British.' and Bob thanked our tour guide for a most memorable and awesome experience.
On leaving the site, the group went for lunch and liquid refreshment at the Racecourse Pub & Restaurant, completing a most enjoyable day.
This visit was Bob's 'Swan Song' - having arranged outings for the club for the past 4 years. Bill coupe has now taken over the reigns and will ensure ongoing Fellowship visits will continue with assistance and recommendations from his colleagues.
Bob Mynett
(Fellowship Chairman)