Rotary Club of Kirkcaldy

Home | 200 Club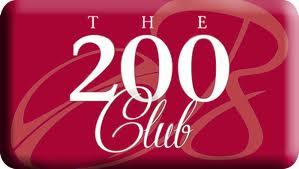 The 200 Club is one of the club's best fundraisers.
Membership of the 200 Club is open to all, not just Rotarians, and costs just £5 per month collected by standing order. Members are allocated a unique number between 1 to 200 which is entered into the monthly draw.
Winners of the most recent draw are:
Number
Winner
Prize
April Draw
199
Mrs C Cruickshank
£195.00
170
Mrs A Keenan
£73.13
3
Bob Buchan
£73.13
29
Mrs C Docherty
£24.37
156
Mrs M Bayne
£24.37
88
Gordon Berry
£24.37
Christmas Draw Winner
179
Mrs S Hutt
£997.47
If you would like to join the 200 Club please get in touch using the following form.