2012 Link Visit to Antwerp
2012 Link Visit to Antwerp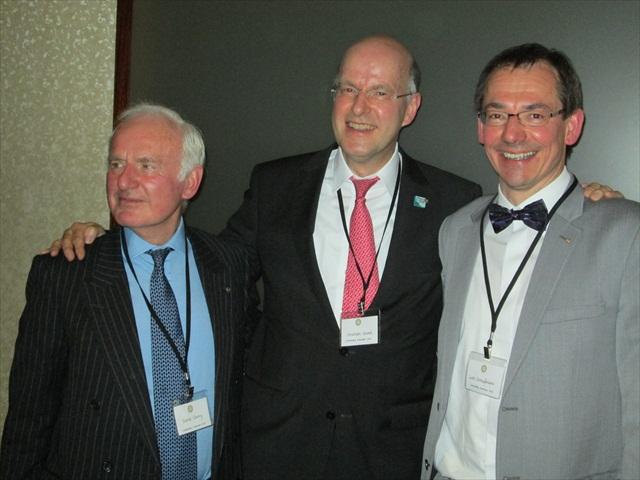 2012/13 Presidents. From the left: David Cherry (Pinner), Christian Quack (Meersbusch) and Ludo Demeulenaere (Brugge).
city of which is in the Flemish part of the country not far from the border with the . This was the first time the Link Visit was been planned for only two nights though a number of us from Pinner stayed the Thursday night as well. was obviously a popular choice as over 60 Rotarians, partners and family members attended from the three Rotary clubs including 17 from Pinner.
Our first get together was lunch at the Hilton Hotel in the centre of the city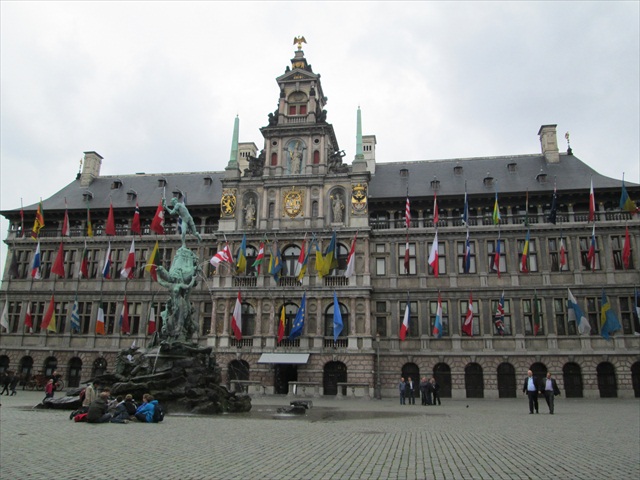 where most of us were staying. This was followed by a walk through the city with our English speaking guides where our tour included the market square surrounded by the and numerous guild halls. is a charming medieval town with many interesting buildings, narrow streets and the added attraction of being where the famous painter Rubens lived and had a studio for many years. The walk included going through one of Antwerp's red light streets which seemed to be something of an eye opener, literally for some members and quite why Dennis's electric wheelchair seemed to be on a go slow along there we have no idea. Our walk finished at the new MAS museum which is in the old port area and from the roof of the building there is a panoramic view of the city for those brave enough to venture up there.
Antwerp Town Hall
Our return to the hotel was in two old horse-drawn omnibus which was great fun though the lack of suspension meant the ride through the city's cobble stone streets was bumpy (to say the least !).
Pinner Rotarian's and partners (President Nigel Shock, Jenny Flower, Linda and David Cherry, Kate and Brian Glozier)
Friday evening dinner was at the Sir Anthony van Dijck which is an amazing restaurant in an old house in one of the oldest districts in the centre of . It was a two Michelin stars restaurant in the 1970s, but the chef decided on a more relaxed approach since then and actually declined to hold any stars though the quality of the food and wines was exceptionally good. It was a great evening !
Saturday started with a visit to The Cathedral of Our Lady which is a catholic cathedral and is listed in the UNESCO World Heritage Sites. It was started in 1352 and, although the first stage of construction was ended in 1521, it has never been 'completed'. In the beginning, it was to have had two towers of equal height though the south tower was never built. It was the largest Gothic church in what was then the .
Lunch was in a restaurant called De Foyer which is in the foyer of the 19th-century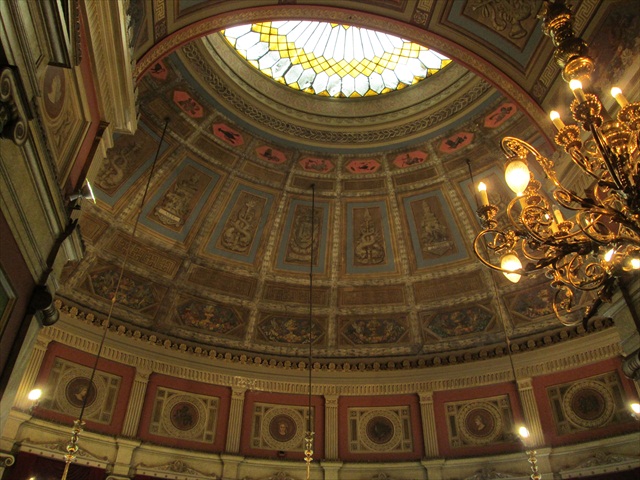 Bourla Theatre and has an ornately painted dome, potted palms, red velvet drapes, and marble columns. Then we walked through the city with our guides to visit the museum Mayer van den Bergh which houses a collection of art that was assembled by Fritz Mayer (1858-1901) and his mother Henriette van den Bergh (1838-1920).
De Foyer's painted dome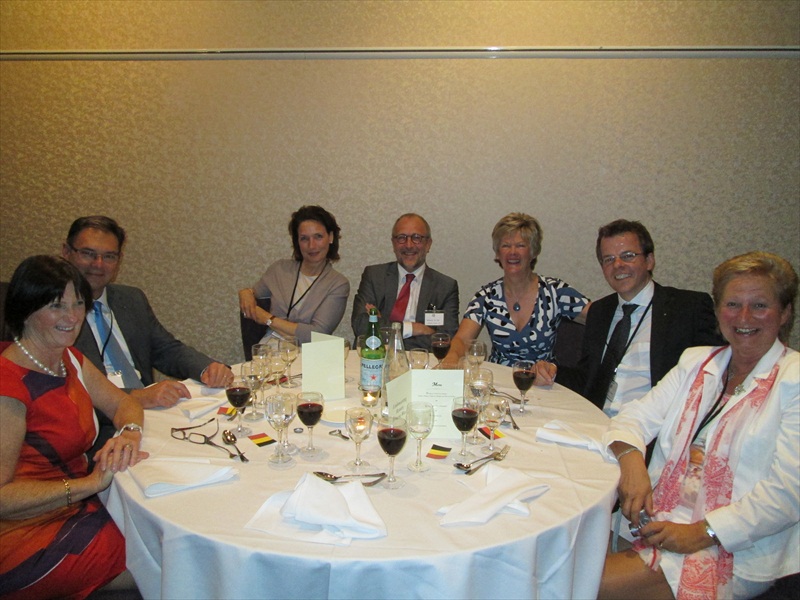 Saturday evening was a gala-dinner in the Hilton hotel. Our Brugge-West hosts
planned the seating so that Rotarians fr om each country were able to mingle on each table. Once again, the food and wine were good as were the speeches by the three Rotary Club Presidents. The evening then continued in the hotels' bar until the early hours though some of us did go straight to bed !
Gala dinner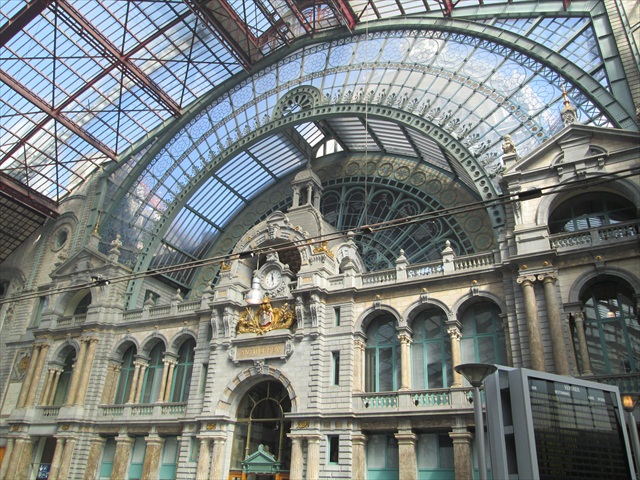 Our final morning was a walk through the historic centre to visit of the main railway station Antwerp Central. It has a huge dome and 8 smaller towers of which 6 were demolished during the 1950s though, fortunately, these were reconstructed in 2009 together with several ornaments including large lion statues. The colorful interior is lavishly decorated with more than 20 different kinds of marble and stone.
Station interior
The station was originally designed as a terminus but in 1998 a large-scale reconstruction began to convert the station from a terminus to a through station which involved a new tunnel being excavated and new platforms being built on two underground levels. This allows high-speed trains to travel through Antwerp Central from and .
Our final meal was lunch was at a restaurant called Brasserie Applemans which served a nicely presented fish salad followed by dessert both of which were very enjoyable. Then it was au revoir to friends old and new though with everyone of us looking forward to the next Link Visit in between April 25th and 28th 2013.
These weekends are a great opportunity for Rotarians to get together with friends from other countries and all new members in particular are urged to think seriously about coming along. They can be expensive but the cost is now recognised to be an issue within all the clubs involved and hopefully it will be addressed.
BrianBBBrBrian Glozier with some additional text from Nigel Shock