Rotary Club of Plympton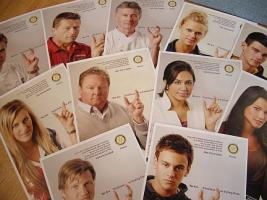 The local variation to the ThisClose to Ending Polio Campaign that club member Darren Hands organised for the disitrict has been recognised by winning a national award.
POLIO FIGHT RECOGNISED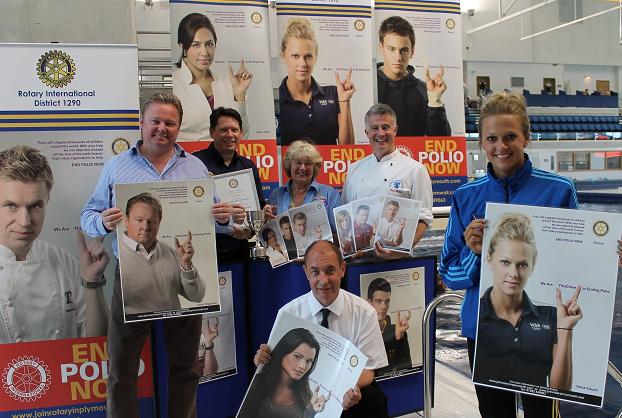 Pictured L-R: David Fitzgerald, Darren Hands (holding the PR Trophy) , Rotary District 1290 Governor Maxine Stoyel, John Allen, Peter Gorton and Tonia Couch
Rotarians efforts in West Devon & Cornwall towards the fight to end Polio have recently been rewarded. At the recent RIBI (Rotary in Great Britain & Ireland) Conference, Darren Hands from the Rotary Club of Plympton
was recognised for his work on the local variataion of the Rotary "ThisClose to Ending Polio" campaign posters at this year's national conference.

This year, there were two exceptional PR campaigns which the judges felt were both worthy of recognition so in a first, the RIBI PR Trophy was a joint award. The award was shared with the Rotary Club of Grantham's Paul Wilson and the Rotary Swimarathon he organised - also in aid of Rotary's Polio efforts.

Darren created a localised This Close campaign in our district by contacting local celebrities and asked if they would donate their support and time to help create posters and also be active participants in the campaign. Aysha Iqbal from the BBC signed up along with Olympic hopefuls Tom Daley and Tonia Couch, BBC Radio Devon presenter David Fitzgerald as well as a host of other well known faces. With the help of photographer John Allen, 11 different images were created of local personalities.
Having recently discovered his mother suffered from Polio as a child, Darren is passionate about the Polio campaign and the need to End Polio Now.
This award comes at an important time in the fight to end Polio, as Darren explained, India has just had its first Polio free year but the remaining three endemic countries are the toughest ones to crack.
Secretary General of the United Nations, Ban Ki-moon last week made the following statement to throw further weight behind the fight:
"Wild viruses and wildfires have two things in common. If neglected, they can spread out of control. If handled properly, they can be stamped out for good. Today, the flame of polio is near extinction — but sparks in three countries threaten to ignite a global blaze. Now is the moment to act.
The world's war on polio, declared nearly a quarter of a century ago, was as ambitious an undertaking as the successful campaign to eradicate another great public health menace, smallpox. Slowly but surely, over the years, we have advanced on that goal. Polio today survives in only three countries: Afghanistan, Nigeria and Pakistan. That's the good news. The bad: we are in danger of falling victim to our own success.
Here's why: the world is now populated by a generation which has either never been exposed to polio or has been inadequately vaccinated. When the virus strikes under those conditions, the impact can be devastating. We saw that in the Republic of the Congo in 2010 and elsewhere in Africa when an outbreak killed half of all who were infected. A prompt emergency response by the international community halted that budding epidemic. But the incident gives an idea of the potential consequences of failing to eradicate polio while we have the chance. This year fewer than one hundred people were left paralyzed by this easily preventable disease, almost all in the three countries I have mentioned. Left unchecked, however, UN epidemiologists warn that a renewed outbreak could cripple as many as one million people within the decade, many of them children — the most vulnerable of the vulnerable."
The United Nations, with its partner Rotary International, is driving the global campaign. These agencies are working hard to reach all children, including those in refugee camps or swept up by natural disasters and hunger emergencies. It may be difficult but it can be done. Somalia, to name but one example, is afflicted by just about every human and natural hardship known to humankind — but not polio. Its last case was in 2007, thanks in no small part to local women who donned bright yellow smocks and traveled their communities distributing vaccination drops.
The workers on the frontlines have no shortage of dedication. But they do face a financial deficit. The Global Polio Eradication Initiative has only half of the $2 billion it needs to procure vaccines and deploy staff to the last bastions of the disease. Properly equipped, they can win this final battle. If the international community recognizes the stakes and musters the resources, we can win the war against polio — at long last and forever.
Now is the critical moment. If we invest $2 billion now — if we can cover a relatively modest $1 billion shortfall — we can save the world an estimated $40-50 billion in the cost of treatment by 2035, not to mention many lives and many young futures. The world's health ministers have declared a global public health emergency and call on the world to response to the threat of a resurgent polio. By funding the Global Polio Emergency Action Plan for the next two years, we can make the threat of polio a distant and fading memory.
As at the 22nd May there have been only 60 cases of Polio throughout the world this year. Rotarians such as Darren will not give up this fight until there are no more cases.