Rotary Club of Wrexham Erddig

Home | Friends of Rotary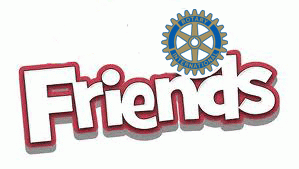 Too busy to be able to commit to full membership of Rotary and weekly meetings? Perhaps you could become a "Friend of Rotary".
At Wrexham Erddig Rotary Club we recognise that there are busy people, who may share the aims of Rotary, but who are perhaps not always able to commit to full membership and weekly meetings. So, we have arranged for our meetings on the 3rd Thursday of each month to be open to "Friends of Rotary".
Attendance at this monthly meetings as a "Friend of Rotary" is by invitation and is for those who are interested in meeting and working with like minded people who want to help the local community and the needy overseas but do not want to be limited to just one particular cause.
Friends of Rotary who come along to these monthly meetings pay for their meal, currently £10.50, but pay no joining or membership fee. Their commitment is simply to join in and support our activities as and when they can.
Rotary was established over 100 years ago to bring together like minded people who might not normally meet each other. It is the largest world wide service organisation with clubs in almost every country. It is not a political or religious organisation.
If you are already a Friend of Rotary you can see details of future Friends meetings on our "Meetings and Events" page. Look for meetings marked with the "Open Meeting - FRiends Welcome" label shown below:

If you have not already been invited to be a Friend of Rotary but wish to express an interest in supporting our Rotary club in this way, or simply find out more about Rotary, please email friends@werc.org.uk giving your contact details and telling us a little about yourself and in what way you are interested.
For your information, here is a brief summary of some of the projects in which our Rotary club participate .....
In Wrexham we conduct mock interviews to help school-leavers in the local secondary schools. We support competitions for a Rotary Young Chef and Rotary Youth Leadership Awards (RYLA). Some of our gardening members tend the Shooting Star Garden in the Maelor Hospital.
We organise social events, concerts, walks and collections in support of local charities such as Nightingale House, Dynamic, Riding for the Disabled and Hope House.
On the World scene we support Aquabox and Shelter Box which provide emergency support to disasters; various projects in Bangladesh, and the TeaLeaf Trust to provide education for the tea plantation workers in Sri Lanka. Rotary has a world campaign to give polio vaccination to all the world's children.
It is not well known that Rotary awards more scholarships than any other organisation. Our club organises for local 6th form students to attend a Georgia (USA) university for a gap year.
More details of our activities can be found in the project pages of this website. For more about Rotary in the UK and Worldwide you may wish to visit www.ribi.org and www.rotary.org