Rotary Club of Plympton

End of Year Review Report
End of Year Review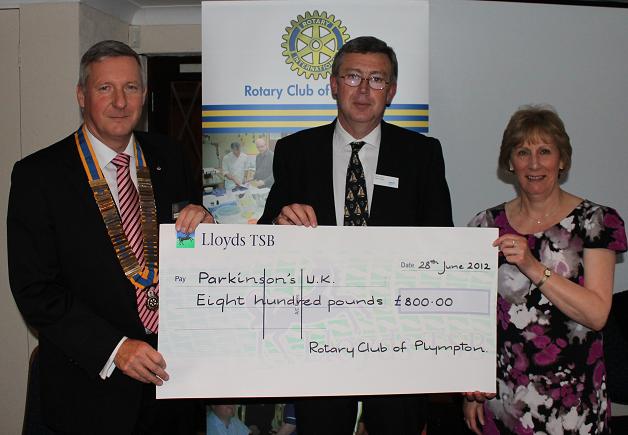 As his final act as President of the Rotary Club of Plympton, Malcolm Carmichael presented Parkinson's UK with a cheque for £800. This was the culmination of a number of events held throughout the year by the Plympton Rotary Club which also saw around £3,000 distributed to good causes following the annual Christmas collections – which included the likes of local guides, Chaddlewood Minors FC, Gables and the WRVS to name but a few.
Parkinson's UK was Malcolm's nominated charity for the year and they provide envaluable support to many. Their information and support workers provide one-to-one information and support to people with Parkinson's, their families and carers.
In addressing the club at the end of the year Malcolm told the club members that they can all feel proud of what the club has achieved in the past year. Not only has the club provided financial support to many worthy causes but they have been a leading light in promoting Rotary's fight to end Polio. The club has also showcased the talent of youngsters through the Young Chef Competition, Young Artists exhibition and a Celebration of Youth Music and Song (which was organised jointly with the Plymouth & District Soroptomists). And there was also the annual Stroke Awareness Day in April where the club arranged for medical staff to take the blood pressures of the public.
All this and there was still time for several great social events – all in all a great year once again for the Rotary Club of Plympton.