Rotary Club of Broadstairs

Home | 2011 - 2012 Archive
Copy of the front page for 2011 -2012, giving details of events, donations and activities of the Rotary Club of Broadstairs
News 2011 / 2012
Street Pastors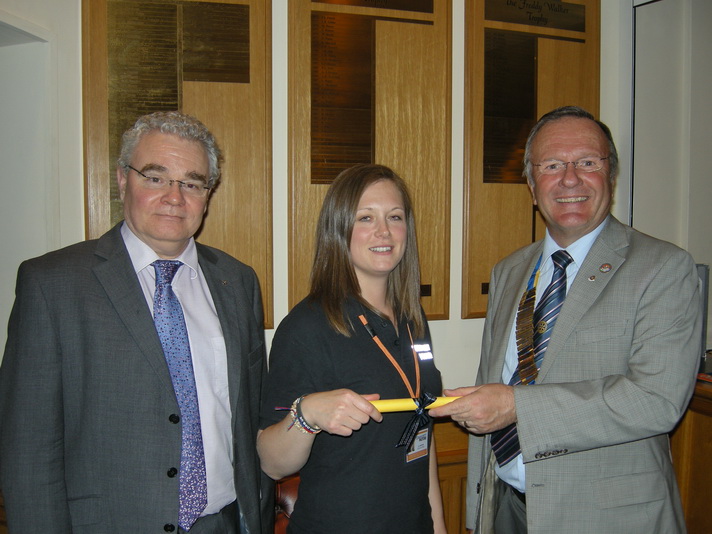 On the 24th May, following an enlightening talk on the work of the Street Pastors in Thanet, S-J was presented with a cheque by President Brian Short. S-J, real name Sarah Jane Andrew, is the Street Pastor coordinator. The Street Pastors, patrol the town centres of Thanet on Friday and Saturday evenings to ensure the safety of those who maybe not able to help themselves.
Shelter Box
Following an International Night, at the Margate Greek Club, sufficent funds were raised to purchase another ShelterBox. Over the years the Rotary Club of Broadstairs has raised enough funds to donate a total of 26 boxes.
Presentation to Mrs Laker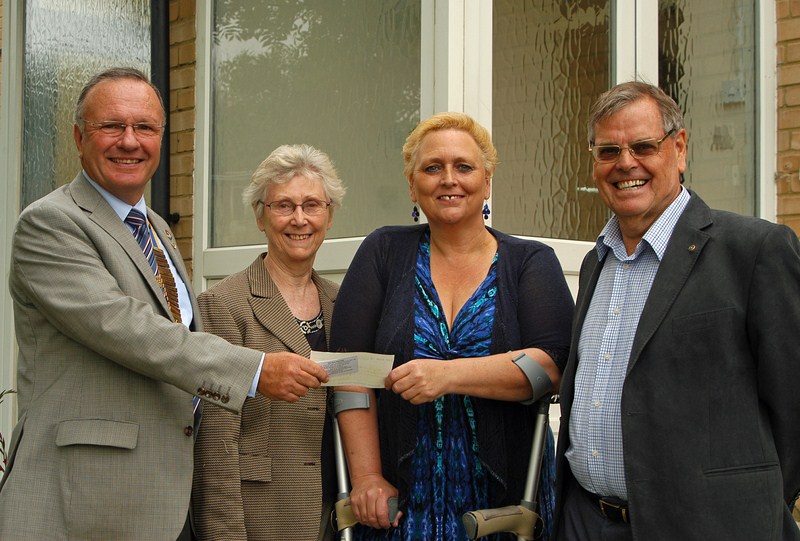 Picture are Rotary President Brian Short, Mrs Short, Mrs Laker's and Community and Vocational Service Chairman, Eric Marks. (Mrs Short is no relation to the President!) Mrs Laker recieved a cheque towards the cost of the installation of a 'wet room' in home which will help her given her medical condition.
Recognition of 50 years of Rotary Service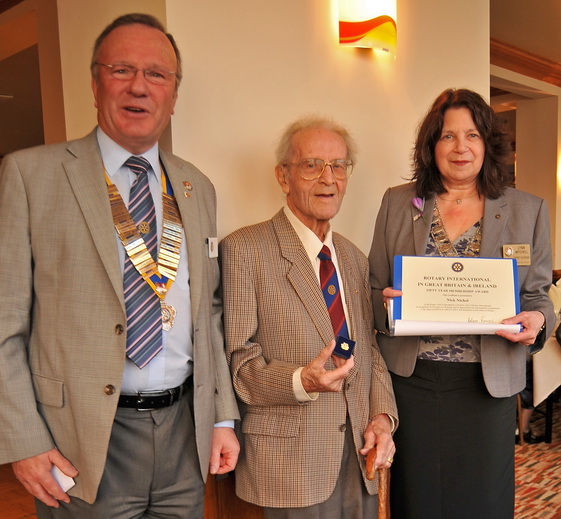 On 29th March District Governor Lynn Mitchell, presented 'Nick' Nichol a badge to recognise his 50 years service to the Rotary Club of Broadstairs. Nick who will be 90 in April regaled tales of his life in Rotary with another stalwart of the club, Geoff Love, who has been Nick's compatriate for the 49 years. Unfortunately Joan, Nick's wife, was not able to attend, but the club sent flowers to her to mark this remarkable achievement, and thank her for her support.

Presidents Night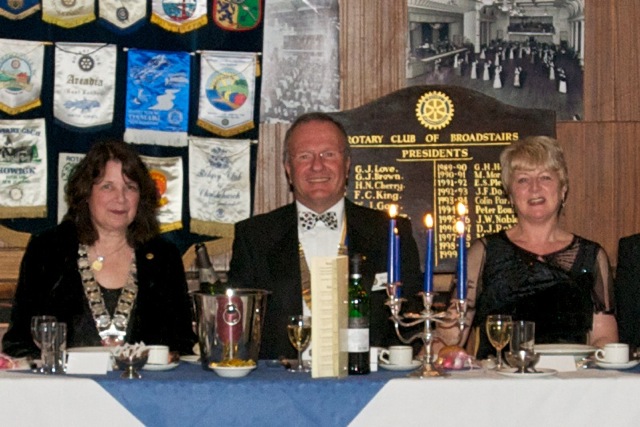 Presidents Night took place on the 24th March, at the Winter Gardens. Pictured are President Brian Short, and his wife Linda. On Brian's right is Rotary District Govenor Lynn Mitchell. The Presidents night was supported by some 140 Rotarians and their guests. As normal a cabaret was performed by members of the club, and reflected upon President Brian's other passion - birdwatching! More photos of this event are contained within the Photo Gallery facility.

Thanet School Prom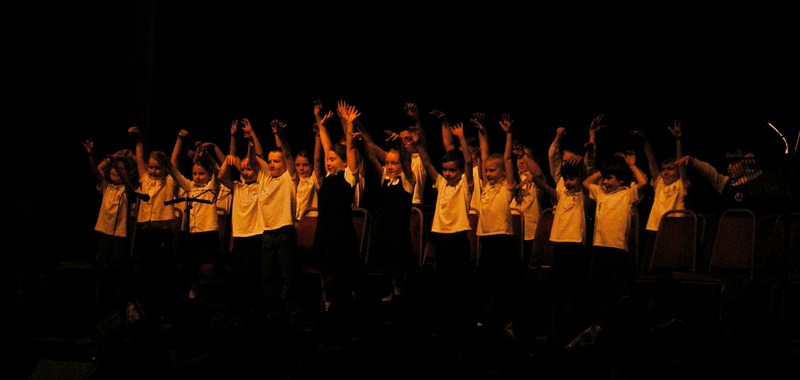 On 21st March, fourteen school from across Thanet gathered at the Winter Gardens for a festival of music. Each school, sang or played two tunes each, which ranged from traditional songs, to Iron Maiden. The event was organised by the Rotary Clubs of Thanet, and present was Rotary District Governor Lynne Mitchell, and the Mayors of Broadstairs Cllr David Saunders, and Margate, Cllr Iris Johnson

Tom Skinner Presentation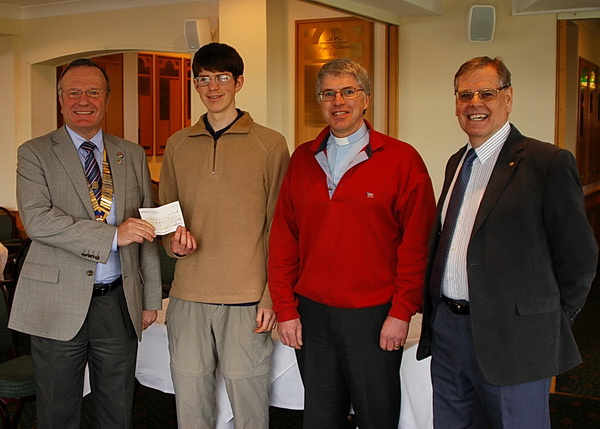 Tom Skinner, the son of a local Minister, is a medical student at Edinburgh University. As part of his training, he is undertaking a two month rotation in Parkistan. Tom has to fund this trip himself, and has raised money and sponsorship from a variety of organistations, the Rotary Club of Broadstairs being one. Tom is picture with his father, and Rotary President Brian Short, and Community Service Chairman Rtn. Eric Marks.

St Mildreds School Pancake Race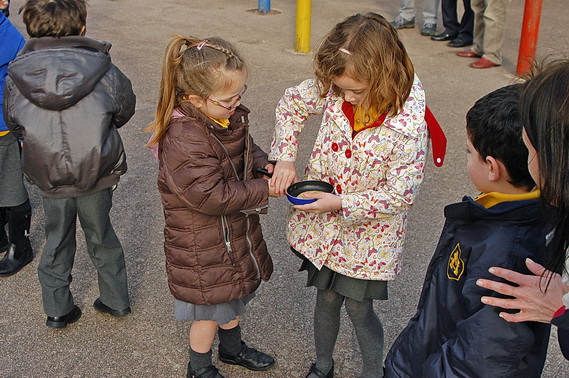 On Shrove Tuesday, at the invitation of Mrs Sue O'Keefe, Rotarians assisted in the annual Pancake Races. Each of the three year groups took part, and the winning team in each year group was presented with a Watersons book voucher to the value of £25. Rather than a running race, the competition was to pass the frying pan and pancake along the line of children and the last child had to flip the pancake in the traditional manner. Our thanks to the school for a wonderful afternoon, and for the assistance of Brenda, school receptionist, for all her help in coordinating the arrangements.


Prostate UK Presentation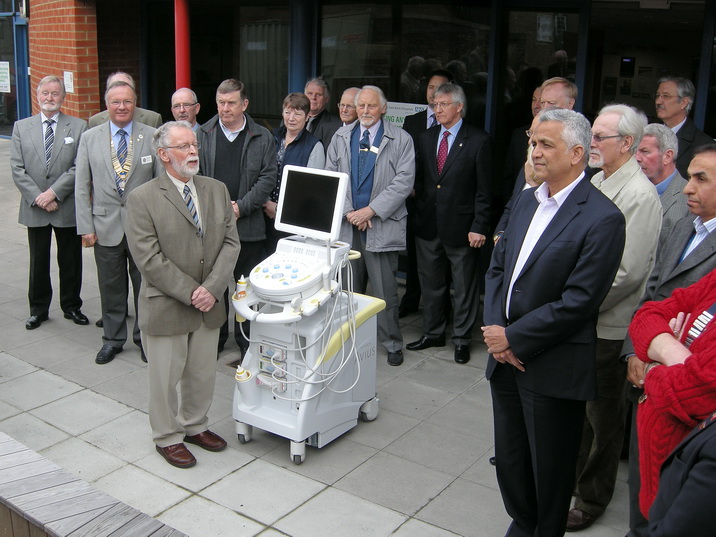 Presentation of new portable biopsy scanner to Dr Shotri at QEQM by Prostate UK supported by funding from many local charities and organisations including the Rotary Club of Broadstairs.

Shelterbox at Westwood Cross
The six Rotary Clubs in Thanet were at Westwood Cross with a Shelterbox on Thursday 23rd February. The Shelterbox can be sent to anywhere in the world in the event of disaster. It provides emergency shelter, warmth and dignity to those effected by homelessness following a disaster. For more information on Shelterbox, click here.
Rotary Day 23rd February
For Rotary, the purple crocus is used as a symbol to raise the profile of its campagin to eradicate Polio. This week the BBC has been running news stories regarding the eridication of the disease in India, and the ongoing campaign to see the world free of the disease by 2016. To read a BBC article on the history of the disease, and Rotarys' involvement in its eradication, go to http://www.bbc.co.uk/news/health-17072769
Polio Plus at Haddon Dene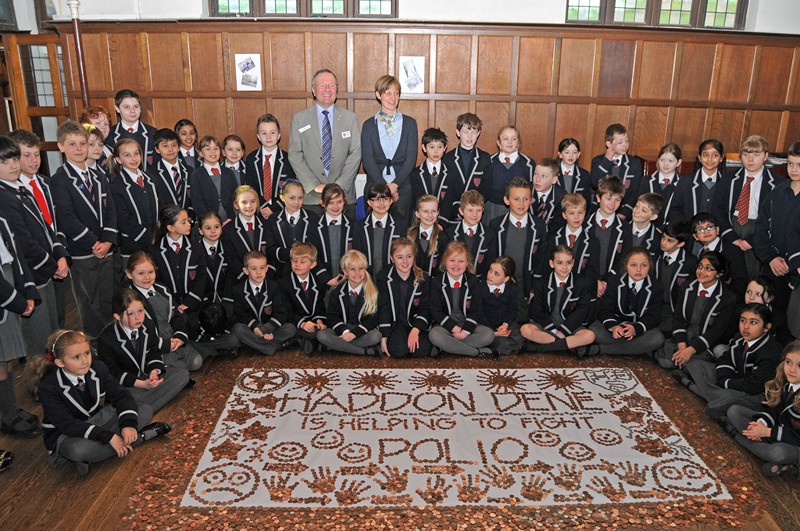 Pupils at Haddon Dene School, pictured here with President Brian Short and Head Teacher Mrs Rowe, created a picture made from pennies in support of the Rotary International Polio Plus campaign. The campaign started in 1985 has now reduced Polio from 350,000 infected people world wide to just 650 last year. It is anticipated that the disease will be eradicated by 2016, but money is still needed to make this happen. The costs, so far, exceed $800m, so every penny counts. Thank you, Haddon Dene for you wonderful contribution. More photos of the event can be found in our Photo Gallery at the top of this page.
If anyone is interest in knowing more about Rotary, or its campaign to eradicate Polio, please emailpresident@rotaryclubofbroadstairs.co.uk
International Dinner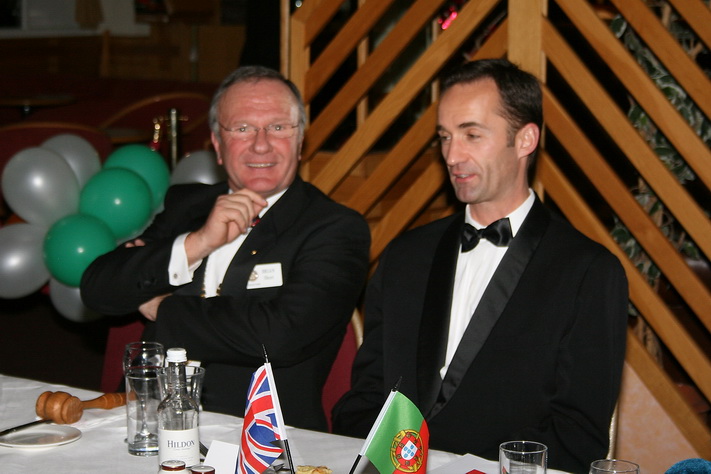 Members of the Rotary Club of Broadstairs, attended a dinner at Thanet College where the guest speaker was Filipe Silva, Tourism Director, from the Portuguese National Tourist Office; The five course meal was prepared and served by students of the college
Mid-Winter Tea Party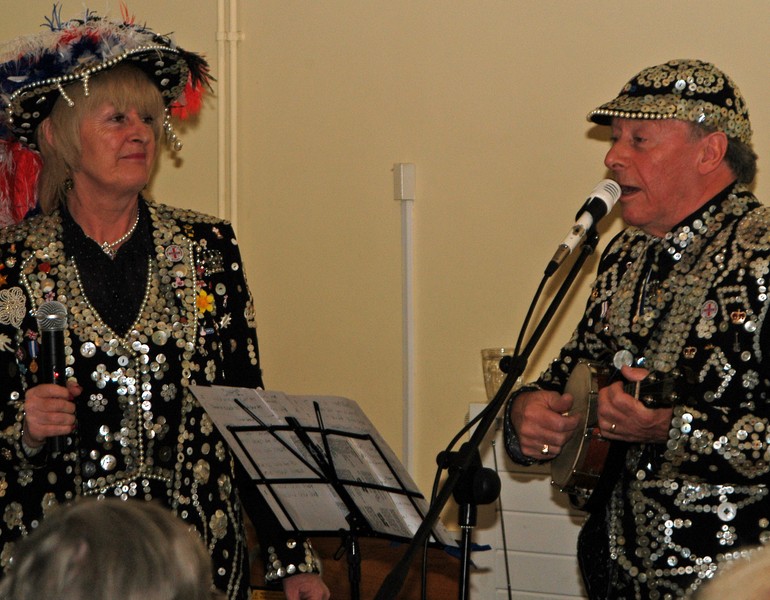 On Saturday 28th January 2012, seventy local residents of Broadstairs were entertained by the Pearly King and Queen of Merton. Along with this wonderful entertainment, a high tea was arranged by Sheila Dicks and served by the ladies of Broadstairs Inner Wheel. It was a good afternoon for all involved, with humour and fellowship. Special thanks must go to Alan Emby, for all his hard work in organising and arranging the transport for all our guests.
New members Induction 2012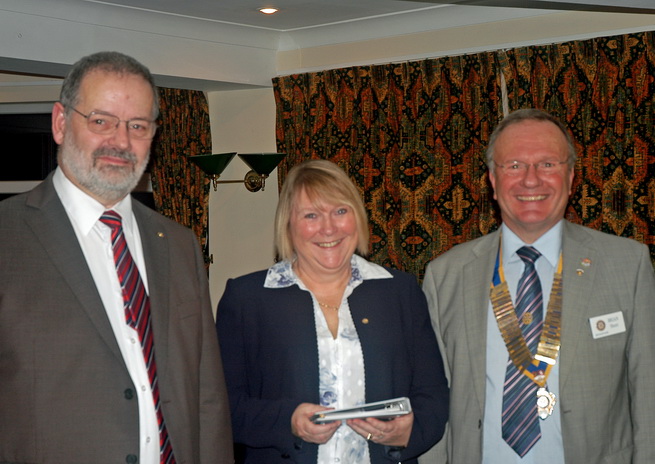 January 19th saw the induction of two new members to the Rotary Club of Broadstairs by President Brian Short. The new members are; Sue Johnson and Brian Dunne. Sue hold the honour of being the first lady to be inducted into the Rotary Club of Broadstairs. Although Rotary has been open to women for a number of years, and our current District Governor is female, Broadstairs has been slow in opening its door. However they are very pleased to welcome Sue to the Club, and hope that she will be the first of many women to join the Club. Sue is a Respiratory Nurse living in Broadstairs, but working in Whitstable; The other new member is Brian Dunne, former member of Rotararct, and Broadstairs Round Table, who works as Careers Adviser.
Christmas Trolley Dash 2011
| | |
| --- | --- |
| | |
| Rotarians Kevan Barr, Mike Dicks and President Brian Short with the winner of the Christmas Trolley Dash | Mike Dicks ( Crusties) & Stacey, Deputy Manager of Tesco's showing some of the goodies collected in the Trolley Dash. |
The Rotary Club of Broadstairs would like to express its thanks to a number of sponsors of the Christmas Trolley Dash. In particular Tesco, High Street Broadsatirs, the Manager, Deputy Manager, Stacey and all staff for their support. Also Prentices, Crusties and Hazels who donated prizes for the Raffle. The winner of the trolley dash ran away with £288 worth of good from Tescos. Second and third prizes of £110 each were also awarded. This raffle raised over £200 which will go towards the Rotary Clubs support of local charities and good causes.
Christmas Sleigh 2011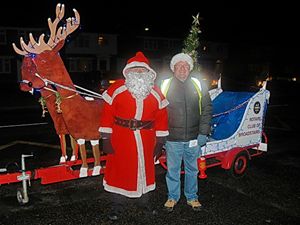 During December, the Rotary Club of Broadstairs embarked on its annual Christmas Charity Collection in various parts of the town. President Brian Short and his helpers managed to tow Santa`s Reindeer and Sleigh to Asda, Matalan, Sainsbury`s and Tesco Extra as well as 3 days in Broadstairs High Street. Santa and his Sleigh also visited local children and residents in Broadstairs and St. Peters on 5 evenings just before Christmas.
The Club would like to thank the customers of all the Stores visited and the local residents for their support and generous contributions to the collection which raised over £4,500. This money will go towards helping local good causes and charities, starting off with a Senior Citizens Tea-Party on 28th January in St. Peters. The Club also actively supports other charities such as Kent Air Ambulance, Oasis Refuge, Thanet Young Carers and Kidsout where many local children are entertained by the visiting Santus Circus in the summertime.
Paul Harris Fellowship Awards
At our Christmas celebration, President Brian Short presented two Paul Harris Fellowship Awards. The first was to a non- Rotarian, Mrs Gill Corker, for her work with the Gap Project at the Queens Road Baptist Church. The second award was to Past President Simon Robinson, for services to the Club and the community.