Archives prior to Facebook
Some of Poole Rotary's activities.
YADAS
July 2017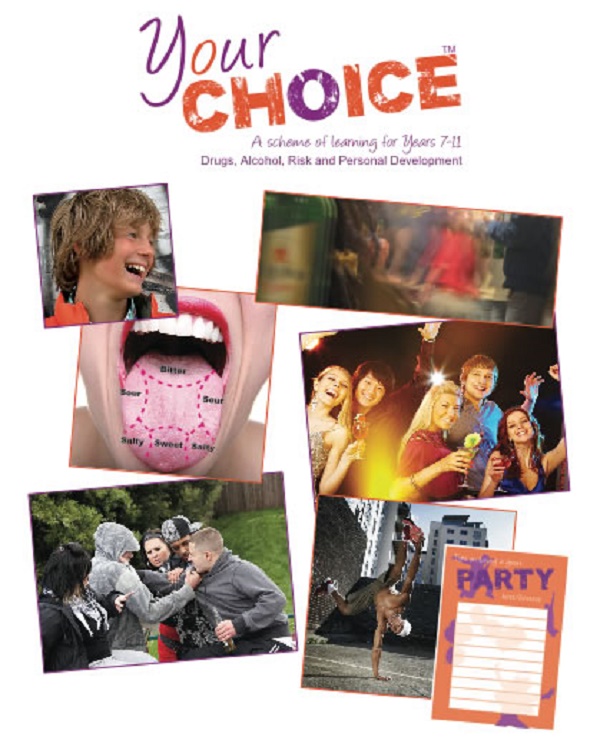 Anette Ivey, Manager of YADAS (Young Adults Drug and Alcohol Service), gave a talk thanking Poole Rotary for their on-going support and explaining the many different ways in which they supported the young of Poole in order to get their lives back on track.
Members of the club brought in a selection of dry goods to help re-stock the YADAS larder.
Talk by Head of Poole Hospital
July 2017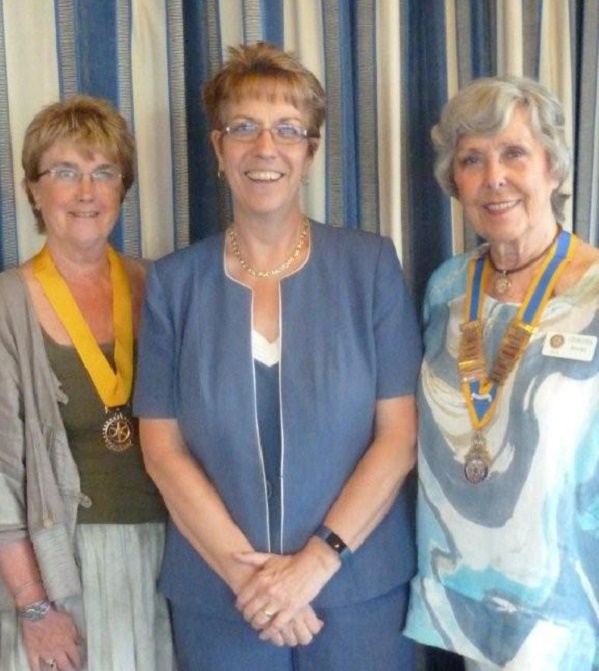 Poole Hospital CEO, Debbie Fleming, spoke to poole Rotary about plans for the rationalisation of healthcare in Dorset.
She is pictured center with President Georgina Brooks (right) and Vice-President Babs Plumbridge (left).
Kids Out at Adventure Wonderland
July 2017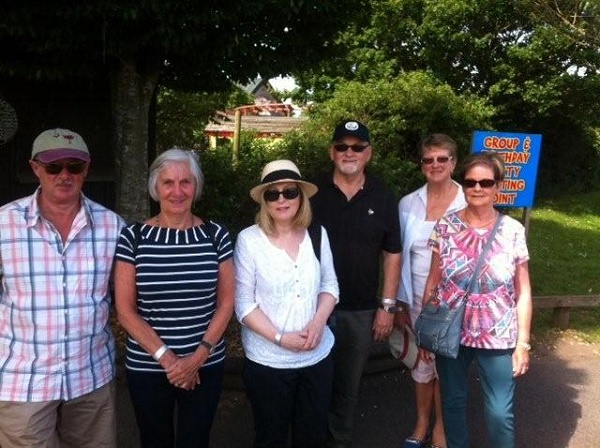 Part of the team of helpers who took children from Turlin Moor and Sylvan Schools to Adventure Wonderland in Bournemouth.
Life Education Wessex
July 2017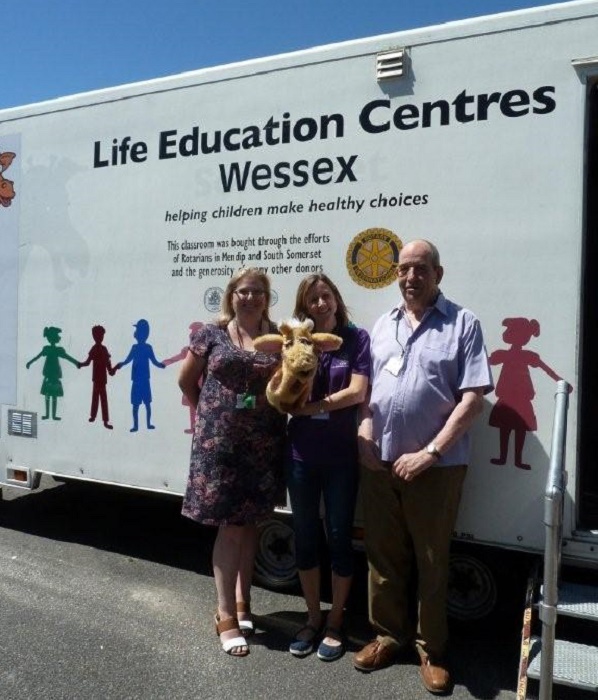 The special classroom of Life Education Wessex recently visited Turlin Moor Community School with the help of a grant from Poole Rotary.
Pictured are Karen Cantrill (left ) inclusion Leader TMCS, Katie Barnett LE educator with " Harold ", and John Duckenfield from Poole Rotary.
Handover to new team for 20017/18
July 2017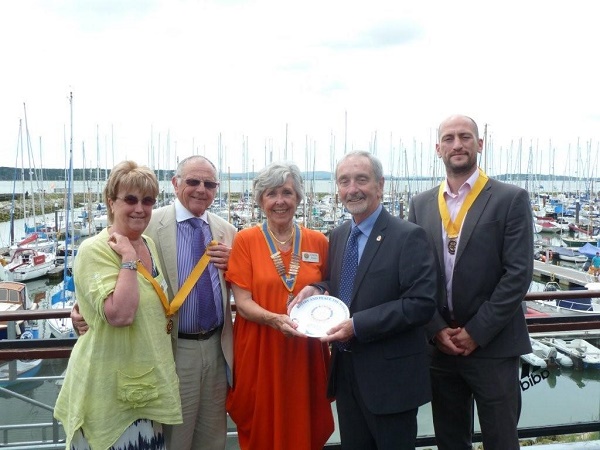 Retiring President Graham Ward (second left) has handed over to the new President Georgina Brooks (center). On the left are Vice-Presidents Babs Plumbridge and John Clement. On the right is Junior Vice-President Liam Watts.
New Rotary Polio Pledge
June 2017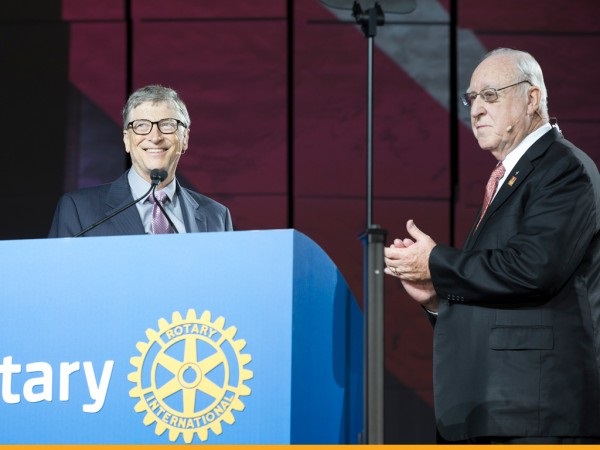 Rotary and the Bill & Melinda Gates Foundation have announced a new commitment of up to $450 million to support the eradication of polio.
To an audience of nearly 40,000 Rotary members attending the Rotary Convention in Atlanta, Bill Gates and Rotary International President John Germ, renewed Rotary's longstanding support for ending polio in a keynote speech.
"The vision of eradicating polio began with Rotary, and its support of that effort has been unwavering for more than 35 years," said Gates.
Coach Trip to Cothelstone Manor
June 2017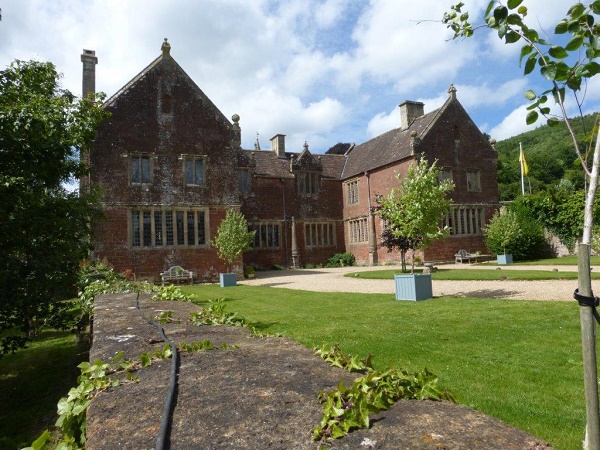 Poole Rotary and guests enjoyed a coach trip to Cothelstone Manor in Somerset.
We were greeted by the owner who gave us a conducted tour of the house together eith the Grade 1 listed gate house.
Chestnut Nurseries Gazebo
June 2017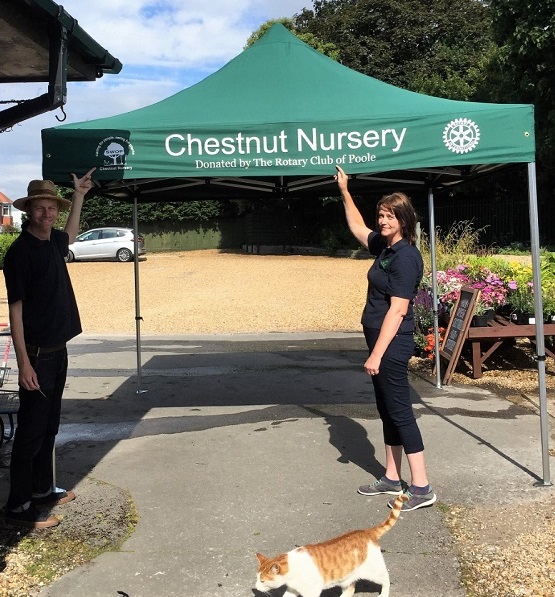 A delighted Chestnut Nursery have just sent us this photograph of their new
gazebo donated by Poole Rotary They will be using at the Nursery and taking out and about on
their travels.
Poole Rotary Presidents Evening
June 2017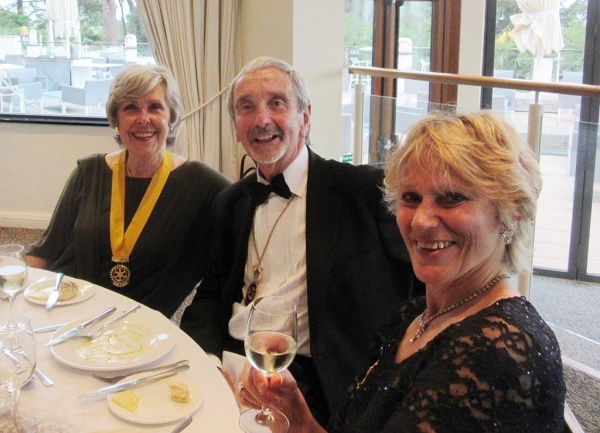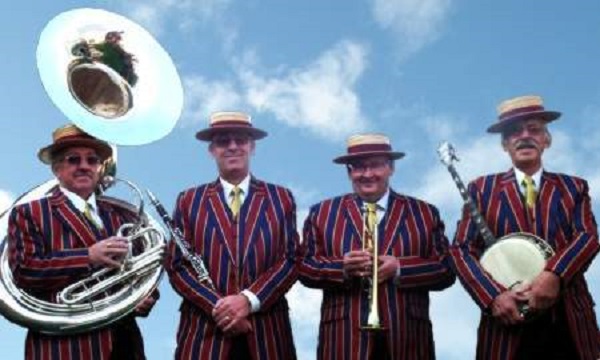 Graham Ward stepped down as President with a dinner dance at The Harbour Heights Hotel in Poole. A number of guests including Poole Rotary Business Partners and the recently retired Mayor of Poole Cllr Dion helped Poole Rotary members and their partners celebrate the evening and Graham's presidency.
Graham is shown center with Vice-President Georgina Brooks (left) and Cllr Xena Dion (right).
Traditional jazz entertainment was provided by Acoustic Jass in their striped jackets.
World Record for Longest Text Message
May 2017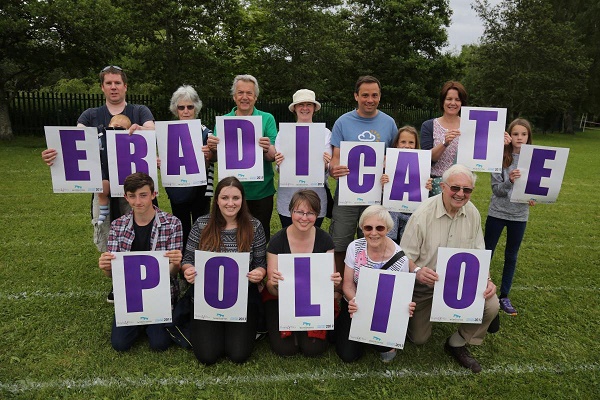 Poole Rotary and other Rotary clubs in the area together with members of the public of all ages took part in the world record attempt to raise the profile of our Rotary and tell the story together of how Rotary promised the mothers of the world, we would eliminate Polio.
Subject to confirmation from Guinness, together, we were successful and have made a unique world record for the longest human representation of a text. A great community effort was made by all - even the weather held up long enough.
Wessex Area Boules Competition
May 2017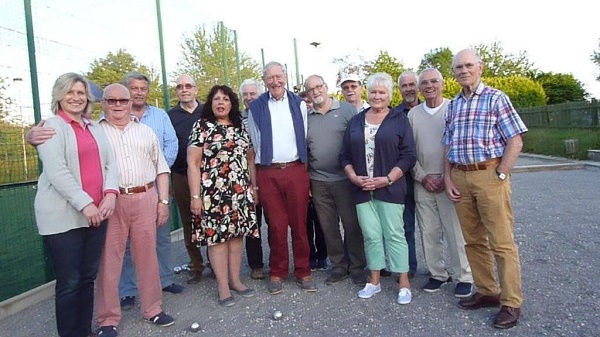 Members of the Rotary Clubs of Bournemouth and Poole met recently in the Wessex Area Boules Competition and on this occasion unfortunately the team from Bournemouth Rotary were triumphant and we failed to progress to the next round.
Poole Hospital NHS Trust Award Ceremony
May 2017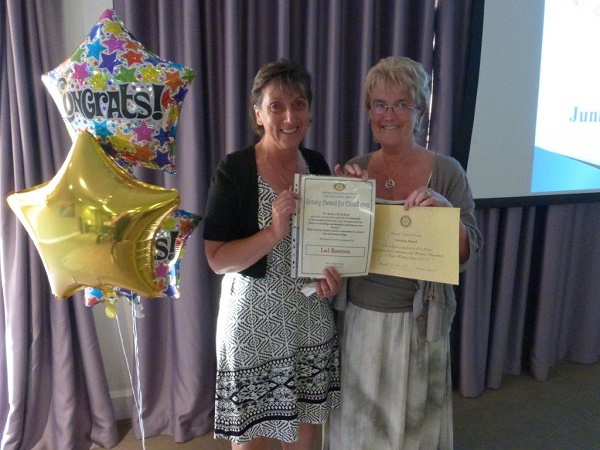 Babs Plumbridge (right) of Poole Rotary attended the Poole Hospital NHS Foundation Trust Award Ceremony last night and was very honoured to present the Rotary Award for Excellence (and cheque!) to Lol Reeves, a very worthy winner.

On the back of the programme it stated "Once again we would like to take this opportunity to thank the Rotary Club of Poole for their continued commitment to the Rotary Award for Excellence Prize and their ongoing support with a wide range of fund raising activities which supports Poole Hospital and the provision of patient care."
Poole Maritime Festival
May 2017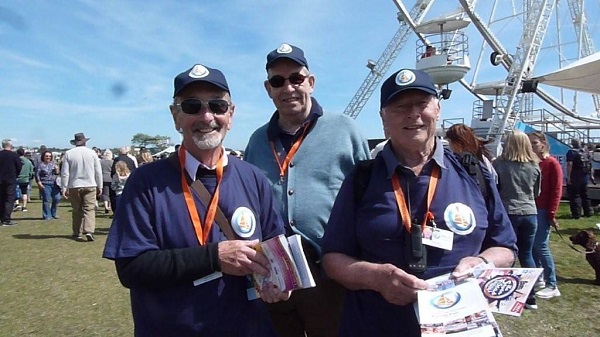 Just some of the Poole Rotary members who volunteered as stewards for the Poole Maritime Festival.
£1.25 million Donation
May 2017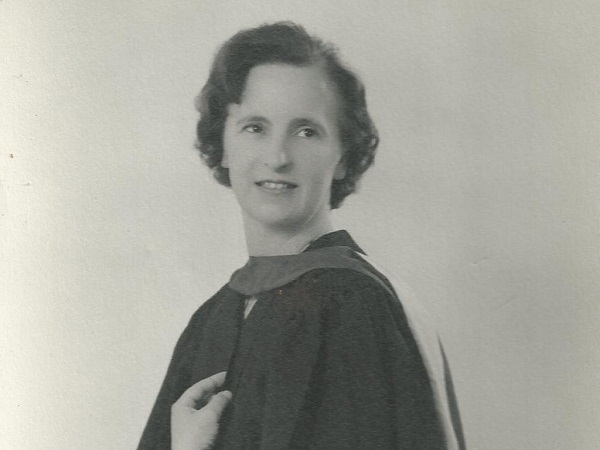 Helen Ruddock bequeathed a generous donation in excess of £1.25 million to The Rotary Foundation. Having passed away in 2015 at the age of 96, and although not a Rotarian herself, Mrs Ruddock had a passion for improving the lives of others.
Complying with Mrs Ruddock's wishes, the spendable earnings from her gift, known as the Helen Ruddock Foundation Endowed Fund, will exclusively fund charitable service projects in the area of water and sanitation to improve the provision of clean water and hygiene practices in communities across Africa through the Rotary Global Grants programme.
Ronald McDonald House Charity
May 2017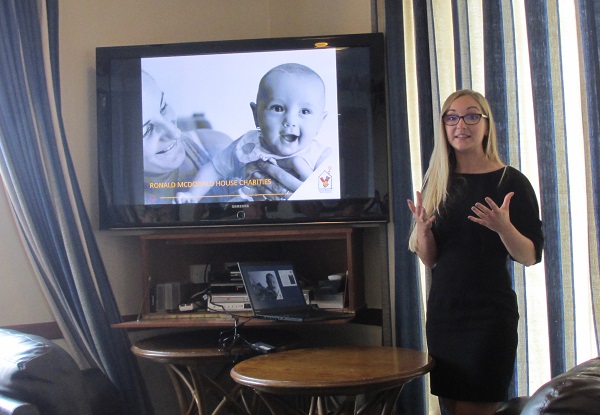 Charllote Stamp gave our lunchtime meeting a talk and the background and future plans for their house in the grounds of Southampton Hospital.
Ronald McDonald House Charities provides free 'home away from home' accommodation to families while their child is in hospital.
Rotary 112 years Old
February 2017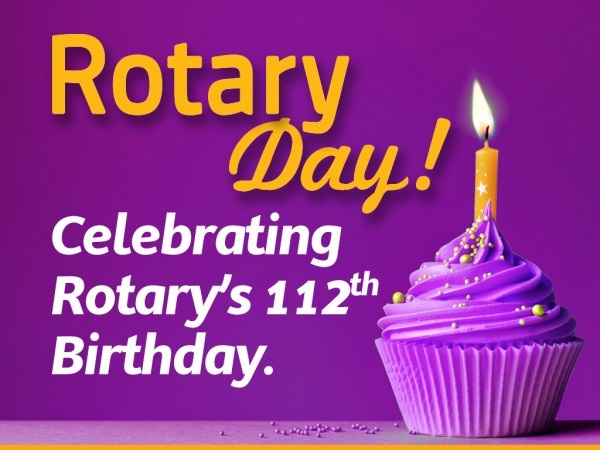 Jean Robinson Trust, Grenada
February 2017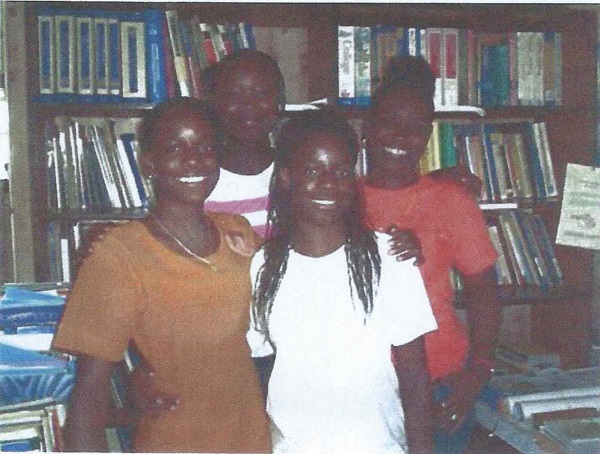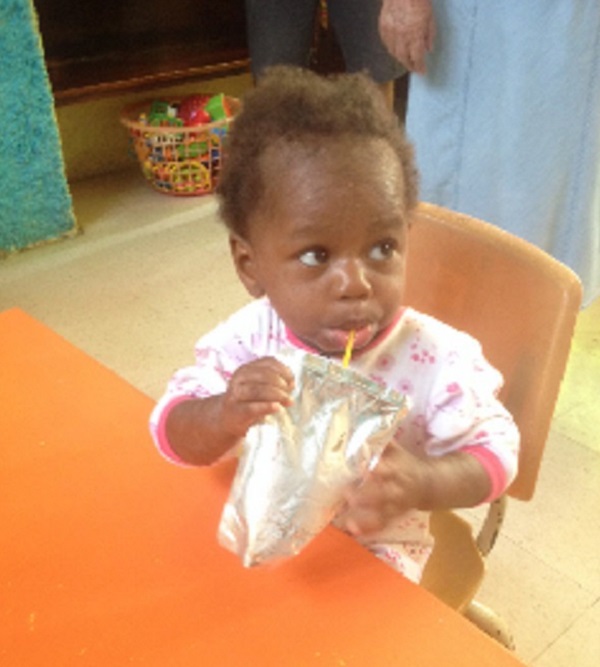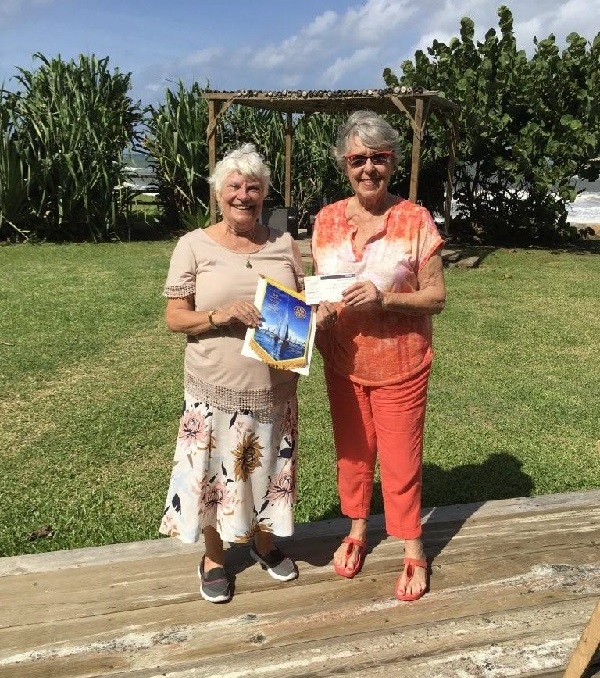 About Face
February 2017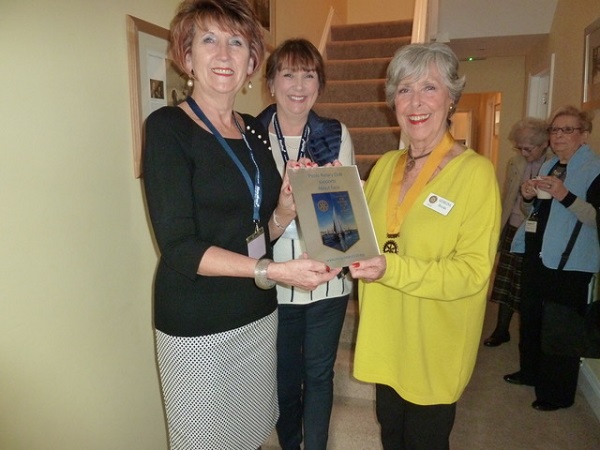 Purple For Polio
January 2017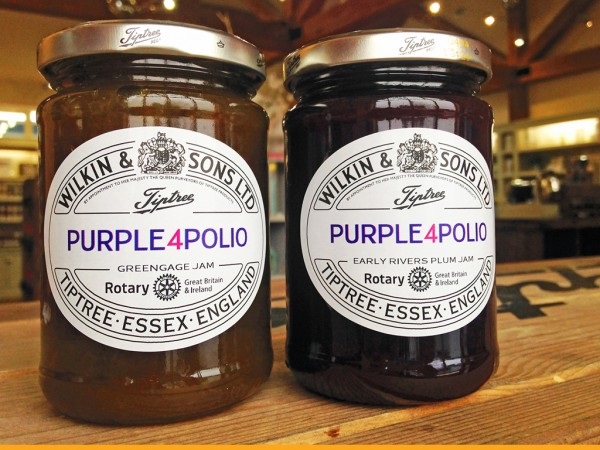 Turlin Moor School Dictionaries
January 2017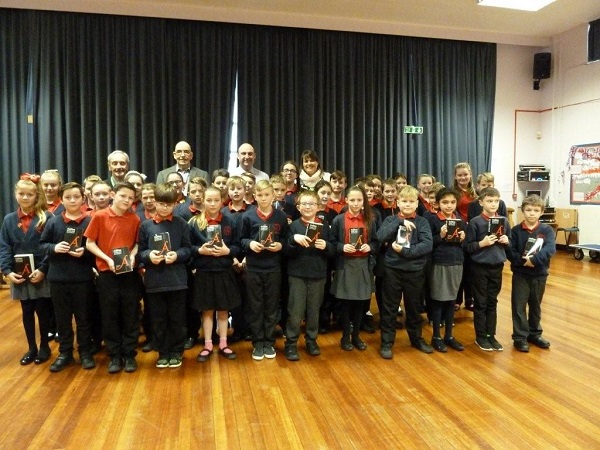 Santa Train
December 2016
YADAS
December 2016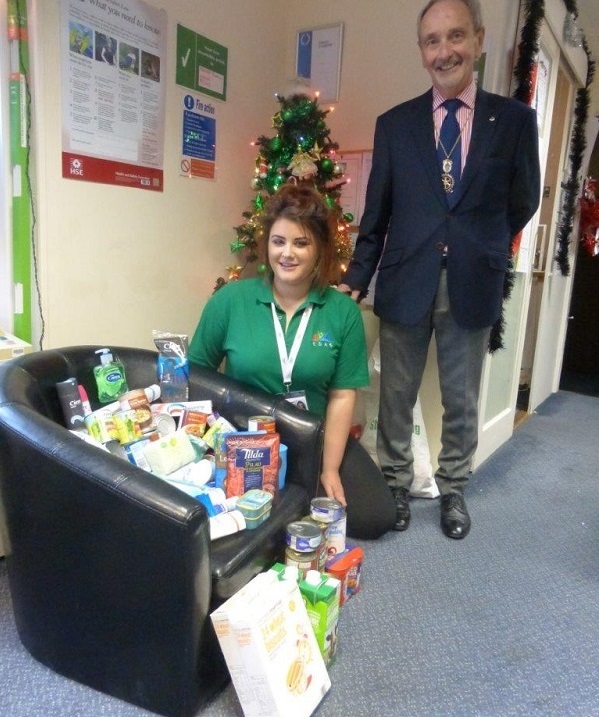 Longfleet School Dictionaries
December 2016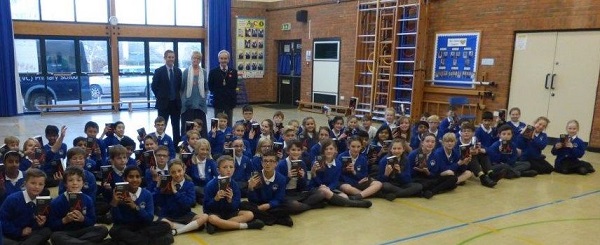 Sylvan School Friendship Bench
December 2016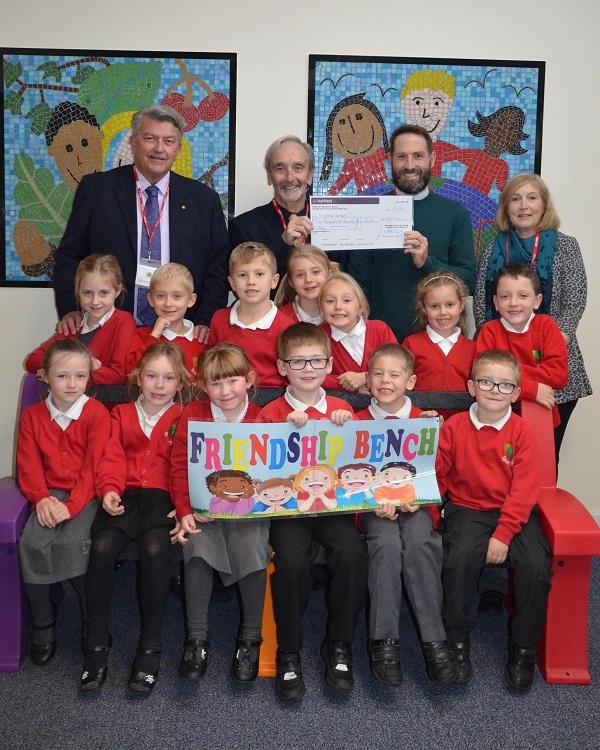 Dr Jo Taylor on Vasculitis
November 2016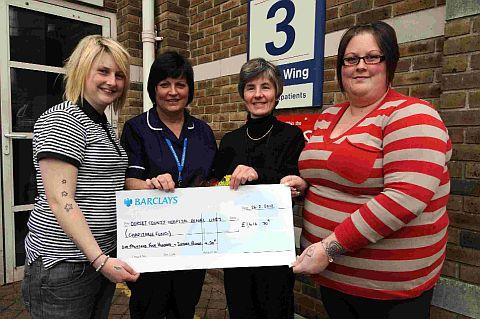 Dr. Jo Taylor, Head of the Dorset Renal Unit based at Dorchester Hospital, spoke on Vasculitis, with illustrations of the sort that medical people love to show ornery folk.
She is shown above centre right collection a cheque for one of the many donations that keep her unit functioning at its best.
Although Vasculitis is very rare, two of our group suffer from different forms of it. Dr Taylor's talk gave other members a chance to understand what they are suffering from and how they are being treated.
Dr Taylor went on to say said that obesity and diabetes are the main causes of fatal kidney failures. The NHS spends £1 billion per year on dialysis, at £25k per patient.
Barolo Spanish Lunch
November 2016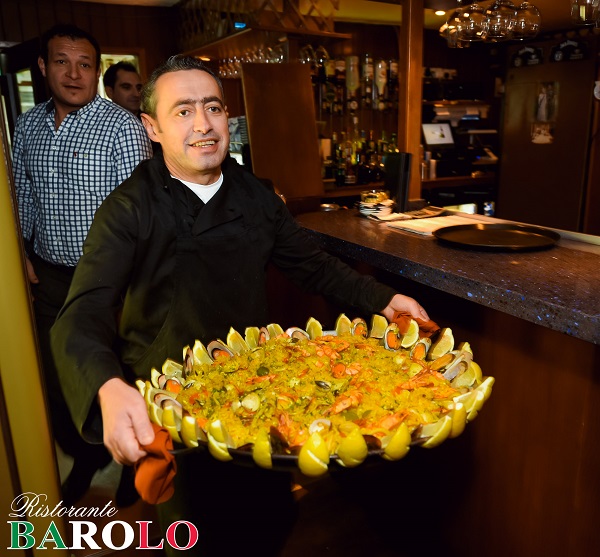 A Poole Rotary members and guests enjoyed a Spanish lunch in an Italian Restaurant run by Iranians! And very good it was too.
Masurian Lakes
November 2016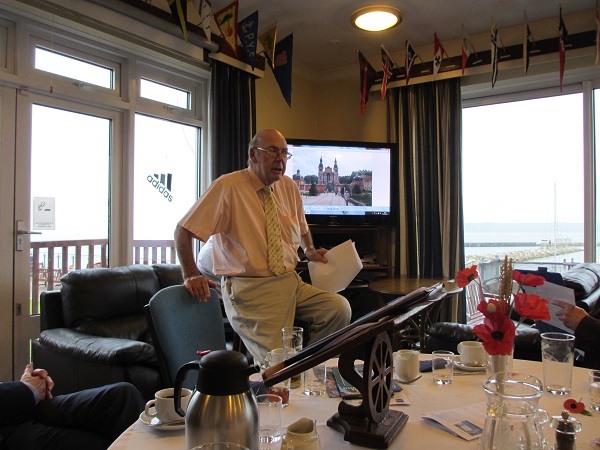 Poole Rotarian Bryan keeping gave a fascinating talk on the Masurian Lakes ("˜paradise"™) in Poland and on Russia"™s disquieting activities in the region ever since WWII.
Masuria, formerly a province of East Prussia, was ceded to Poland from Germany as part of the Potsdam Agreement in 1945 but Kaliningrad province just to the north is part of Russia but not connected to it. Bryan told us that Kaliningrad city was a lovely German town, ruined by the Red Army occupation that drove many to leave. It now contains missiles aimed at Berlin. NATO sees it as a potential flash-point between East & West but seems to have no idea what to do to reduce the tensions.
Bryan showed a photo of one of the five canal slipways at Elblag, close to the Baltic Sea, where vessels can be hauled up from one level to the next. The same idea as the one at Ironbridge, Shropshire""but that"™s defunct.

He also recommends WrocÅ'aw (formerly Breslau) towards the South-East of Poland. (Ryanair flies from Bournemouth to Kraków but that"™s a tedious 4 hour drive away.)

He reminisced about a trip to the Baltic States with Kiel-Eider Rotary many years ago, a joy to him with his fascination for these countries for over six decades.
Education in Grenada
October 2016

Poole Rotary's international project for the 2016/17 is the J J Robinson Trust in Grenada.
Grenada is not the paradise portrayed in tourist brochures, it is a poor community and the needs of the island's children is great. There are few books, poor transport and no money to pay exam fees.
The Trust is run by volunteers with no administrative costs - every penny braised goes into the education of children. The Trust pays the bills directly to the transport company, the book suppliers, schools, universities etc.
Poole Rotarian Georgina Brooks is visiting the Trust in December and will pass on our first donation.
About Face
October 2016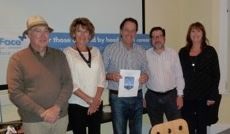 The trustees of About Face have thanked Poole Rotary for a donation of £250 for a new dishwasher.
About Face is a charity based opposite Poole Hospital supporting people affected by head and neck cancer.
Stewart McPherson
October 2016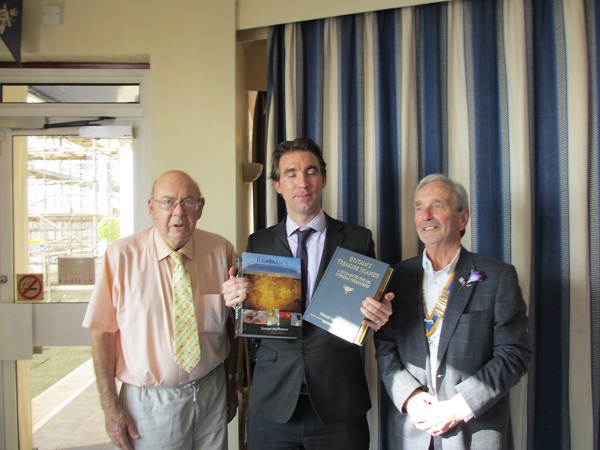 Stewart McPherson (centre) was his usual ebullient but self-effacing self. We think of him as being a TV star, the next David Attenborough, but he modestly claims he is still a nobody in the media world.
Poole Rotarian Bryan Keeping (left) introduced Stewart"™s talk by telling us that he and fellow member Norman Morris were very impressed by the 17 year-old Poole Grammar School boy whom they interviewed for a Rotary Gold Trust award (predecessor to the Bursary Fund) in May 2000. They had no hesitation in approving £200 which went towards a trip to Belize to further his passion for exotic creatures and plants, evidenced by the collection of creepy-crawlies and reptiles in his bedroom that he started as a wee boy.
He studied geography at Durham University and was sponsored by Poole Rotary as an Ambassadorial Scholar to further his scientific travels, including a trip to a remote plateau in Venezuela and a year at Yale. His endeavours led to discoveries of rare carnivorous plants and creatures. He has used his boundless energy and enthusiasm to explore many virtually unknown parts of the globe, overcoming arduous physical and institutional challenges to discover 30 new plant species and produce many books, films and the recent BBC4 TV series.
He presented to the Club signed copies of his book that accompanies the TV series, "Britain"™s Treasure Islands", one leather-bound with gold edges.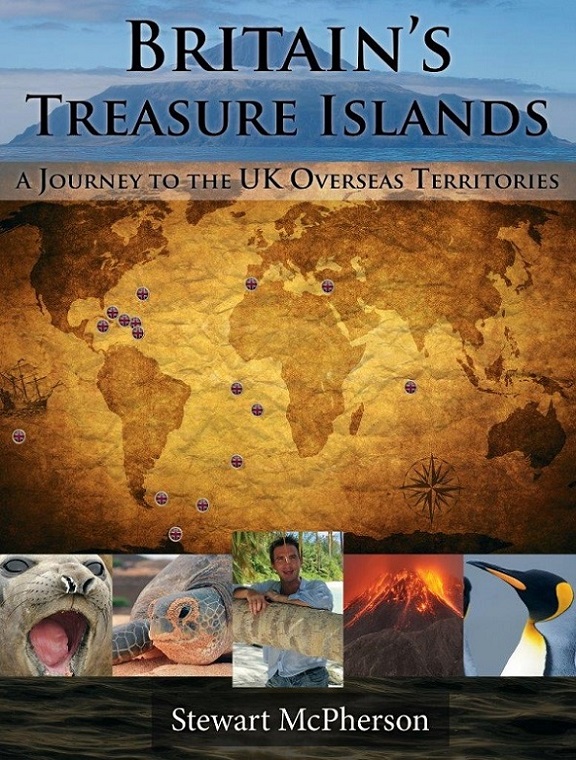 Stewart"™s passion that all youngsters should be enabled to appreciate and value the wonders of the natural world persuaded Lord Ashcroft to sponsor a copy of the book for each of 5,300 UK schools. At 4kg per book, over 20 tonnes have been shipped out! Stewart is using his present trip to the UK to give talks to as many schools as he can.
As well as his books, Stewart has produced 42 short films, available on YouTube; one has been viewed 300,000 times.
Stewart"™s book and DVDs acknowledge Poole Rotary"™s support, with the Rotary International and twin-sails logos portrayed in them.
He has been invited to advise MPs on the Overseas Territories, about which many have little knowledge, even though the 14 countries, with 270,000 inhabitants, are all British!
Two more TV series are likely, but he says planning and negotiations seem to take for ever. The first will cover five "unexplored worlds, places people know little or nothing about": remote parts of Venezuela that inspired Conan Doyle"™s "Lost Worlds", Ethiopia (200 m. below sea-level, the hottest place on earth), Greenland, an island off Yemen full of alien species, and New Guinea. The second new series will be on "The World"™s Wildest Islands" - he does like to make life difficult for himself! BBC funding does not cover the whole cost so he is grateful for any financial contributions.
After leaving us he is going home to Australia to see his wife and two small children, Louis and Jasmine, but will soon return.
Rotary YouTube Video Links
October 2016
Poole Rotary District have released a series of YouTube videos featuring Poole Rotarians and members of other local Rotary clubs.
They are intended to give prospective members, business partners, charities and other in our community an introduction to Rotary.
The link to the first YouTube video is here:
Film 01 Rotary What's in it for Me?
Meeting of local Rotary Clubs hosted by Poole Rotary
October 2016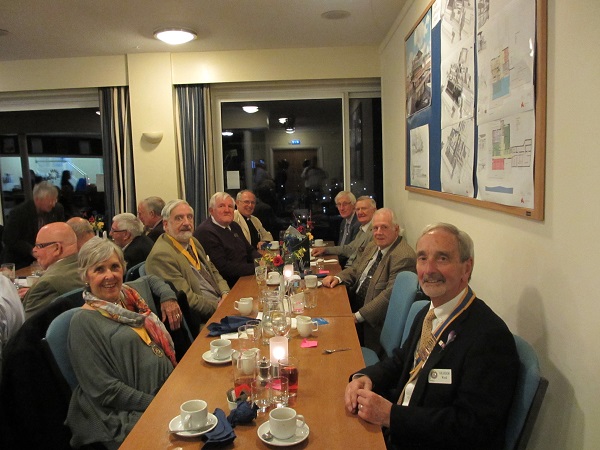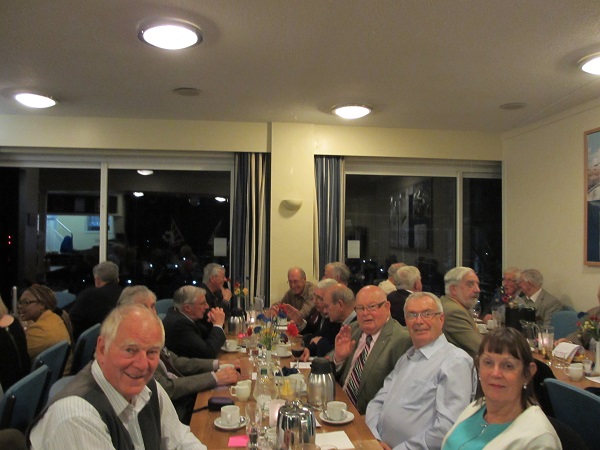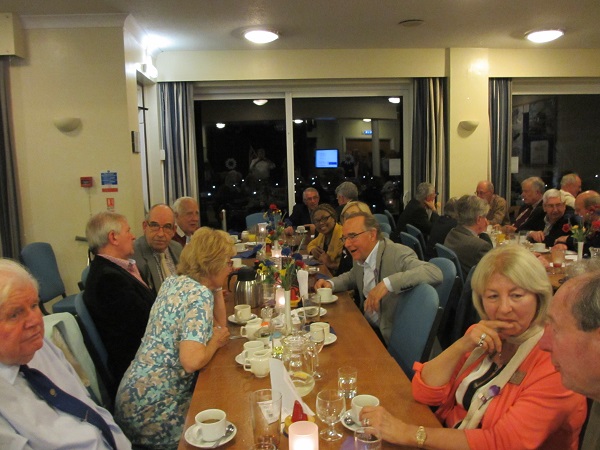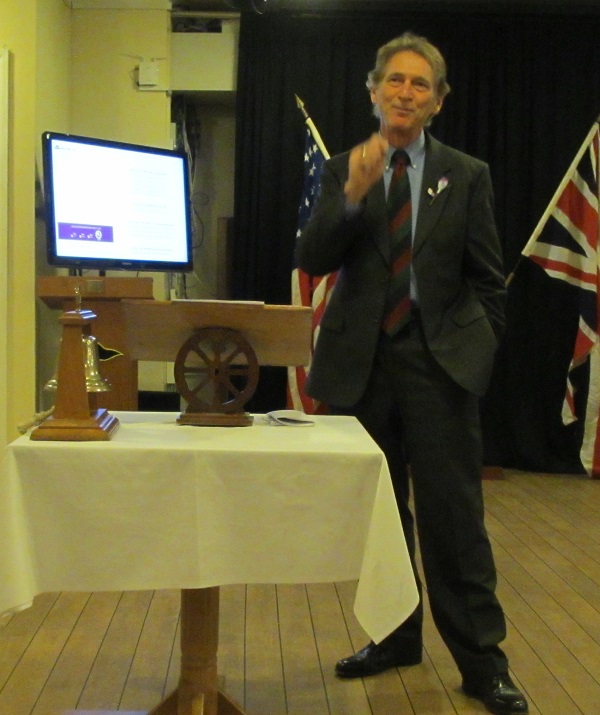 After a successful meeting, guest speaker Col. Bryan Dion (the Mayor"™s husband) shown in the bottom picture spoke openly on military and diplomatic successes and failures, the US Presidential election, and anything else Rotarians asked about.
His time in the US military (he signed up in 1975, aged 18), including the Pentagon, often in a planning role, gave him broad experience. "Armies are good at breaking stuff, diplomatic organisations fix things". He quoted the maxim that politicians follow, voluntarily or involuntarily, "Never let the facts get in the way". In 1993, Bryan left the army, joined the reserves and came to Europe, working in his father-in-law"™s company in Wimborne, making plastic bags!

In 1996, he was called up for service in Bosnia for 9 months""the max. duration for territorials.
He sees 9/11 as the start of a global shift to fighting terrorists. He believes perspective was lost in Afghanistan from 2001 and Iraq from 2003, leading to little political or military will to tackle problems in Syria.
As he and his wife are committed to right-wing politics, he can see the appeal of Trump over Clinton but says whoever gets in will be unable to push their most radical policies through.
YADAS Collection
October 2016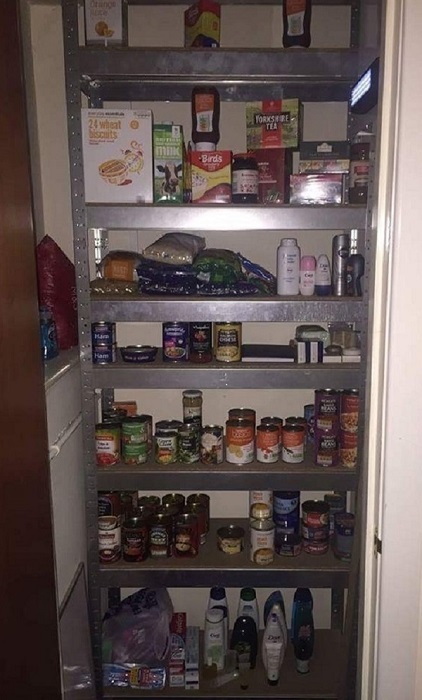 The the cupboard at YADAS which is well stocked for another few months thanks to the collection of groceries from Poole Rotarians.
Tools For Self-Reliance
October 2016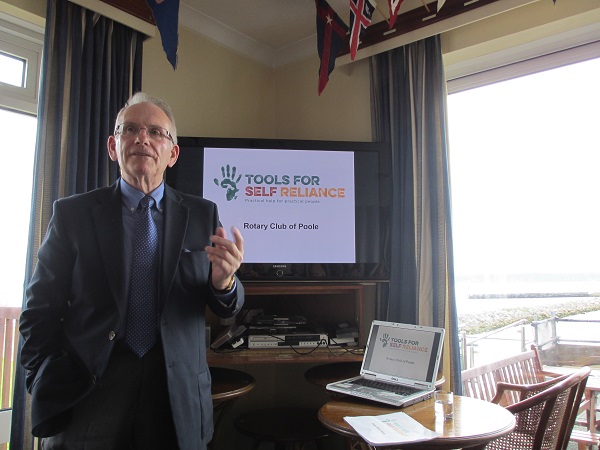 Chris West gave a very informative and interesting talk on Tools for Self-Reliance""he has been a volunteer for 19 years. He explained that it has been providing "practical help for practical people" since 1980 when it was founded by a young man on VSO.
Poole Rotarians are now busy sorting out their redundant tools for donation.
Business Partners Breakfast
September 2016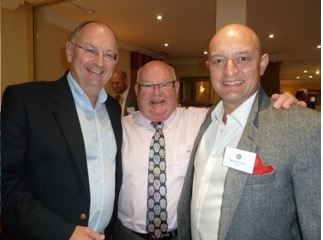 Poole Rotary are grateful for the financial contribution to charitable causes made by Business Partners. They were given an opportunity to see what we do and how they have helped us, how we can help them and to network amongst themselves. All over a good breakfast at the Miramar Hotel in Bournemouth.
Bournemouth University provided a speaker who described the challenges and opportunities arising from being imbedded in the town.
Macmillan Coffee Morning with Parkstone Yacht Club
September 2016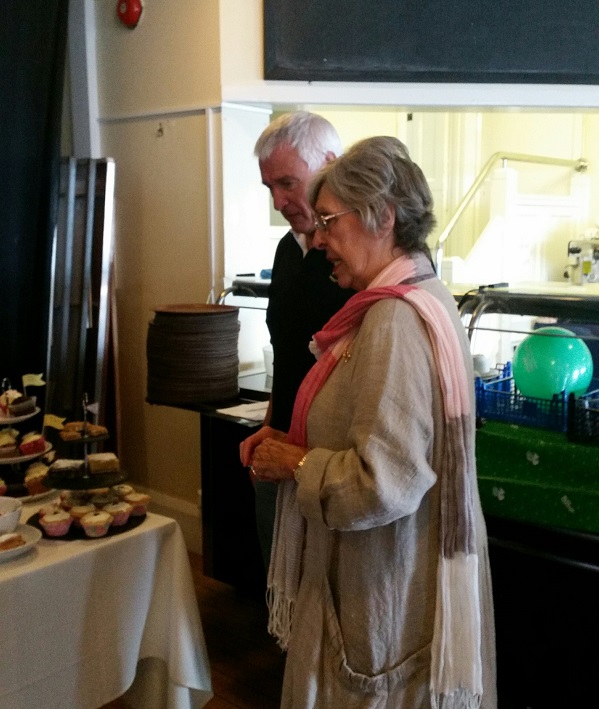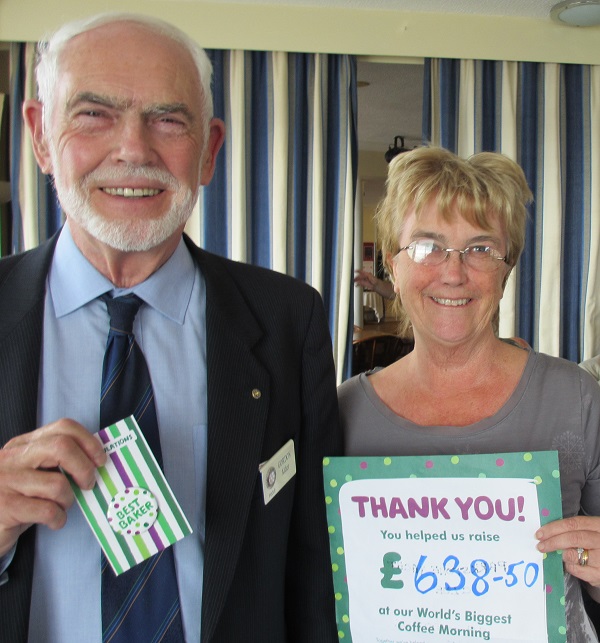 Very successful joint event with our Tuesday lunch hosts. A magnificent £638.50 raised for Macmillan Cancer Support""and the cakes were terrific.
The top picture shows Bryan Drake, Commodore of Parkstone Yacht Club, inspecting the produce along with Georgina Brookes, Vice-President of Poole Rotary.
Well done the organiser, Babs Plumbridge of Poole Rotary (right in the second picture), and everyone from both clubs who helped. A special "Best Baker" award was given to Poole Rotarian Gordon Adler who was a unanimous winner.
Rotary Foundation eradicating Polio
September 2016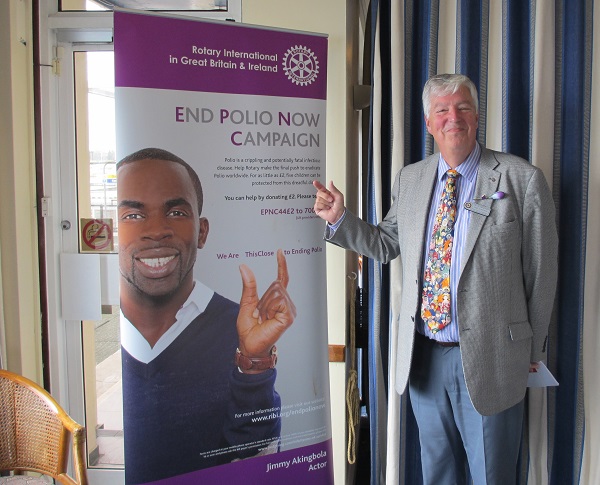 Nigel Barnfield, District Foundation Chair and past DG, gave us an interesting insight into the Rotary Foundation to which Poole Rotary contributes.
It will be 100 years old in 2017, during which time $3.8billion has been spent on good causes.
The current priority is the eradication of Polio, endemic in 122 countries with 350,000 cases/year when Rotary adopted it in 1985 as a major project, and in only 2 countries now, Afghanistan & Pakistan, with the number of cases falling each year. The Bill and Melinda Gates foundation still adds double to what we raise.
World Polio Day is on 24th October.
Forest Holme Talk
September 2016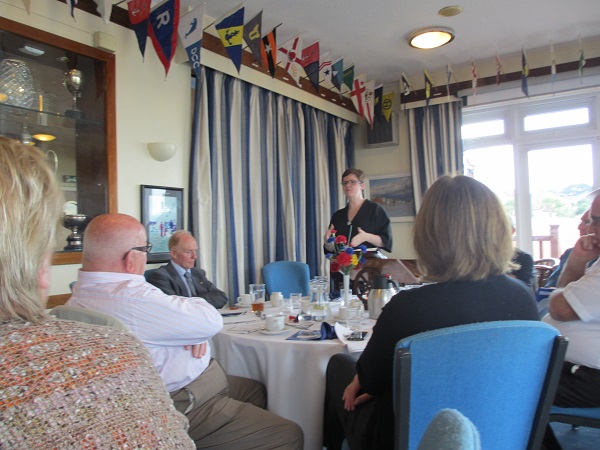 Poole Rotary were treated to an after lunch lunch talk from Anne Curry, Charity Manager for Forest Holme Hospice.
The Hospice is 75% funded by NHS; they have to raise the remaining 25%""£750,000/year""themselves. Each year, they help 1,000 local people from a broad age spectrum who have any life-limiting condition. A wide range of health professionals including doctors, community & specialist palliative nurses and bereavement councillors provide physical, mental and spiritual palliative care.
The Hospice has 12 beds but most of their work is done in patients"™ homes, nursing homes and local hospitals. Sadly the average stay at the Hospice is only 12 days.
Italian and Haitian Earthquake Relief
September 2016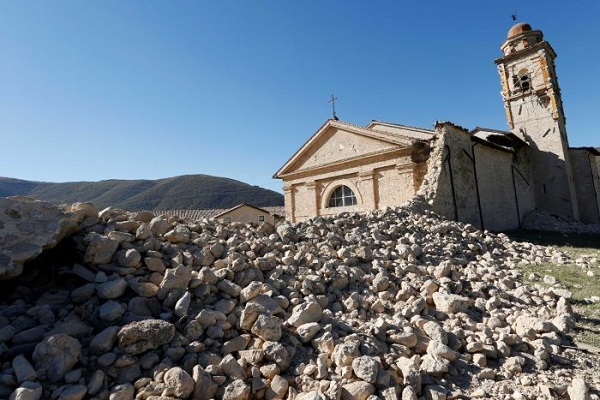 Emergency Shelter boxes have been sent to Italy and Haiti.
Mayor of Poole inducted into Poole Rotary
August 2016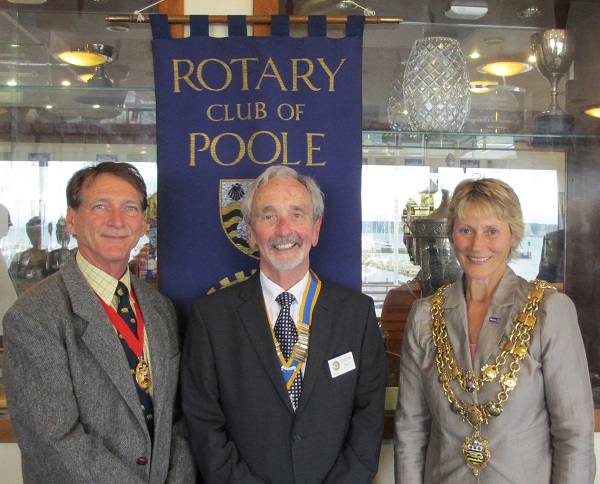 The Mayor, Cllr Xena Dion is shown right with her consort, husband Bryan, left and Poole Rotary President Graham Ward centre after her induction as an honorary member of Poole Rotary.
To quote from the Mayor's Blog:
"About a gazillion years ago when I was at Poole College finishing my A levels, my mother encouraged me (strongly) to join the Wimborne Rotaract Club. I think she thought I would meet a 'sensible young man' and settle down. That certainly didn't happen, but I did get my first insight into 'Club' life where developing a sense of community spirit by working on projects and giving up time for others but having fun at the same time was the focus. I also remember organising my first charity event which was on St George's Day because, after working on my costume all day (a very fetching mediaeval maiden) I was the only one dressed up! So much for listening to everyone else saying they would be dressed up too.
The Rotaract Club was and still is, the junior branch of the Rotary Club, an institution developed over a 100 years ago by a visionary chap in Chicago, Paul Harris as a place 'where professionals with diverse backgrounds could exchange ideas and form meaningful, lifelong friendships'. It now has over 1.3 million members.
So that aside, I was very interested to hear about what is happening locally in the world of Rotary here in Poole and was delighted to receive an honorary membership from our Poole Rotary Club. Many thanks to the president Graham Ward, Secretary Tony Pawley and the members, for their warm hospitality at Parkstone Yacht Club.
With a perfect opportunity to talk to people who know, in that long time, not a lot has changed. The Rotarians are still having just as much fun as the Rotaract members, perhaps more so, judging from their Caribbean Night
But they are still keeping the original ethos of the founding father at the heart of their work. Business networking and promoting business opportunity and working for and within the community are still the focus of efforts. They provided the marshalling, for example, for the Macular Society's walk through Poole in June."
Three new Business Partners
July 2016
Poole Rotary are pleased to welcome three business partners, who are now contributing to Poole Rotary's support of local charities:

Estate Agents,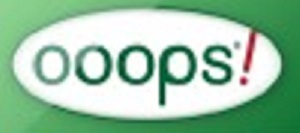 Car Body Repair,

Insurance Brokers.
Presidents' Caribbean Evening
July 2016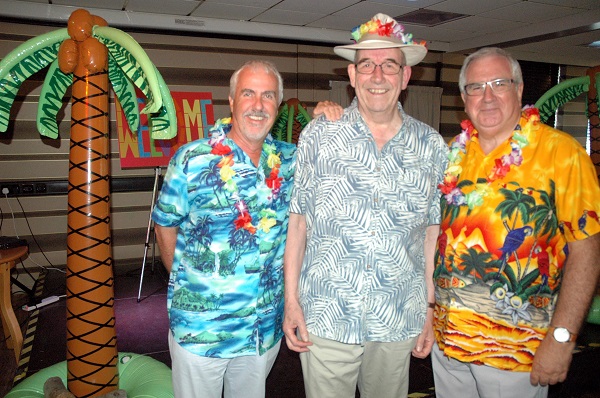 The last three Presidents of Poole Rotary combined resources to host a Caribbean theme evening at Cohbam Sports and Social Club, Merley. The hosts are shown left to right: Derek Winter, John Duckenfield and Stuart Dean.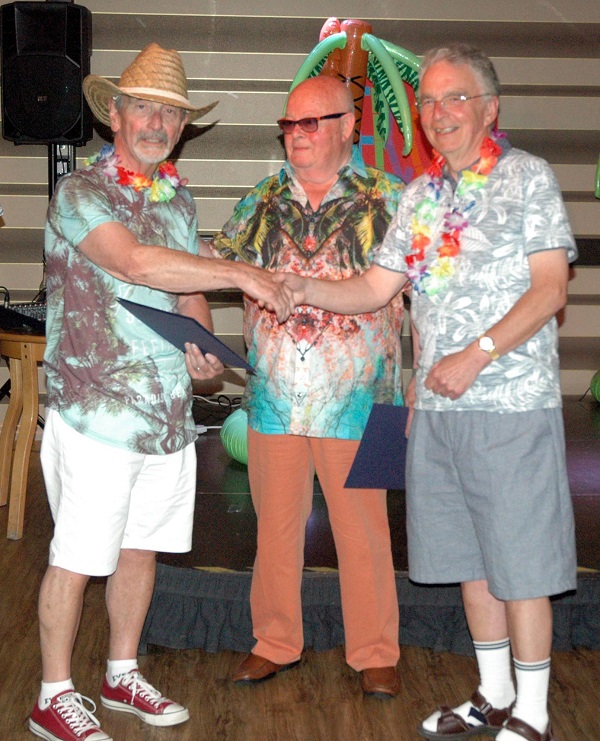 Current Poole Rotary President Graham Ward (left) used the occasion to present Peter Brooks (centre) and Tony Pawley with Paul Harris fellowships, Rotary's greatest honour.
The fellowships are named after the Chicago businessman Paul Harris, who founded Rotary over 100 years ago, the Paul Harris Fellowship is only given to recognise Rotarians who give outstanding service to both Club and community.
Peter Brooks was honoured for his role as Poole Rotary's special event fund-raiser and organiser of the Club's Business Partners scheme.
Tony Pawley who has been President twice and who as Secretary forms the administrative backbone to the Club.
President Graham Ward said that it was a great privilege to present this honour to two dedicated Rotarians who continue to play such an important role in Poole Rotary's many activities.
Volunteer of the Year Award
July 2016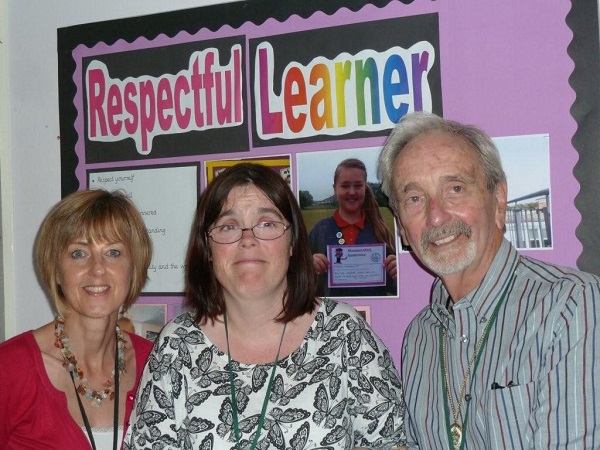 Poole Rotary President Graham Ward presented the Poole Rotary Volunteer of the Year Award at Turlin Moor Community School to Mary Gilbert with Head teacher Alison Hawkes (left).
Traffic Lights don't light traffic
July 2016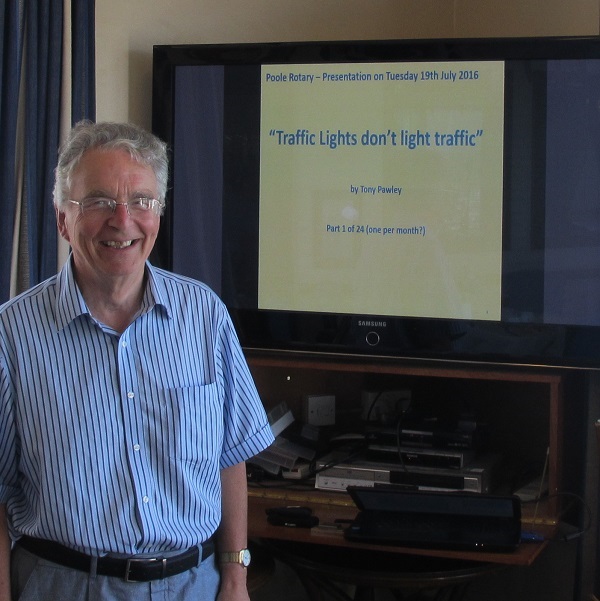 Poole Rotarian Tony Pawley entertained the club with a talk on the design and development of Traffic Lights - the area in which he worked. He valiantly defended decisions taken which cause frustration to motorists.
Liam Wyatt Job Talk
July 2016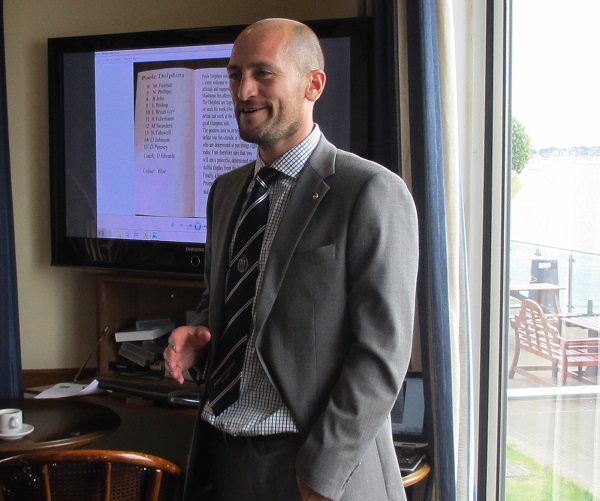 The newest member of Poole Rotary, Liam Wyatt, gave the traditional introductory Job Talk. He covered a mix of playing Basketball across the UK, America, Australia and Bermuda with a career as a policeman and insurance broker.
Liam's company Lorica Insurance have joined as a business partner.
Thanks to Liz Miller of James & Sons
July 2016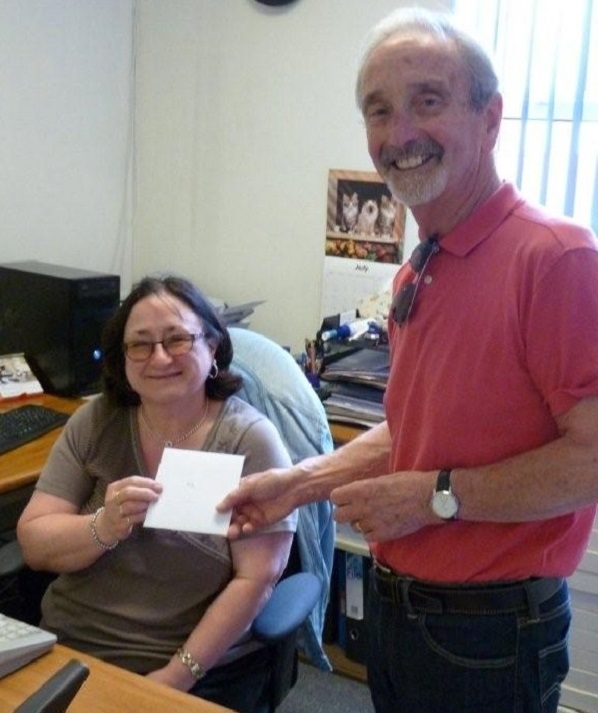 Poole President Graham Ward making a surprise visit to James & Son to present Liz Miller with a £50 M&S gift voucher for taking apologies & guests so well for many years. She is now stepping down from this role. Liz has worked there for 40 years""she doesn't"™t seem old enough""serving Poole Rotary well during that time.
Installation of New President and Vice Presidents
July 2016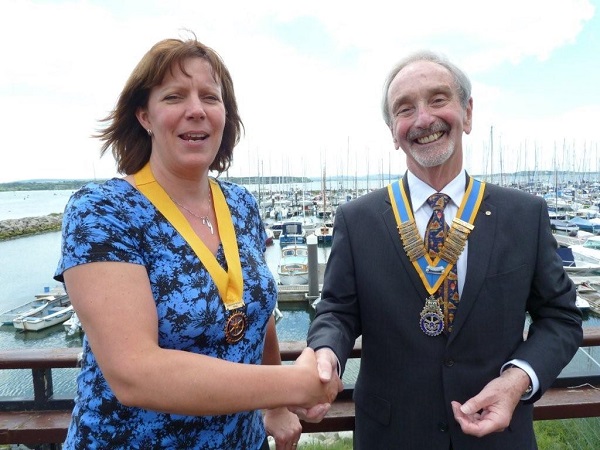 New Poole Rotary President Graham Ward welcomes the new Junior Vice President Alison Marrow,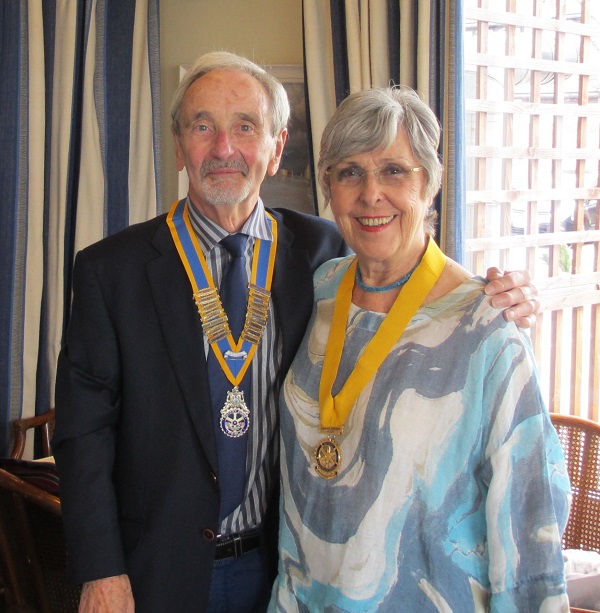 followed by the new Vice President Georgina Brooks.
Macular Society Walk
June 2016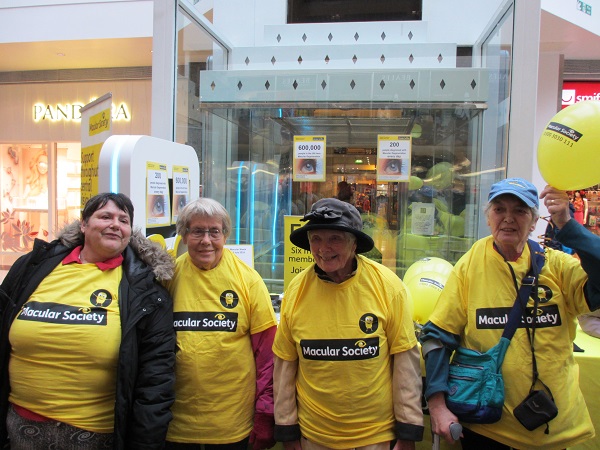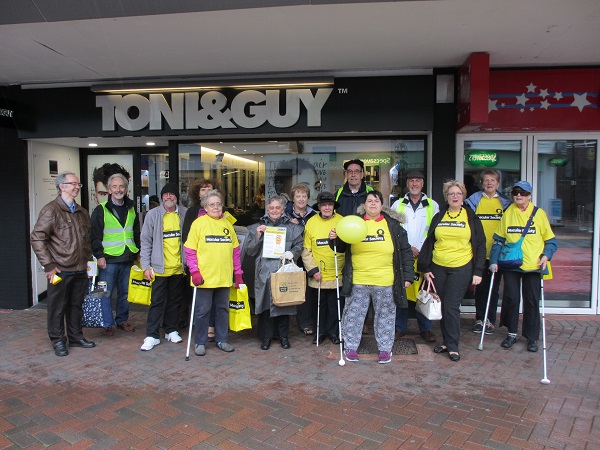 Poole Rotary provided marshals for the Macular Society walk from the Dolphin Centre, Poole down the High Street to Spires Church Cafe and back.
Macular Degeneration eye conditions affect some 600,000 people in the UK and the level of new diagnosis is running at 200 per day. The aim of the society is to encourage awareness of the condition. The sooner it is identified the more successful the treatment.
Rotary International Polio Immunisation Day
June 2016
So Far:
709,000 Vaccination Booths
2,500,000 Vaccinators
1,170,000 Vaccination Teams
155,000 Supervisors with 155,000 Vehicles including Elephants and Camels!
225 Million Doses of Polio Vaccine
6.3 Million Ice Packs to keep the Vaccine Cool
209 Million Homes Visited
172 Million Children to be Immunised
John Duckenfield Holiday Talk
June 2016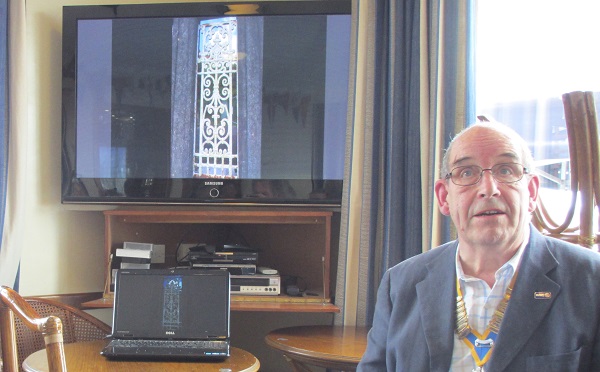 In an annual draw, Poole Rotary President John Duckenfield was the "lucky" winner.
He talked about his Merseyside roots and his pride in being on board one of the three Cunard Queens when they marked the company's Liverpool foundation 175 years ago by sailing in formation along the River Mersey.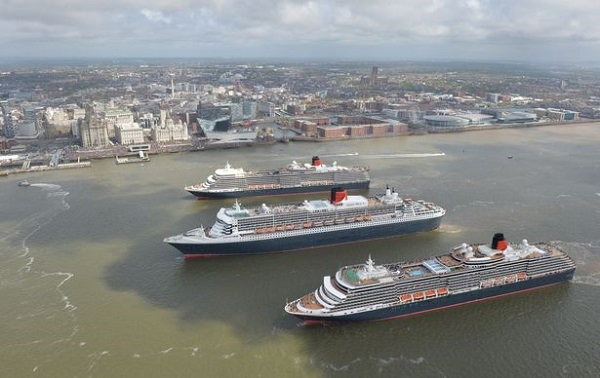 Tom Baker - My War Years Part I
June 2016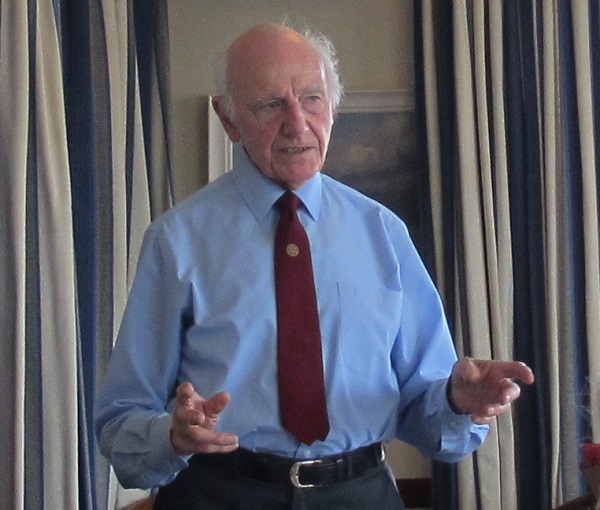 Nonagenarian Tom entertained us all with a lunch time talk on his youth in the early days of World War II, including some lucky escapes.
Since he ran out of time, it has been requested by popular demand that he returns to finish his story.
Romsey Abbey and Mottisfont
June 2016
Poole Rotarian Bryan Keeping organised a coach trip to Romsey and Mottisfont for fellow Poole Rotarians and their guests.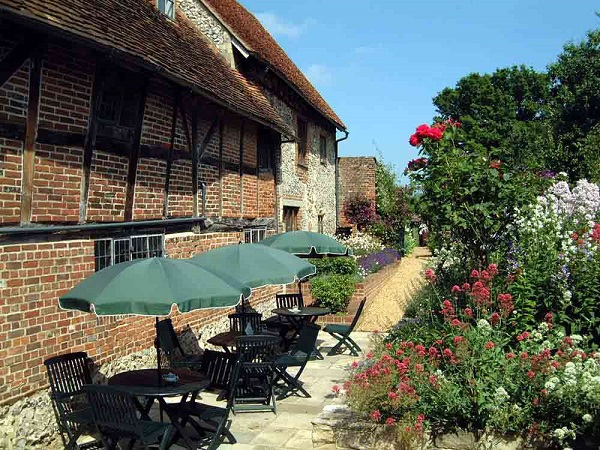 First stop was coffee in the delightful gardens of St John"™s House, then a stroll across the road to Romsey Abbey for very interesting guided tours, followed by a short coach trip to the Bear & Ragged Staff for lunch.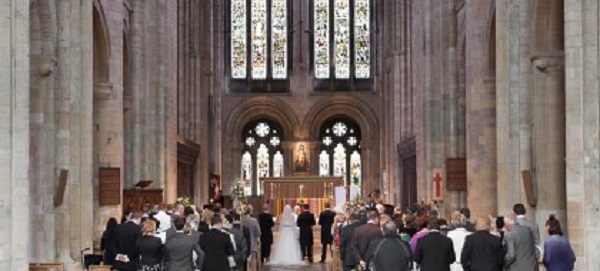 Then an even shorter coach trip to Mottisfont with its house, gardens and parkland.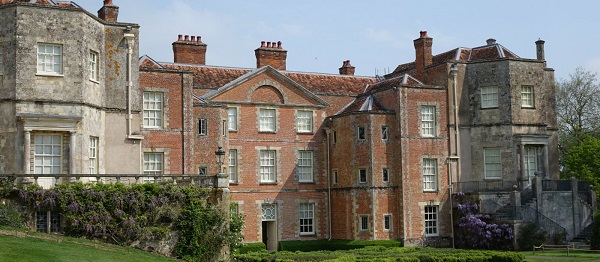 Some went on a wetland walk, others visited the rose gardens (good time of year for the roses) and the stable block and/or house for tea and shelter.
The visit finished with torrential rain, coupled with thunder and lightning - by which time all were safely under cover.
KidsOut at Marwell Zoo
June 2016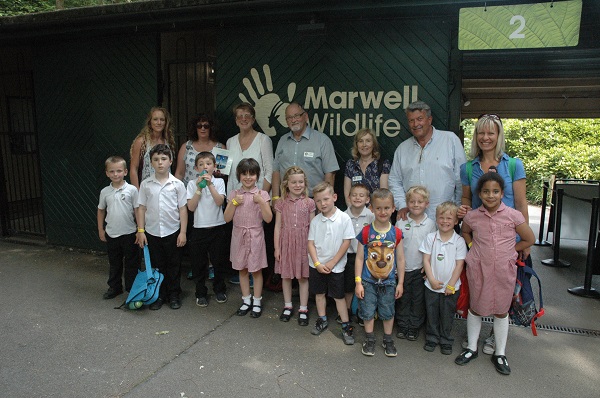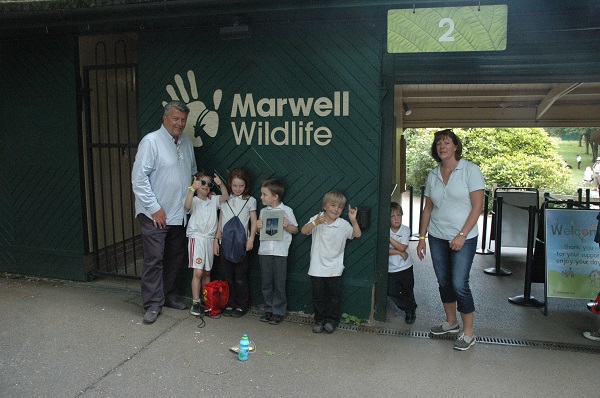 Children from Sylvan and Longspee Schools, along with Teachers and Poole Rotarians at the entrance to Marwell Zoo ready for a day out as part of the KidsOut programme.
Each year Rotary International in Great Britain and Ireland teams up with KidsOut to host its Big Day Out that provides disadvantaged children with positive memories that can last a lifetime.
Bob Bradley Job Talk
June 2016
New, well fairly new, Poole Rotarian Bob Bradley gave a talk on growing up post-war bomb damaged Hull, and on to University with a working live in IT, principally with Software Houses.
His biggest surprise of the presentation was that his fellow Rotarians managed to stay awake - well mainly!
Kiel-Eider Rotary Club Visit
June 2016
Poole Rotary welcomed 18 guests from our twin Rotary club in Kiel, Germany. Poole Rotarian Bryan Keeping was congratulated on his organisation of packed weekend of events.
The guided tours of Bovington Tank Museum were excellent, as was the lunch at Moreton Tea Rooms, the talk on Lawrence of Arabia by Rotarian Bernard Burgess and the talk in Moreton Church by a churchwarden on its history and on the remarkable windows, engraved by Laurence Whistler over a period of 30 years before his death in 2000.
Leo from Kiel-Eider gave a short recital on the church organ. He is a professional conductor and trumpet player, see http://www.theater-kiel.de/mitarbeiter/profil/ von/leo_siberski/ (Google Translate makes a reasonable job of it.)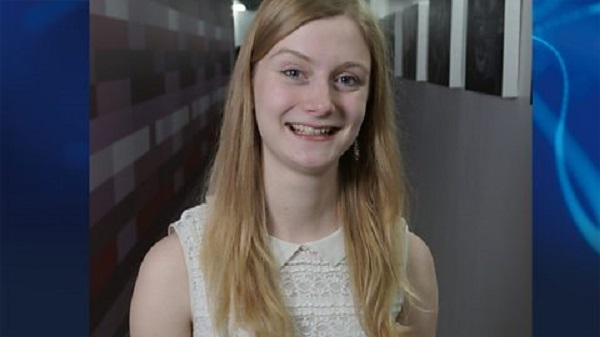 The evening meal at Dudsbury Golf Club was relaxed, finishing with a remarkable recorder recital by Polly Bartlett (pictured above), accompanied by her father. Poole Rotary co-sponsored Polly for Rotary Young Musician last year and she reached the national final where she was runner-up. This year she was BBC Young Musician woodwind finalist.
Leo was very impressed with Polly"™s performance. He told us that he had been in the European Community Youth Orchestra with many British players, including a percussionist well known to Polly"™s dad, himself a percussionist as well as a pianist.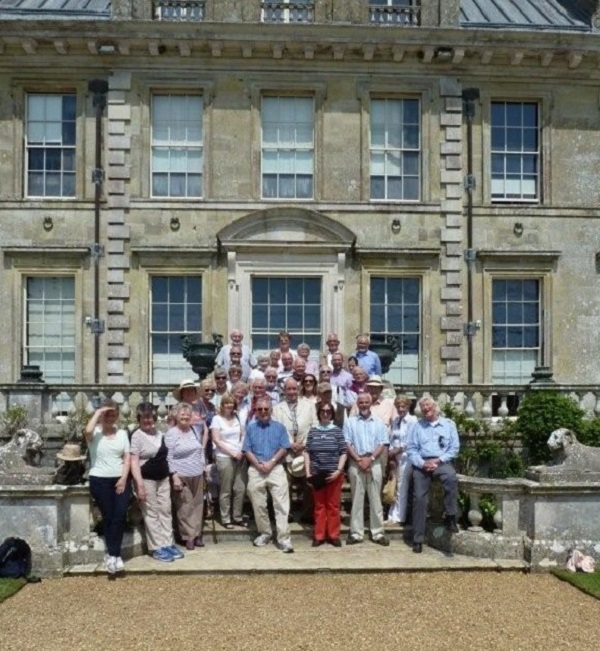 The German and English tours of Kingston Lacy House were well received and the Pimms Picnic was a very sociable affair. Afterwards, Linda & I took 5 visitors to Barford"™s for ice creams in the gardens.
On Sunday evening, various groups met for meals in members"™ homes or restaurants.
Kiel-Eider have found an excuse for us to visit them before the next scheduled visit in 2018: next year for the 40th anniversary of our Twinning. We are also invited to visit them for the 2019 RI Convention in Hamburg as it is not far from Kiel.
Chesthelp Bournemouth Talk
May 2016
Rob Phillips, Treasurer and case officer, gave Poole Rotary an interesting talk on Chesthelp Bournemouth.
The charity, founded in 1947, supports people throughout the BH postal area suffering from TB and COPD (chronic obstructive pulmonary disease).
TB is still one of the most deadly infectious diseases in the world. London is TB capital of Europe, presumably because of its multi-cultural cosmopolitanism. Even down our way, RBH has to deal with many cases a year. Increasing drug resistance and new strains of the disease are a continuing threat.
Chest Help receives no government support but, with no paid workers and no premises, is able to help up to 35 patients per year with needs such as nourishment, heating, nebulizers, care line and taxis for up to 6 months at a cost of up to £500 each.
Rotary Wessex Boules Competition
May 2016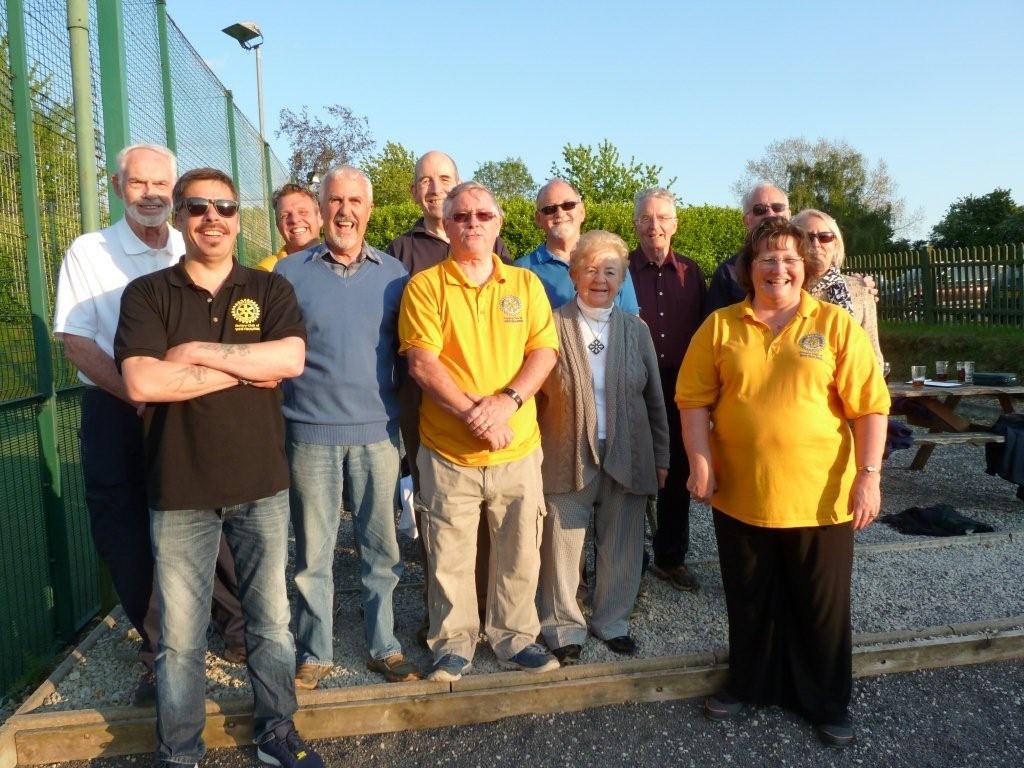 Westbourne Rotary reversed last year's Wessex Rotary boules competition result by beating Poole Rotary in the first round. The teams are shown at the Hamworthy Sports Club after the match.
New Member - Liam Wyatt
May 2016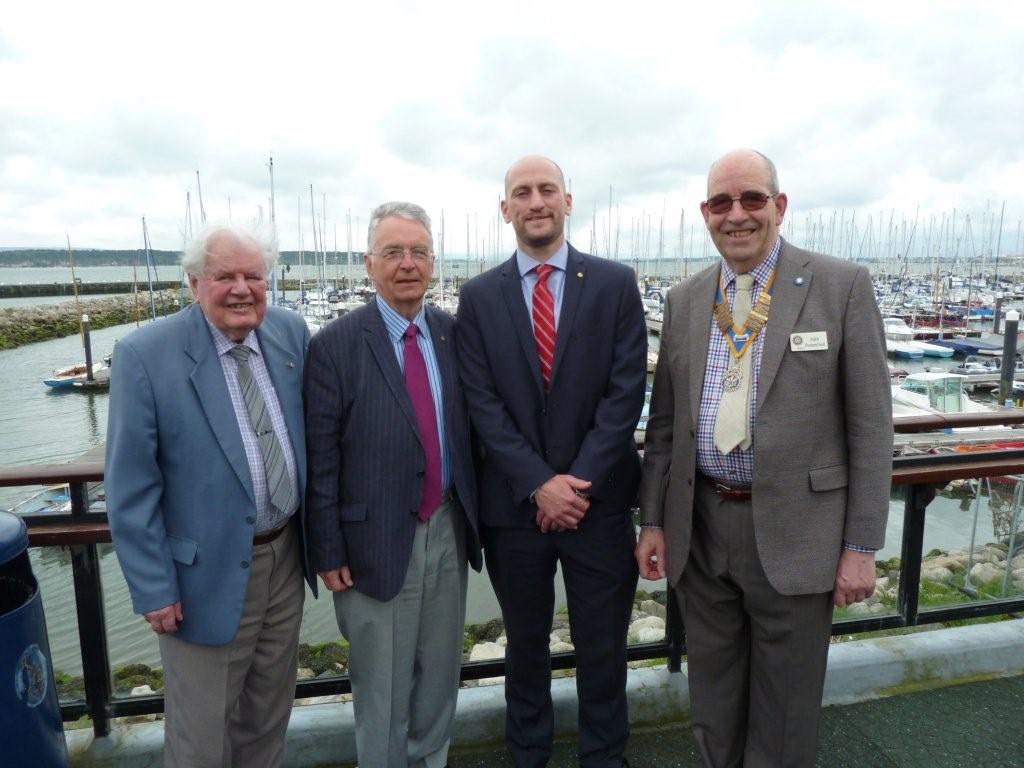 The oldest Poole Rotarian, in both age and service, Norman Morris (left) helps President John Duckenfield (right) & Secretary Tony Pawley (second left) welcome the youngest and newest Rotarian Liam Wyatt to the Club at Parkstone Yacht Club after Liam had been inducted.
Bombay Sapphire
May 2016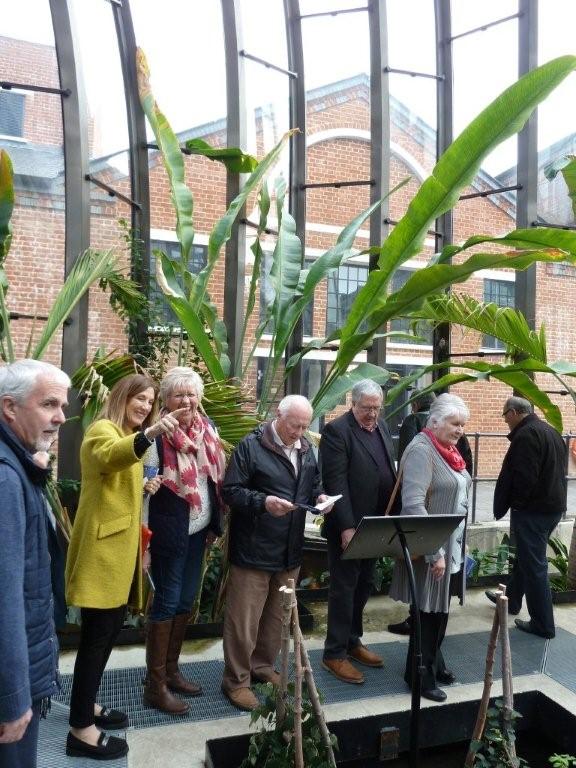 Members of Poole Rotary staring into the abyss after sampling the gin at Bombay Sapphire Distillery.
Job Talk by Poole Rotarian
May 2016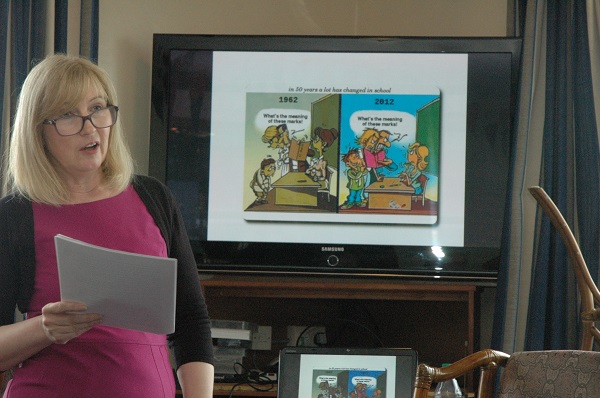 Following in an optional tradition for recent members of Poole Rotary, Wendy Bradley gave a talk on her time in Canada and teaching at Oakdale school in Poole.
In particular she covered the history of the school and of how attitudes to learning have changed over the years.
Britain's Treasure Islands
April 2016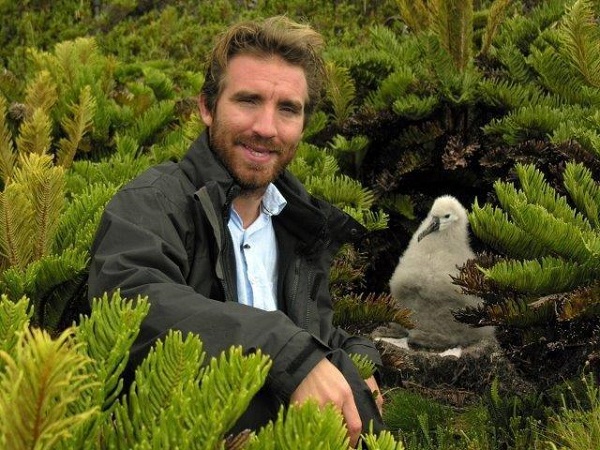 Rotary Scholar Stewart McPherson has presented a three part TV series based on his book "British Treasure Islands " which details the natural history of all the British Overseas Territories - some 16 groups of islands, scattered across all seven seas. Stewart is the first person to visit all of these unique overseas British islands and the TV programmes record his travels. His journey to all the territories has been a monumental three year project which all started with a Rotary Foundation Scholarship to Yale University, originally proposed by Poole Rotary.
Former Parkstone Grammar School pupil Elizabeth Couston
April 2016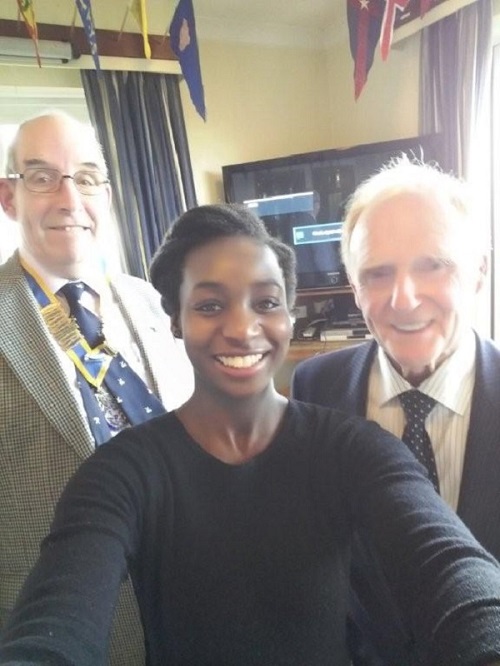 Former Parkstone Grammar School pupil Elizabeth Couston recently spoke to Poole Rotary about her experiences at a school in Accra , Ghana. With her is Poole Rotary President John Duckenfield and Bill Fulton. Poole Rotary is looking into ways of supporting the school.
Children's Unit, Poole Hospital
April 2016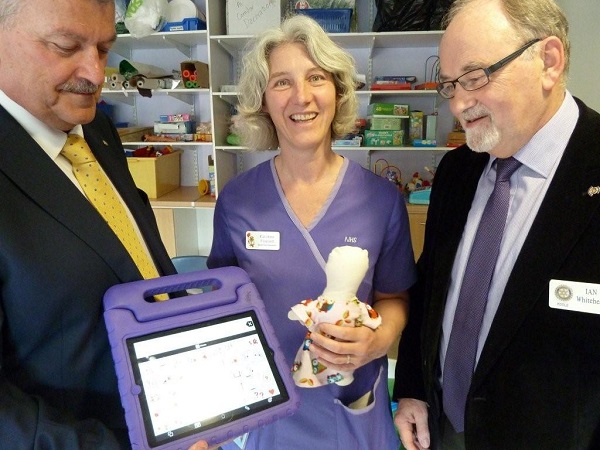 Continuing Poole Rotary's support, Poole Rotarians Howard Llewellyn (left) and Ian Whitehead are shown presenting £350 to add to equipment already supplied to Caroline Fawcett, Lead Play Specialist.
Of particular note is "Benny the anatomical teddy bear", used to give children a better understanding of their treatments.
Earthquake Relief for Ecuador
March 2016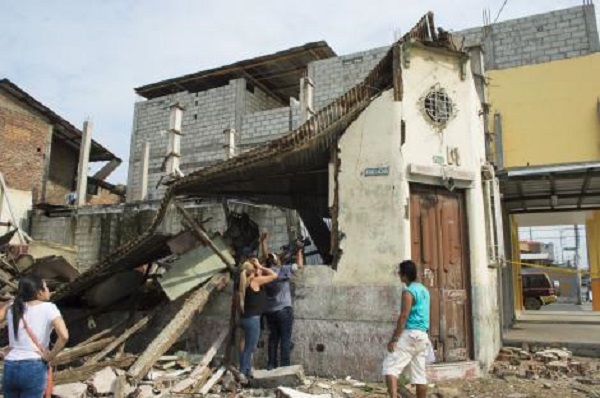 The worldwide demand for Shelterboxes continued with a Poole Rotary donation for the supply of boxes to families affected by the Ecuador earthquake.
International Wheelchair Foundation
March 2016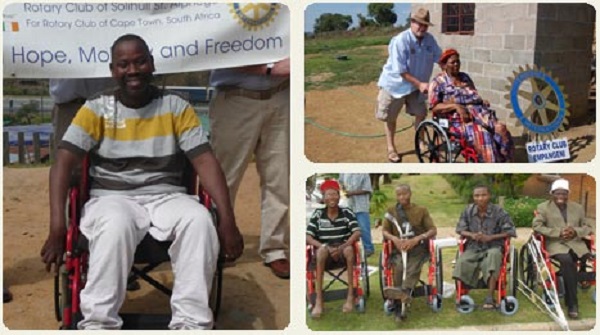 Poole Rotary donated £400 to the International Wheelchair Foundation as part of the overall effort of this Rotary backed charity.
This enables all terrain brand new wheelchairs to be regularly delivered to the needy in developing countries. Over 24,000 wheel chairs have been sent to 21 countries to people in desperate need.
Rotary Clubs of Poole Technology Tournament
March 2016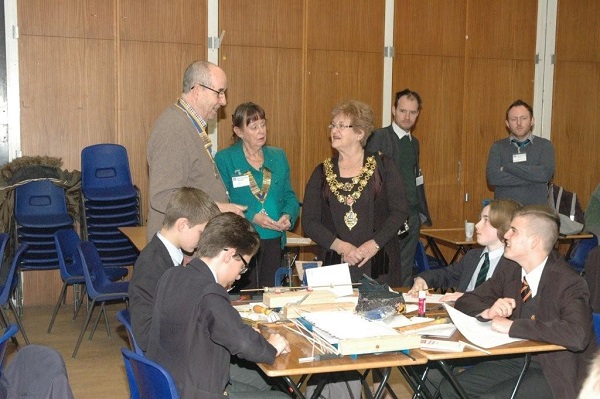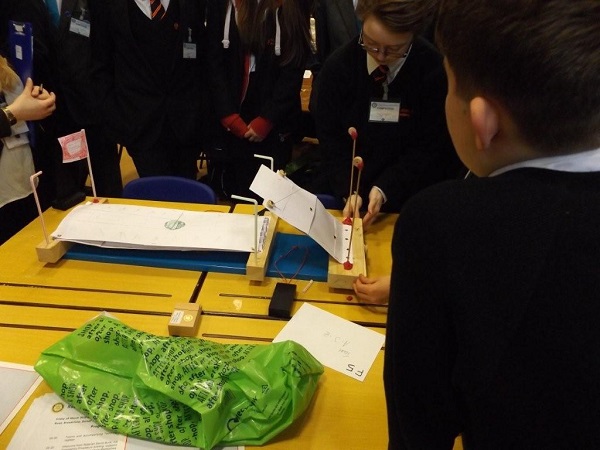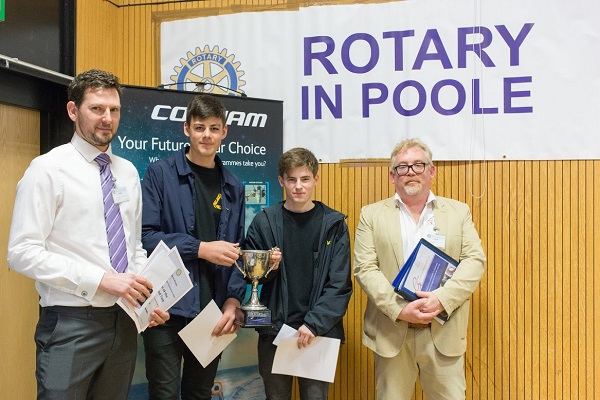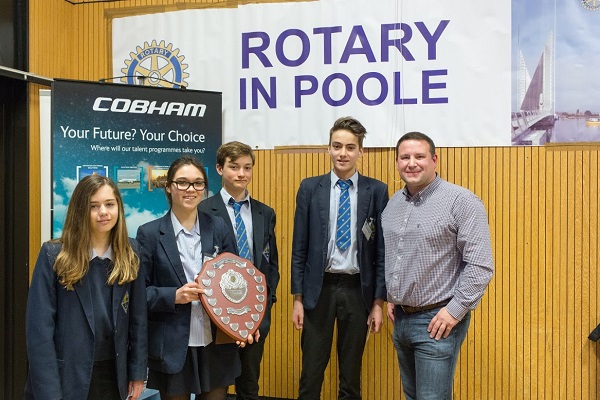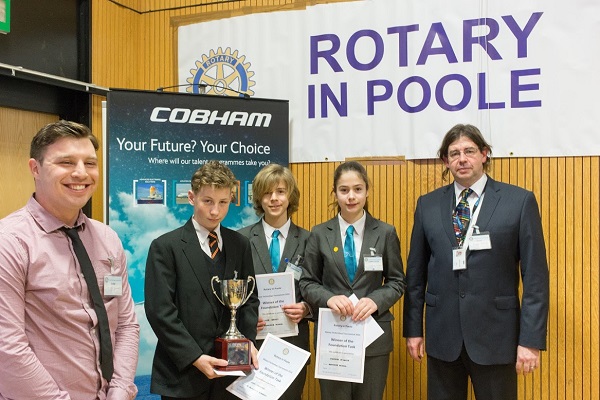 Task: Design a new bridge for Poole Harbour.
The three Rotary Clubs in Poole recently hosted a Technology Tournament at Corfe Hills School , Broadstone. Led by David Buck from Parkstone Rotary a small committee invited all secondary schools in Poole as well as Bournemouth and Poole College, Swanage School and Queen Elizabeth's Wimborne to design and build a model bridge . Divided into three categories (key stages three , four and five) the students had to prepare a technical workbook and build their design with the materials supplied and then demonstrate it to the judges. Where possible teams of four were made up of two pupils from two schools.
The event was supported by local businesses , Rotary business partners and in particular the main sponsor Cobham plc and Marden Edwards who built the base plates.
The judges were supplied by the engineering firms as well as Rotarians. 52 students from seven schools and the College greatly enjoyed a busy day which included a presentation from Aaron Parker, Deputy Head of Missions, Cobham.
There were several visitors including the Mayor of Poole Cllr Ann Stribley who said " As Mayor it was a great pleasure for me to attend the Rotary Technology Tournament at Corfe Hills School . All the young people were utterly engrossed in their projects working together in teams and using skills of logic ,communication and technology to build brilliant working models. It bodes well for their futures as well as for that of industry and the wider community . My thanks to the Rotary Clubs in Poole for their inspirational work in this area."
The winners were :
Advanced Task : St Edwards and Corfe Hills Schools Poole .
Intermediate Task : Queen Elizabeth School , Wimborne.
Foundation Task : St. Aldhem's Academy Poole and Swanage School.
All the prize winners received a £25 Amazon voucher. All participants in the Foundation Level qualified for a CREST discovery Award.
Spring Ball at Athelhampton in aid of Retina South Africa
March 2016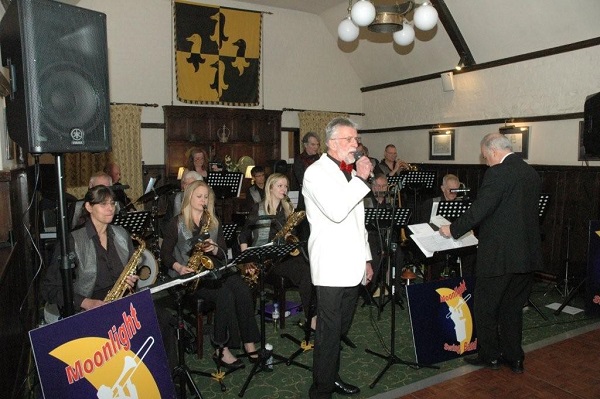 Club members, business partners and guests enjoyed an evening at Athelhampton House arranged by Poole Rotary and business partner Classic Eyes. Moonlight Swing Band, shown above, provided after dinner entertainment.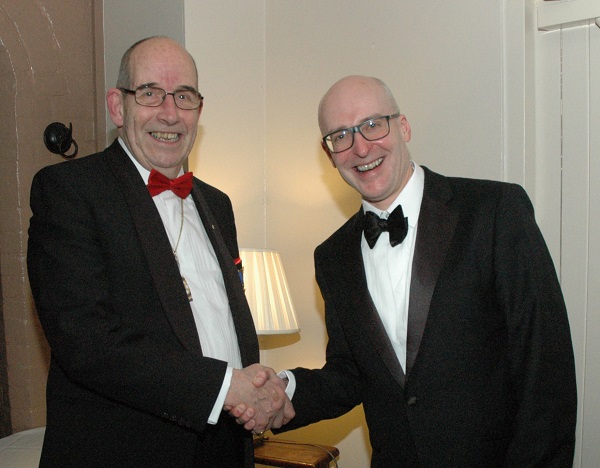 In excess of £2,100 was raised for Retina South Africa - a Cure in Sight for Blindness, much to the delight of Poole Rotary President John Duckenfield (left) and Craig Wilcox of Classic Eyes.
Award for Excellence at Poole Hospital
March 2016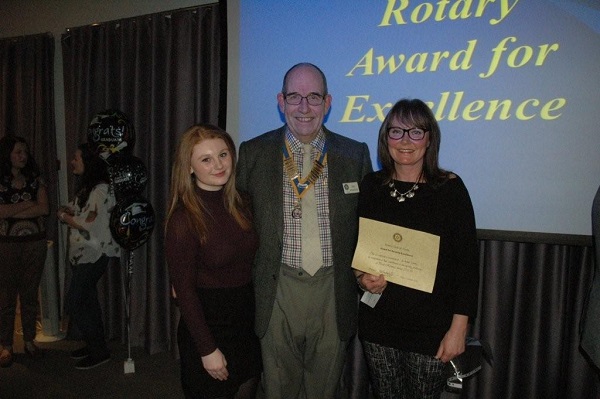 Poole Rotary President John Duckenfield presented The Poole Rotary Award for Excellence at the Poole Hospital 2016 at the Presentation Award Ceremony held at the RNLI College Poole. The winner was Maternity Support Worker Claire Cave (right ) who won a cheque for £100, and the runner -up was Kristi Moore ,Health Care Assistant, on the Surgical & Trauma team., who was given a £50 Amazon Voucher.
Poole President Handover
March 2016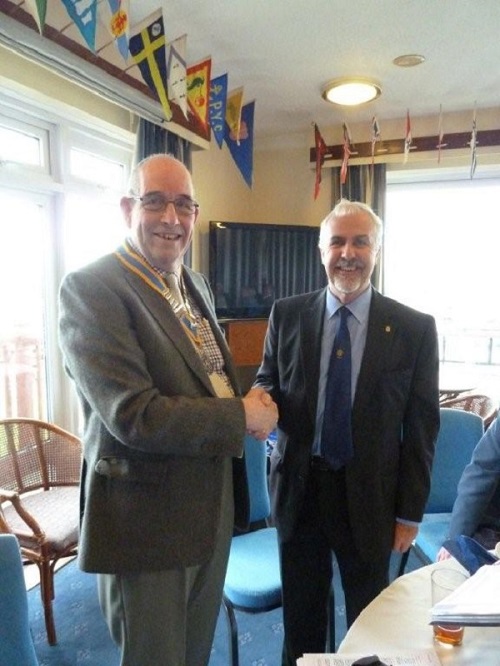 Derek Winter (right) hands over the chains of office of President of Poole Rotary to John Duckenfield for the following three months.
Chestnut Nursery Pond Project
February 2016
Retiring President Derek Winter's last role in office was to present a cheque for £300 to Andrew Verreck, Horticultural Supervisor at Chestnut Nursery, with volunteers and staff in attendance.
The donation was towards a pond project they are constructing at the nursery.
Rotary Young Chef Competition
February 2016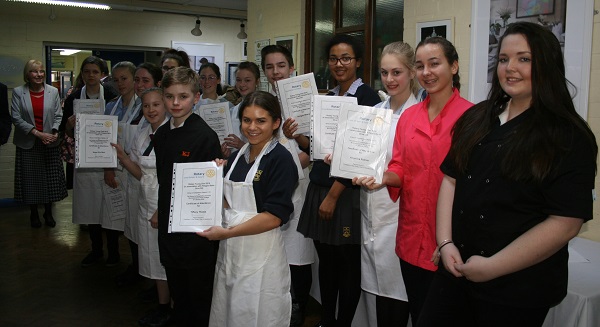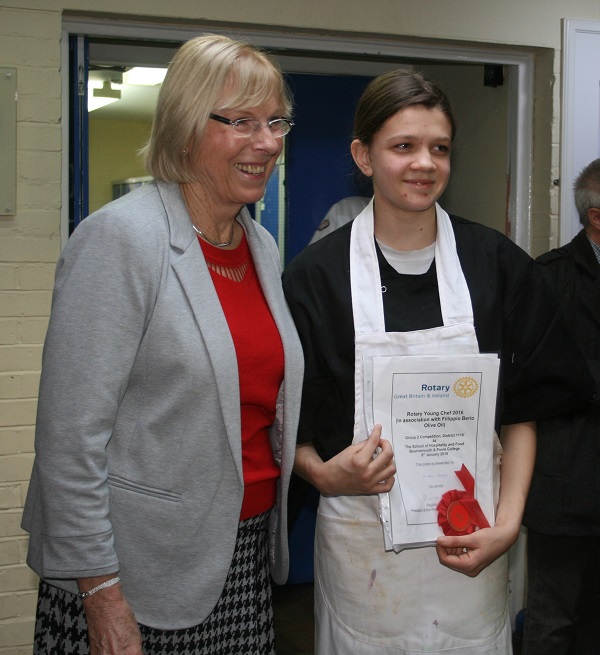 On 22nd February the District Final of the Rotary in Great Britain and Ireland Young Chef Competition was held at Bournemouth and Poole College. The 11 finalists had each won their own local Young Chef competition organised by the Rotary Club in the their local town. Both the District Governor and the Lord Lieutenant of Dorset attended the event to make it a memorable occasion for the young people. Rotarian Mike Preen who organised the competition said "Congratulations to all of you who took part in the Rotary District Final for displaying a very high standard of excellence. As I said at the time, you are all a great credit to your teachers and especially yourselves".
The winner was Harriet Morgan of Bay House School, Gosport shown with Diane Grannell, Principal at The Bournemouth & Poole College.
Support for Syrian Refugees in Turkey
January 2016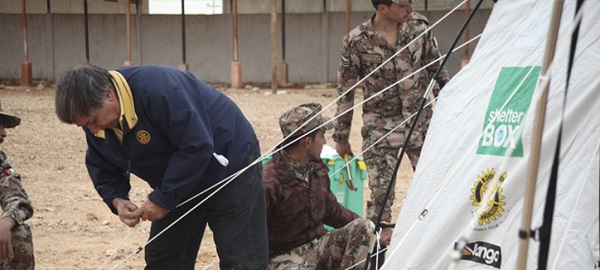 Poole Rotary and the other 40 clubs in our District responded to the appeal for Shelterbox winter emergency kits for Syrian Refugees stranded on the Turkish border, donating a tremendous £26,285.25 which will help around 420 families.
Partner's Evening at The Quarterdeck
January 2016
Poole Rotarian Gordon Alder organised an evening meal at The Quarterdeck by Poole Park.
The guest speaker was Rotarian Bob Gordon, a triple Paul Harris Fellow, who amazed us all with his talk and slide show about a trip to a remote area of Nepal. It showed how he trekked with his dentist's essentials to provide a once in a lifetime treatment to the villagers he met.
Limelights AGM
December 2015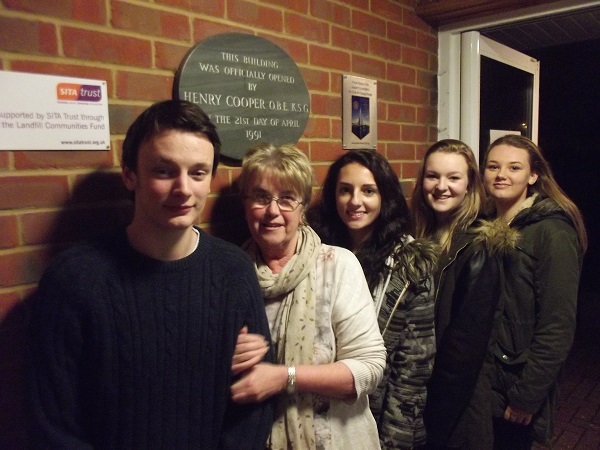 Babs Plumbridge of Poole Rotary (2nd Left) with some of the members of Limelights Youth Club ready for the AGM, shown besides the Poole Rotary plaque.
Young Adults Drug & Alcohol Service
December 2015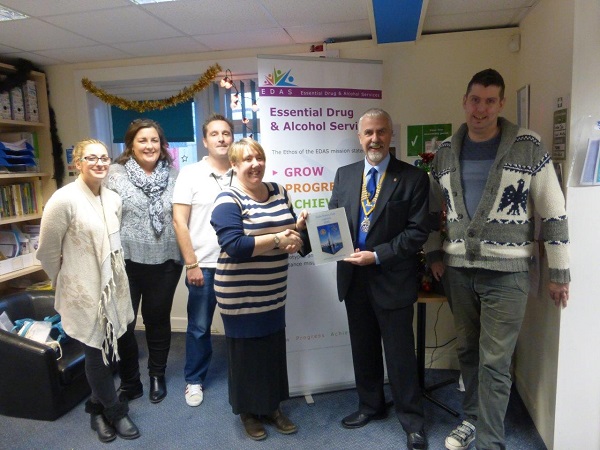 Derek Winter (President of Poole Rotary) visited YADAS (Young Adults Drug & Alcohol Service) in Poole to deliver a £150 cheque and present the plaque to Mindy Bartlett (CEO of Poole's EDAS).
Chestnut Nursery
December 2015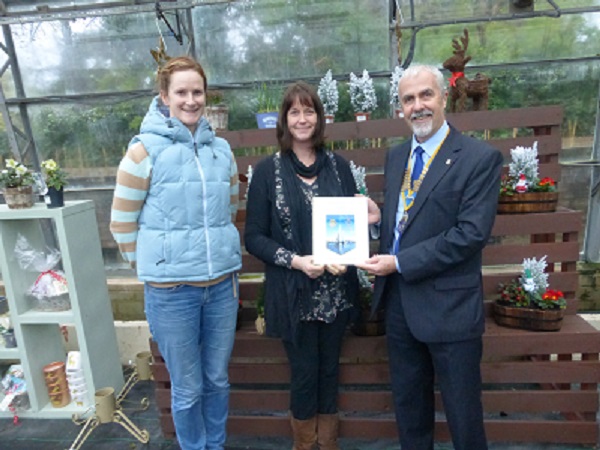 Poole President Derek Winter presents a plaque to Chestnut Nursery Manager Angela Mansbridge and Assistant Manager Cath Morford to show support for the charity Sheltered Work Opportunities Project.
The President and members of Poole Rotary wish all visitors to this website a peaceful year
December 2015
There was a great bit of news for The Rotary Foundation, Rotary's own charity as it was named as one of the Top 10 Charities Changing the World in 2015 by Charity Navigator.
The list is calculated based on charities' financial health, accountability and transparency of reporting, which then results in each charity being awarded a score between 1-100.
With a score of 96.13, The Rotary Foundation was among the top 5 charities featured.
Although polio eradication is a large focus for The Rotary Foundation, it is terrific that its other work, which spans far more broadly to include tackling other global challenges and humanitarian issues at home and abroad, is being recognised.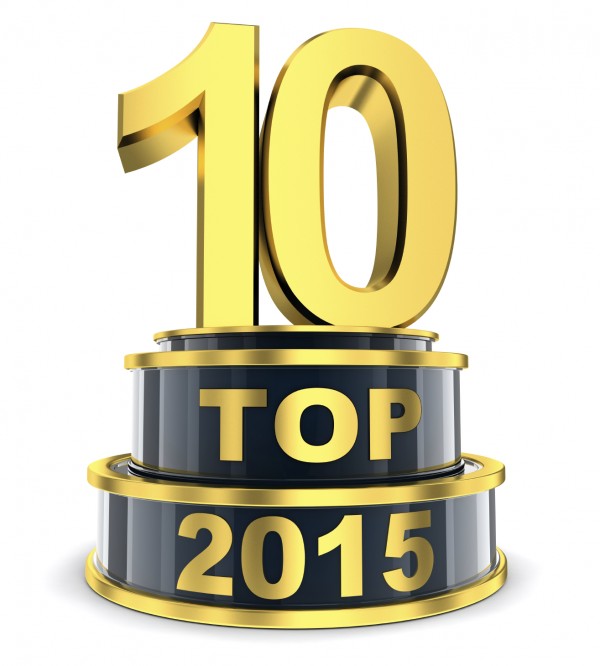 Rotary Club of Poole Christmas Dinner
December 2015
Poole Rotarians, Partners and Guests enjoyed a convivial Christmas Dinner at Parkstone Golf Club.
An excellent meal was followed by a quiz set by Poole Rotarian Gordon Alder.
Here are a couple of images of the night. (The winner of the quiz is on the left in the first photo):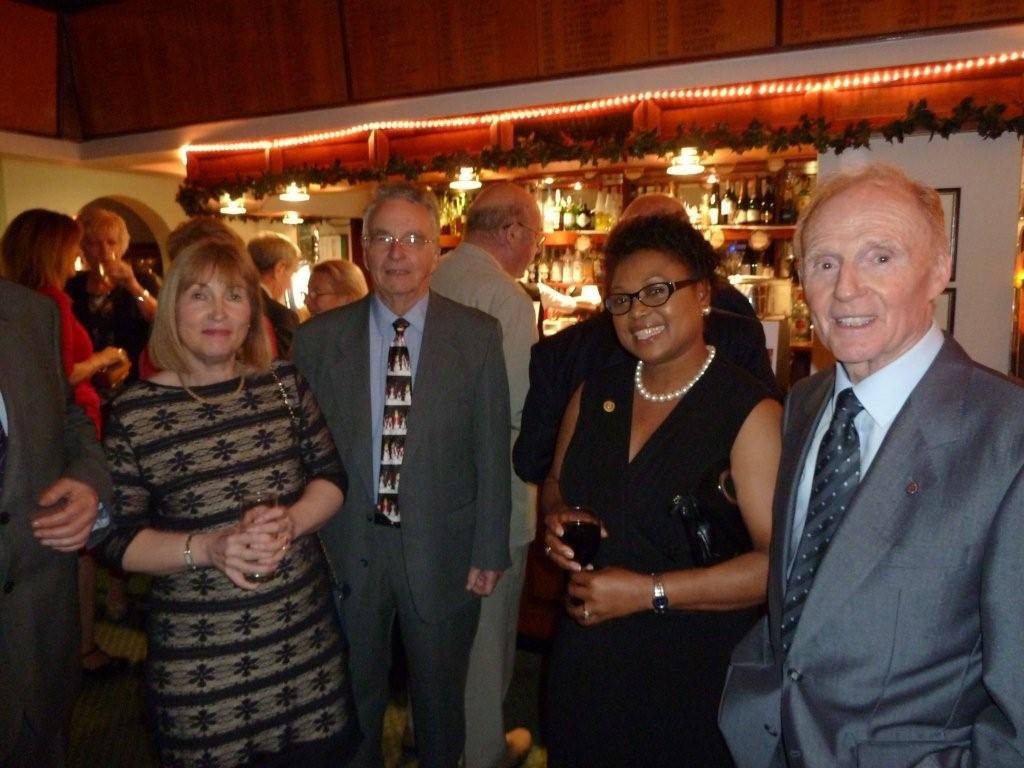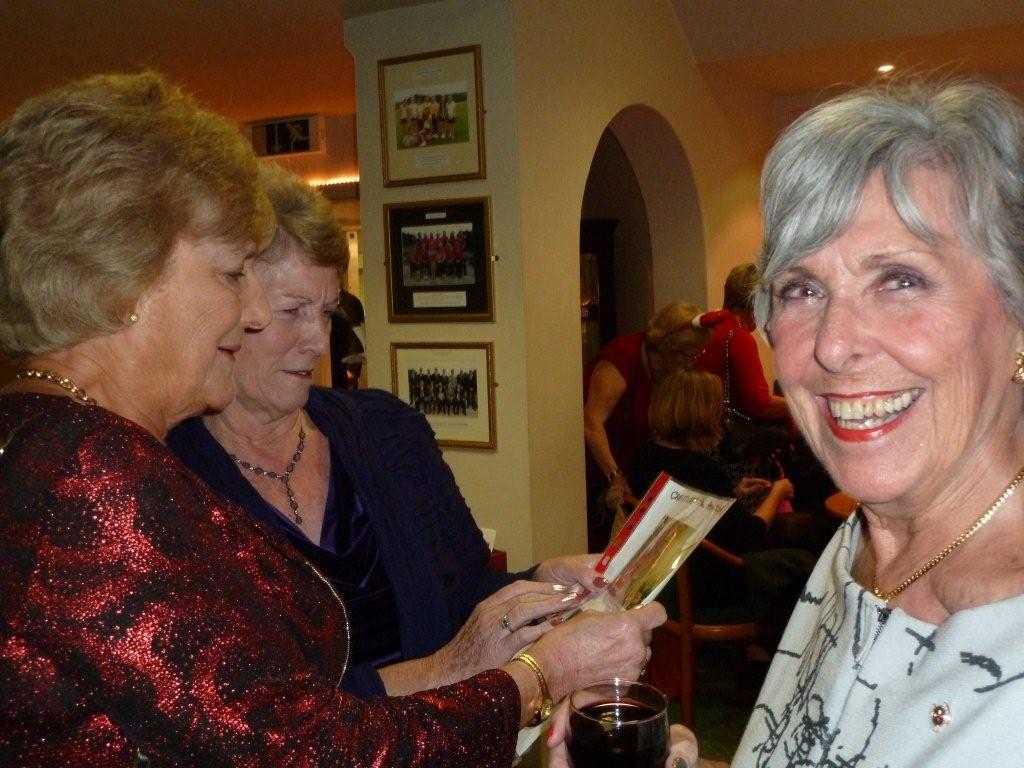 Poole Christmas Parcels
December 2015
The Mayor of Poole, Cllr. Ann Stribley (second left), helps the Committee members of Poole Christmas Parcels Fund load parcels for the Poole Salvation Army at the Co-op in Ashley Road Poole. Now led by Poole Rotarian Paul Shillaw (centre) and Secretary Pat Bowman (Centre right ) this parcels scheme has been in existence since 1933.
Many thanks to customers of Tescos at Branksome for their generosity during the Poole Rotary collection.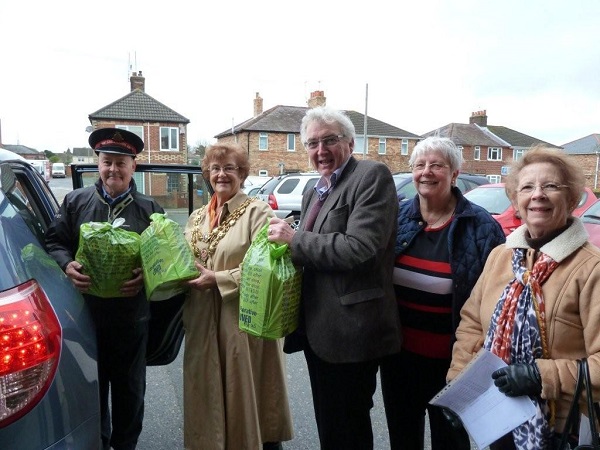 Santa Collections
December 2015
Congratulations to the residents of Heckford Park and Ashley Cross for contributing £724 to local charities during our Poole Rotary Santa Collection. Special thanks to those who collected and donated in the rain.
Wet or dry, the delight on the faces of children, young and not so young, was wonderful.
Poole Rotary have been collecting every Christmas for over 20 years.
Here are some images of the two nights.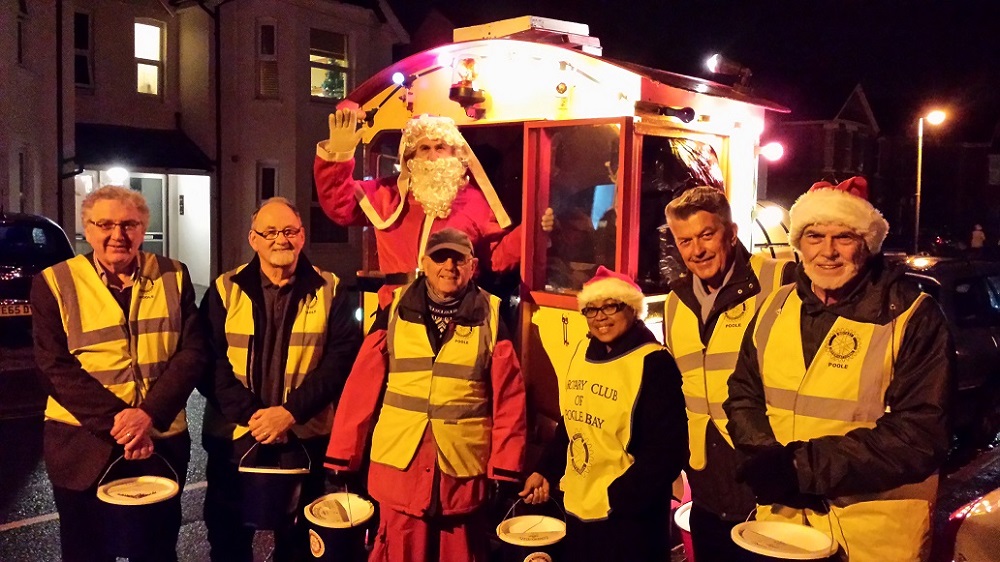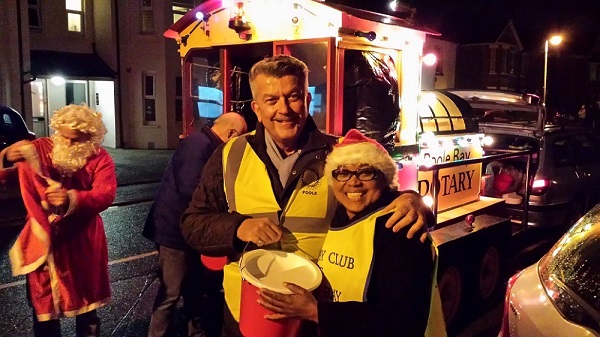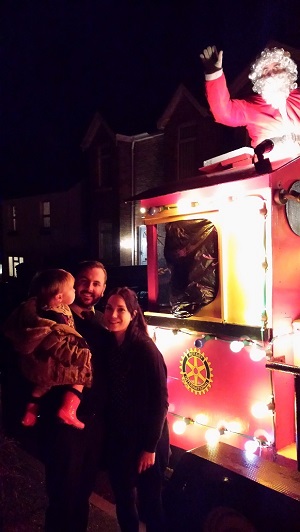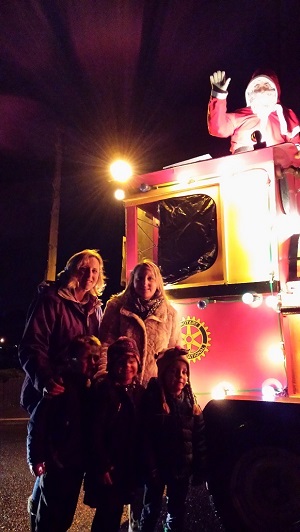 Longfleet School
December 2015
Attached are some photos taken at Longfleet School on the 2nd December Rotary Poole President, Derek Winter (left), and Poole Rotarian, Babs Plumbridge (right), are shown presenting Dictionaries to all of the Year 6 pupils. This is the third year that Poole Rotary has done this.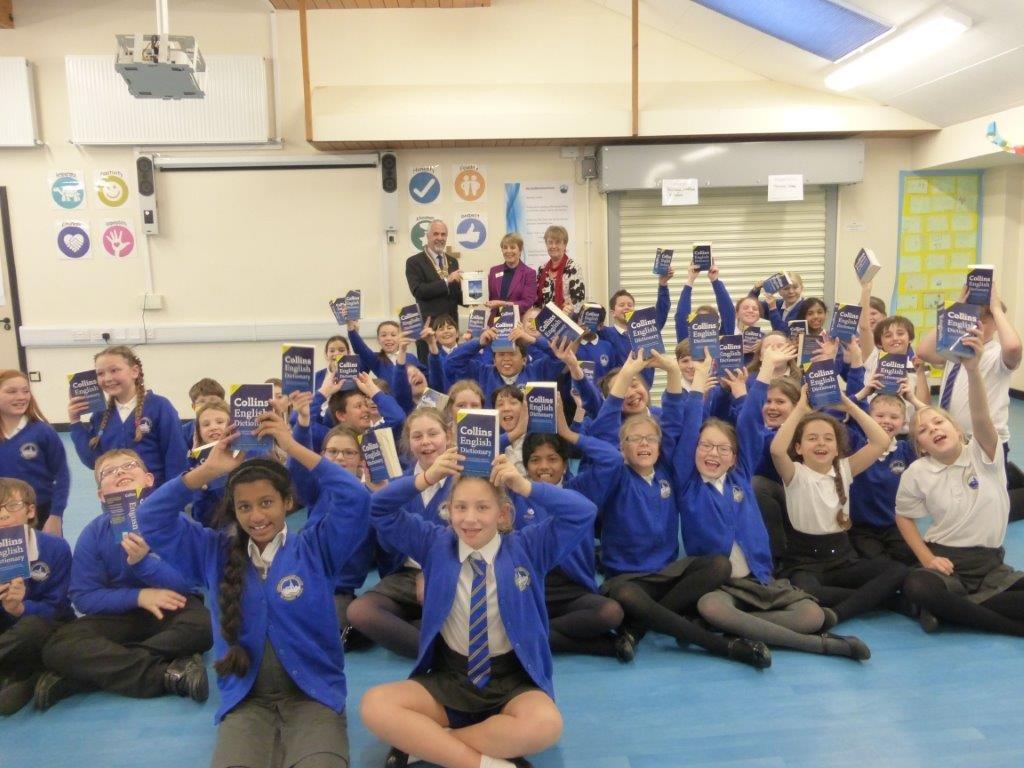 Also, our President presented Head teacher Mrs Brierley with a plaque which will be displayed in the Schools Reception Area.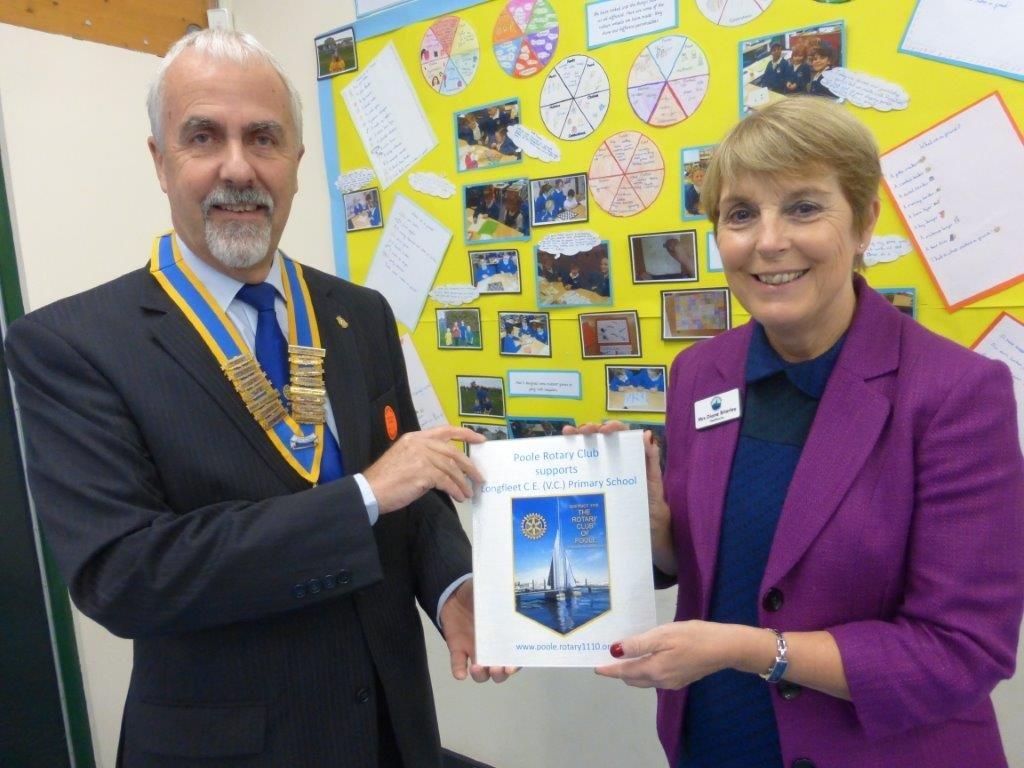 Poole Park
December 2015
The Borough of Poole Open Spaces Project Manager, Martin Whitchurch, gave a talk to Poole Rotary on the planned development of Poole Park.
The following photograph was taken by him at a Poole Rotary lunch as our contribution to the Poole Park Photomosaic. You can go to www.poolepark.org and "view photos".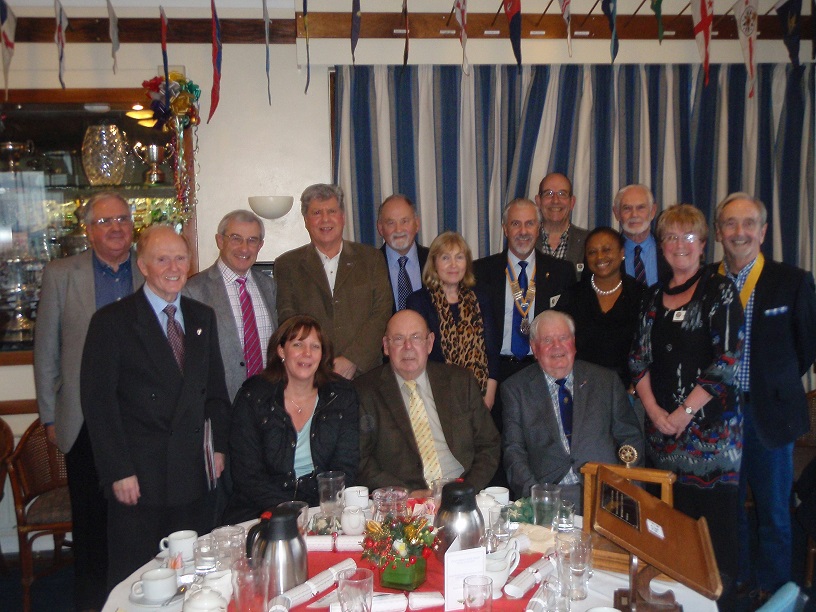 Rotary International and UNICEF World Polio Day
November 2015
Members of the European Parliament have voted in favour of the 2016 European Union budget, which included commitments to support the continued fight to eradicate polio.
The overarching theme, as outlined in AM 1372, was that there should be continued efforts to provide accessible healthcare for all, of which the eradication of polio is a vital aim.
A particular focus was placed on the Middle East, with AM 1371 calling for the strengthening of health systems to react to the latest outbreaks in Israel, Iraq and Syria, in addition to battling the disease in Afghanistan, one of the world"™s final two polio-endemic nations.
These amendments build on recent milestones in polio eradication and the written declaration signed earlier this year by over 400 Members of Parliament.
This news also comes following the success of World Polio Day 2015, where Rotary International and UNICEF held an event in New York to provide a global update on the fight to eradicate polio. The event, which was live streamed across the world, included speeches from End Polio Now celebrity ambassadors, medical professionals and polio survivors. If you were unable to watch live, you can catch up on the event in full here.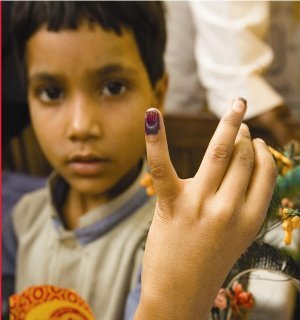 Joint Meeting of Poole and District Rotary Clubs
November 2015
At a joint meeting held at the RNLI, Shelagh Bird, Secretary of Winchester Rotary, gave a presentation on what might be called "The New Winchester Model". Shelagh described its structure and operation from a "user"™s" perspective""and how it works in practise.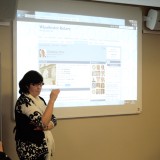 Dorset Police & Crime Commissioner
November 2015
Martyn Underhill, the current PCC for Dorset, gave a presentation to Poole Rotary of his achievements and future plans since being elected into this role. He answered questions covering subjects such as funding, costs and victim support.
This took place at a Partner's dinner at the Quaterdeck restaurant.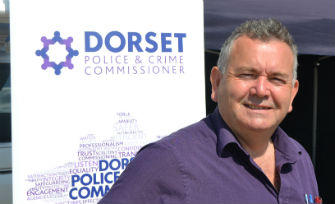 Care Free Choir
November 2015
The Care Free Choir was set up in 2013 with a view to giving carers from Poole and Bournemouth a break from their caring commitments. The choir is led by professional choir director Chrissy Foster and funded through the Carers"™ Support Service with ongoing support from Poole Arts Service. The Care Free Choir meets for weekly sessions on Monday morning in a church hall. They also take up opportunities to take part in community activities, this includes performing to local groups at events and in residential care settings.
Being a carer can be stressful and exhausting and many carers are vulnerable to poor mental health as a result of their caring duties. Many carers have limited opportunities to take part in social and creative activity and members of the Care Free Choir value their weekly sessions.
"I come to choir on a Monday morning and it sets me up for the week."
"It"™s a lifeline."
"The choir is literally the highlight of my week."
There are many benefits of group singing, including physical (e.g....... breathing, posture, immunity), emotional (promote positivity, increase confidence, reduce stress) and social (a forum for sharing, fun and laughter). It can help reduce anger and depression and anxiety.
The Care Free Choir members enjoy the opportunity to perform to others, including vulnerable older people and other carers, at celebrations and events. This enables them to enjoy an additional benefit; increased self-esteem as a result of sharing their own joy of singing with others.
We presented them with a cheque for £150.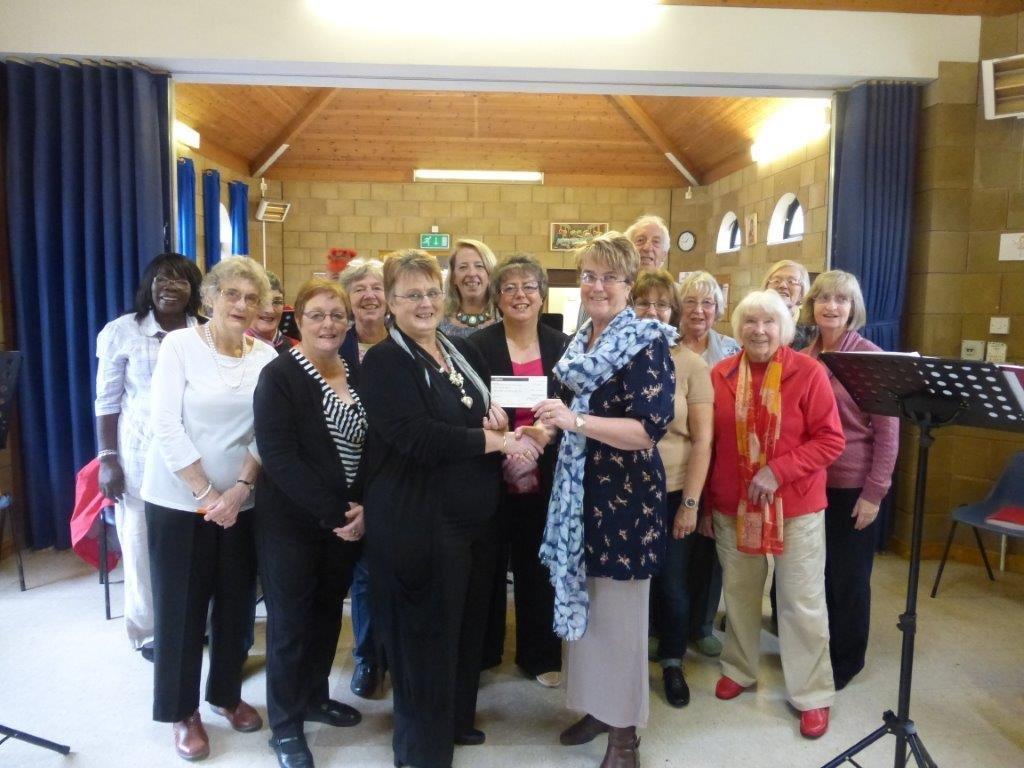 Limelights Club for Young People
November 2015
Poole Rotary President Derek Winter presented a Poole Rotary Plaque to Limelights, the Club for Young People in Poole, which is located in Canford Heath. Shown receiving it is Colin Phillimore (left ) and Tom Robins who expressed their Club's gratitude for the continued support of Poole Rotary.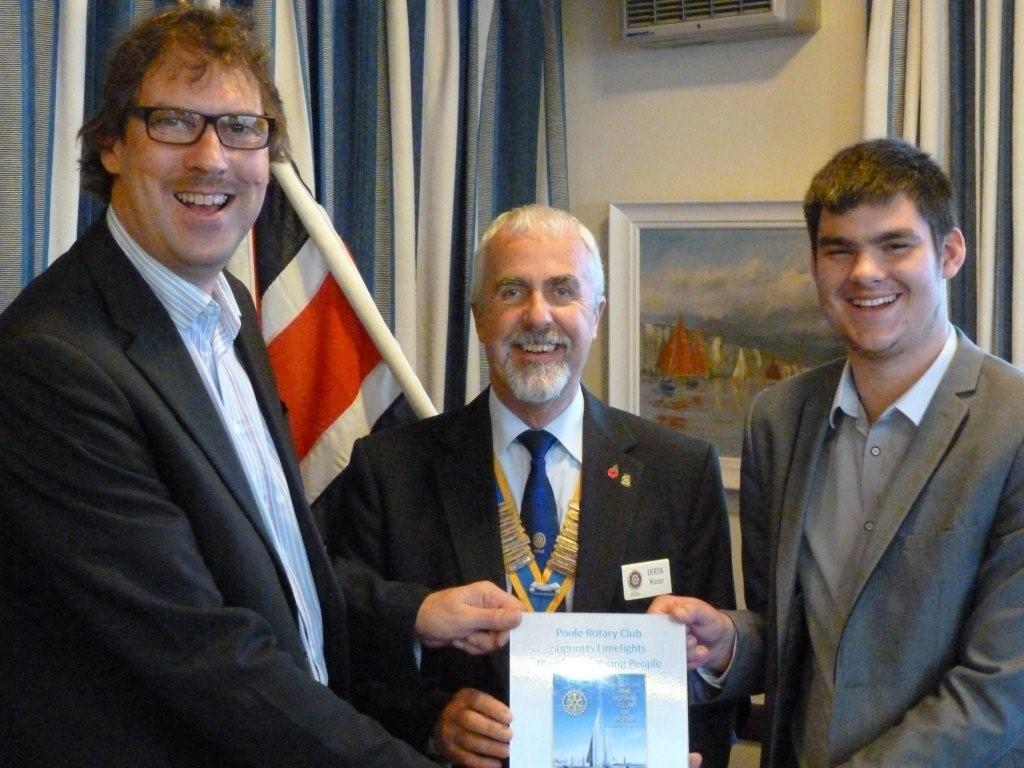 Hand over to new President
October 2015
Our new President, Derek Winter, receiving his "gong" (badge of office) from his predecessor, Stuart Dean.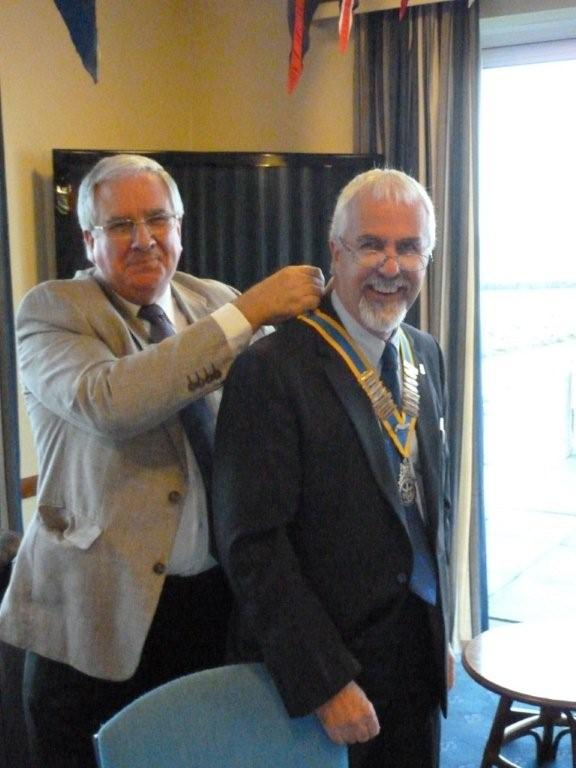 Keith Reilly: Ahoy for Joy
October 2015
Keith Reilly, MD of Poole Rotary business partner Alfatronix Engineering, talked to Poole Rotary about his first adventure into published writing. His book "Ahoy for Joy" is based on his early life growing up in Northern Ireland.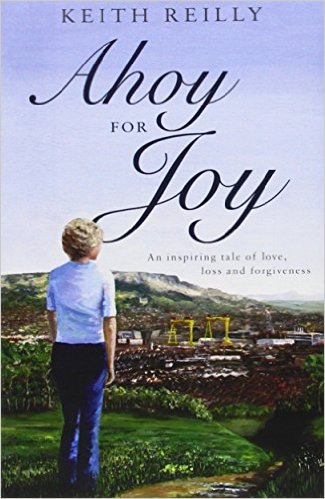 Persian lunch at the Barolo Restaurant
October 2015
Following the successful Italian lunch held last year the Club held a Persian lunch at the same venue, the Barolo Restaurant in Winton, Bournemouth. Although the restaurant is Italian the owner and several of the chefs have Persian origins and the club enjoyed a great lunch of wonderful food, excellent wine and superb fellowship. President Stuart Dean, who organised the event, welcomed members, partners, honorary members and guests to what is hoped will be a regular event with a different country's food being highlighted each time.

Wessex Amateur Boxing Club
August 2015
Peter Dytham, Coach and Founder of the Wessex Amateur Boxing Club of Holes Bay in Poole, was presented with a certificate of support from Poole Rotary after updating us on the progress of the Club in support of young people in Poole. Peter is shown with Poole Rotarian Alison Marrow and Poole Rotary President Stuart Dean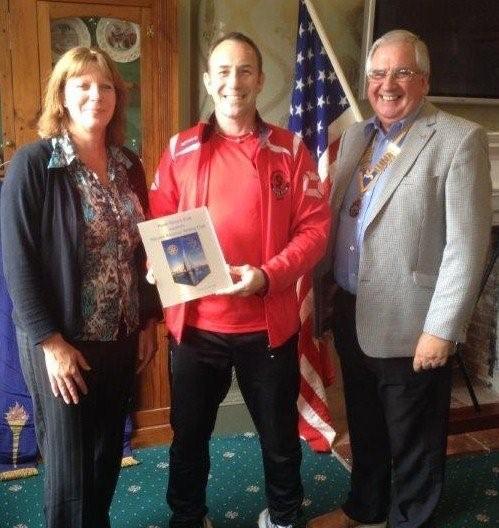 The Mayor's induction
July 2015
The Mayor of Poole, Cllr Ann Stribley, was recently appointed an Honorary Member of Poole Rotary Club.
Accompanied by the Mayoress, her daughter Johann, they are seen here with Poole Rotary President Stuart Dean.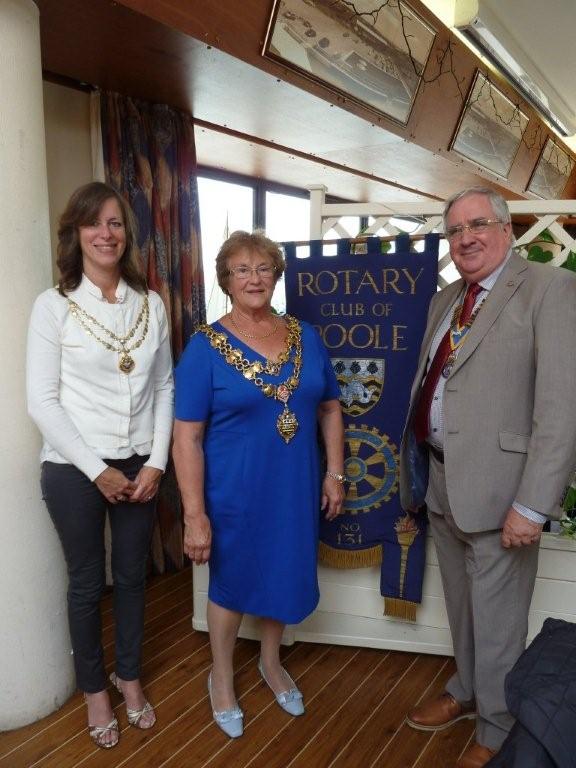 Husband and wife join Rotary
July 215
Shown with President Stuart Dean (left) are new Rotarians Bob and Wendy Bradley who have joined Poole Rotary.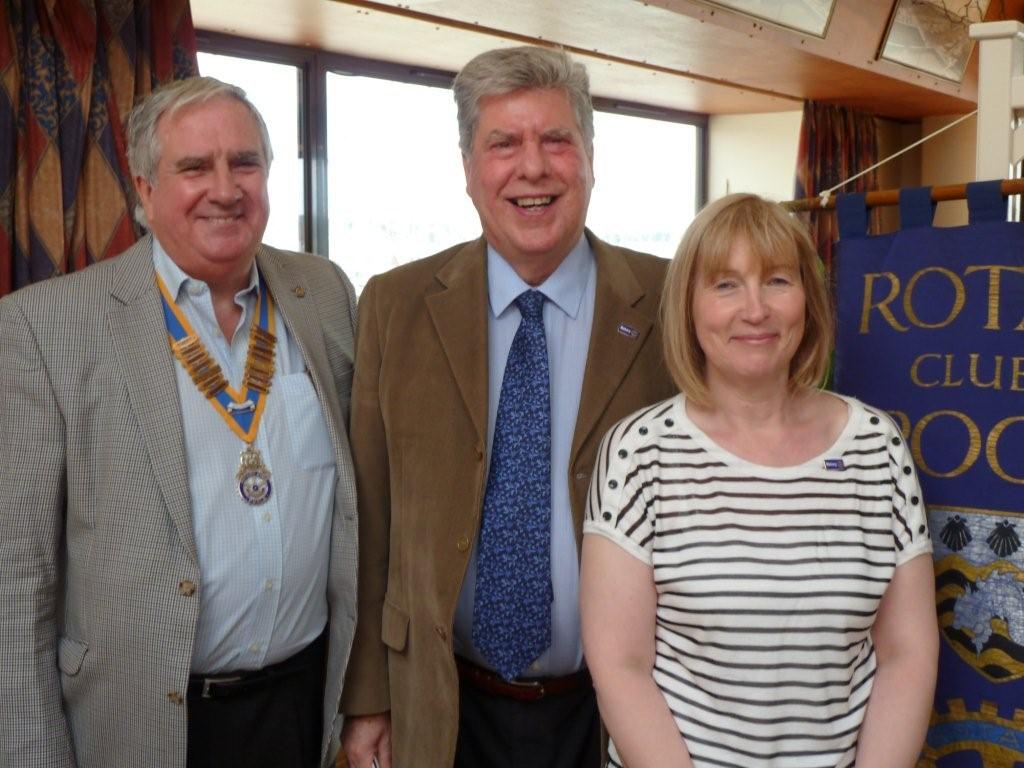 Hand over from one President to another
July 2015
Newly installed President of Poole Rotary Stuart Dean presented just retired President Georgina Brooks with a commemorative plate to celebrate her busy and successful year in the chair.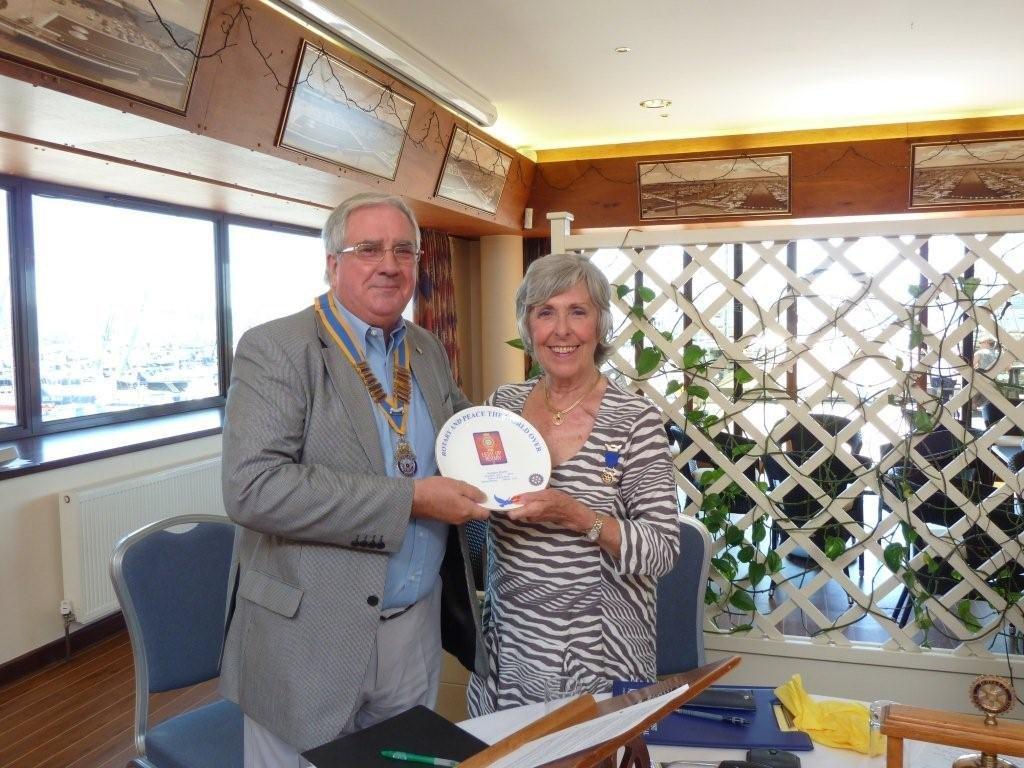 A new member
June 2015
President Georgina Brooks (left) with Howard Llewellyn welcomes new Rotarian Christine Norman to Poole Rotary.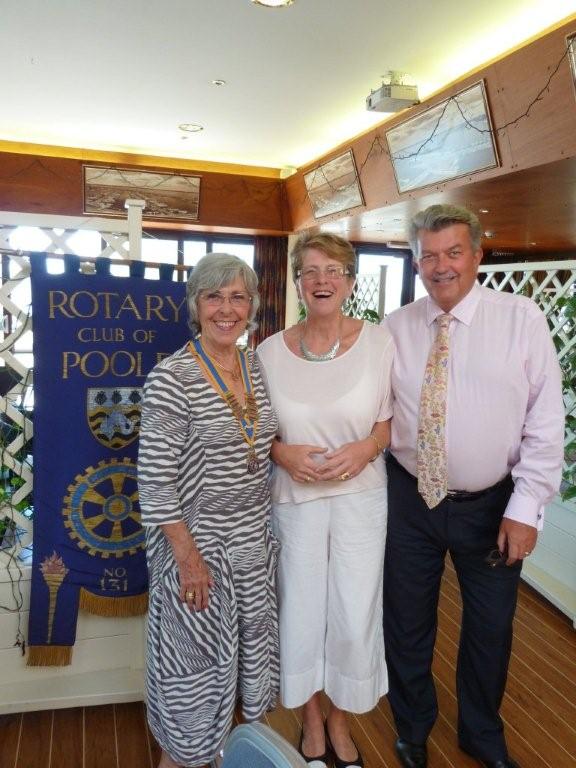 Two Presidents
A convivial shot of Poole President Georgina Brooks (right) and Loches President Andree Joumier at the welcome lunch for our French visitors at Poole Yacht Club
Franco-British visit to the Tank Museum
A group of Rotarians from our French twin club in Loches, accompanied by their partners, visited us over the weekend of 29 May-1 June. One of the highlights of their trip was a visit to the Tank Museum at Bovington. Our photo shows a mixed group of hosts and visitors with a WW1 German Tank brooding in the background.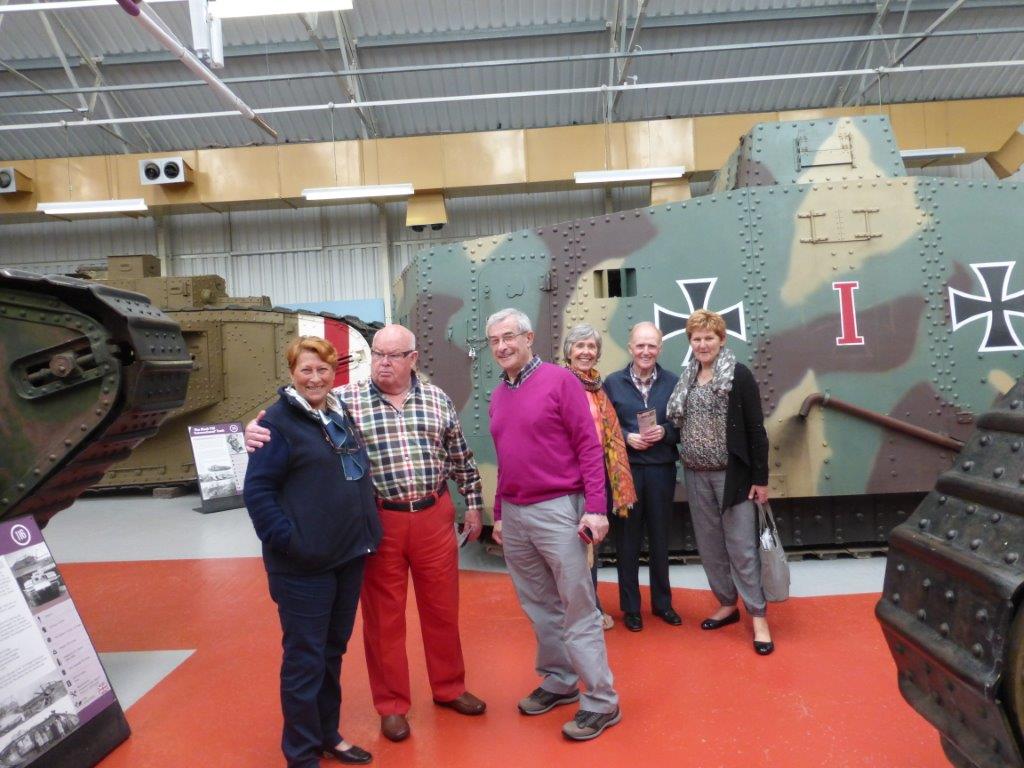 Boules success
A recent district competition first-round Boules match against Poole Bay Rotary resulted in a convincing win for our team of novices. Our photo shows our elated team proudly displaying their Boules.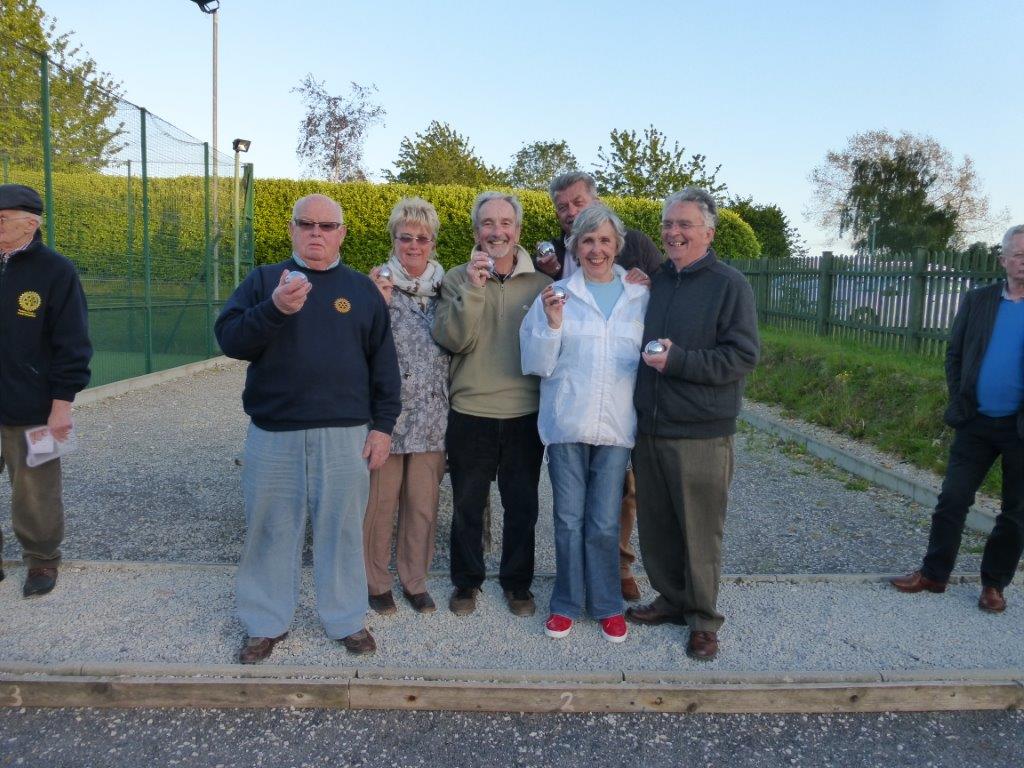 British Treasure Islands
Rotary Scholar Stewart McPherson with Poole Rotary President Georgina Brooks showing his forthcoming book "British Treasure Islands " which details the natural history of all the British Overseas Territories - some 16 groups of islands, scattered across all seven seas. Stewart is the first person to visit all of these unique overseas British islands and has made a series of films about each one. His journey to all the territories has been a monumental three year project which all started with a Rotary Foundation Scholarship to Yale University, originally proposed by Poole Rotary.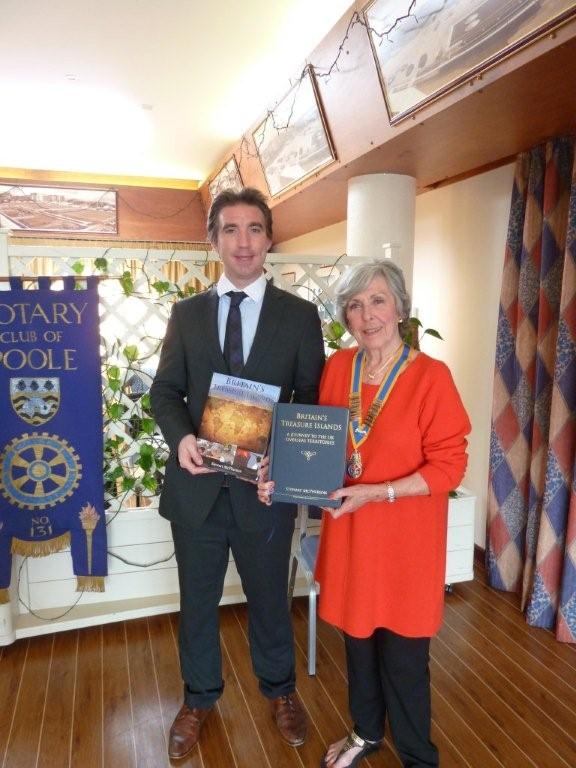 Poole Rotary/Hope FM Annual Christmas Concert
The Mayor and Mayoress of Poole, Cllr Peter & Mrs Brenda Adams, were guests of honour at the Annual Poole Rotary/ Hope FM Christmas Celebration held at St. James' Church, Poole. Also pictured from left are Colin Hartland, Executive Director Bournemouth YMCA, John Duckenfield and President Georgina Brooks from Poole Rotary, Rev. Lucy Holt Rector of Poole, Mike Jackson Wessex Rotary Governor, Annette Brooke MP and Cllr. Mike Brooke.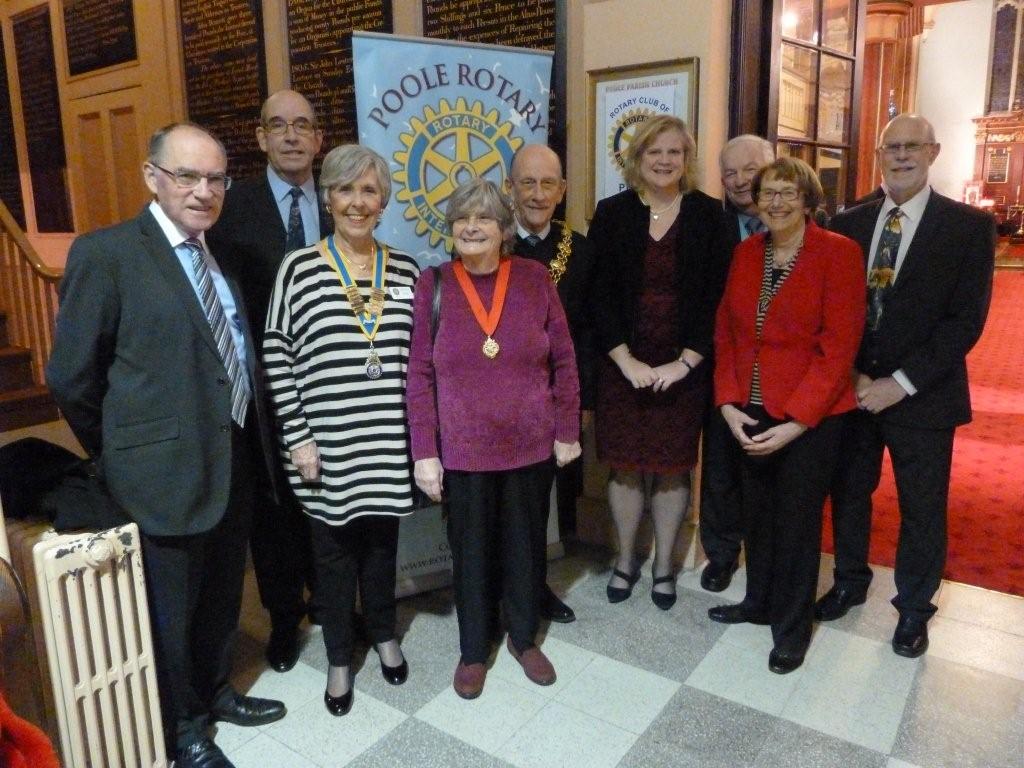 Poole Rotary & The Newfoundland Society Dinner
At a recent joint meeting and supper with the Rotary Clubs in Poole and The Wessex Newfoundland Society, the Guest of Honour and Speaker was the High Sheriff of Dorset, Jane Stichbury. Our picture shows the official party: from the left, Ian Andrews, Bryan Keeping, The High Sheriff John Campbell, Georgina Brooks, Peter Taylor, The Mayor & Mayoress of Poole Cllr. Peter & Mrs. Brenda Adams, Peter Brooks and Valerie Andrews.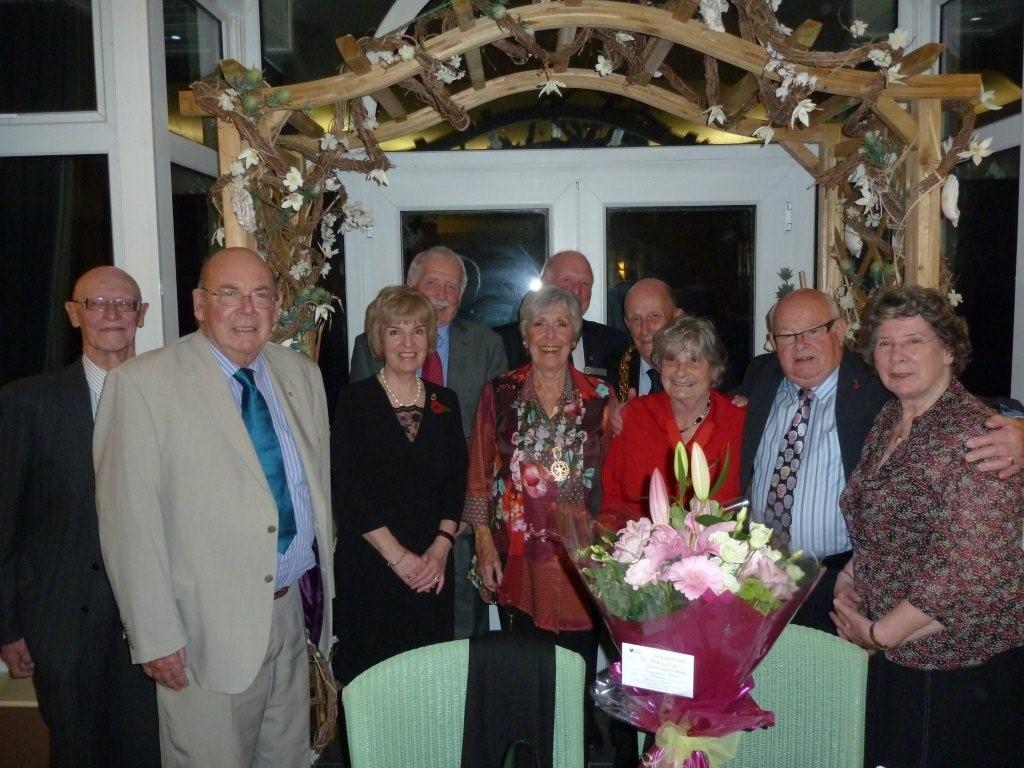 Certificates for children in Poole Hospital
Poole Rotary Club President Georgina Brooks and colleague John Duckenfield recently presented the latest batch of " Poole Hospital Certificates of Achievement " to Staff Nurse Sally Smith (right) and Auxiliary Nurse Claudia Czerwonka in the Children's Unit at Poole Hospital. The Certificates are used by the Unit to encourage their young patients who have to undergo difficult and painful procedures as well as long term patients, and are much prized by them. They have been produced by Poole Rotary for a number of years.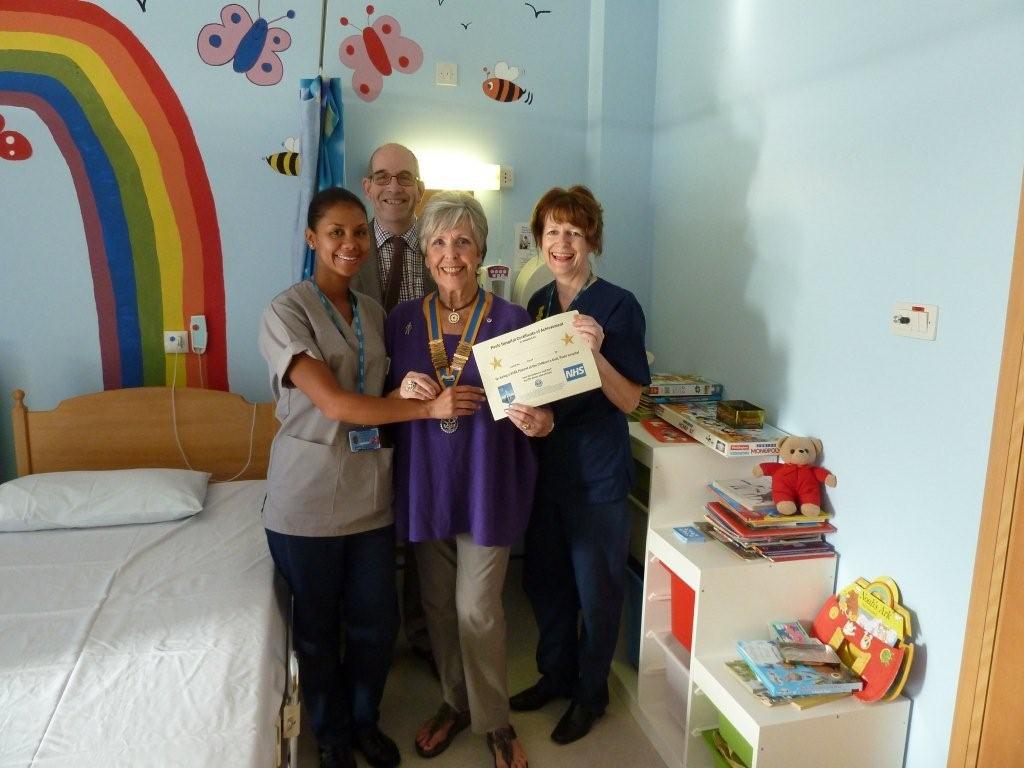 Jaguar comes to Rotary
Paul Collins, Jaguar Dealer Principal and Director of Westover Motors, recently spoke at a Poole Rotary lunch meeting. A lifelong Jaguar enthusiast, he told members and visitors the inspiring story of the Jaguar revival in both British and world markets. A Poole Rotary Business Partner, he is seen here with President Georgina Brooks.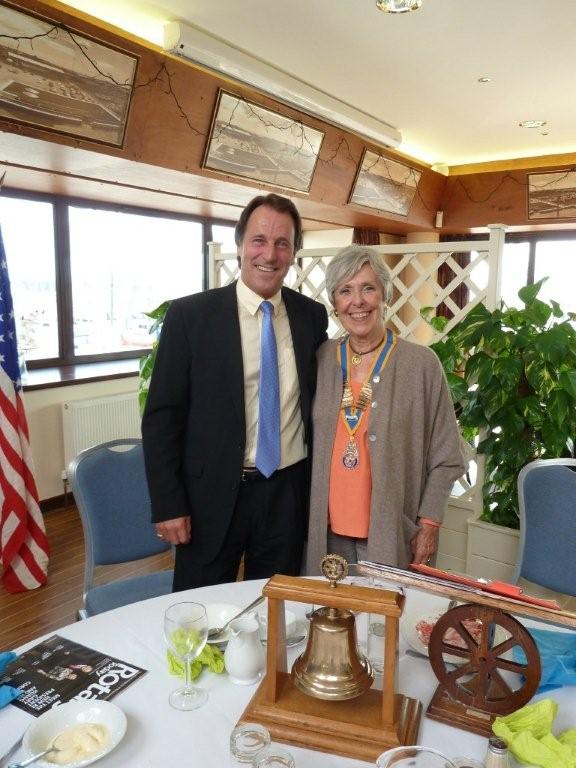 New Venue for Rotary
The Rotary Club of Poole recently relocated to a new venue for its Tuesday lunch meetings at Poole Yacht Club. Pictured, from left, celebrating the move are Tony Pawley (Secretary), Georgina Brooks (President) Stuart Dean (Vice-President) and Graham Ward (Treasurer).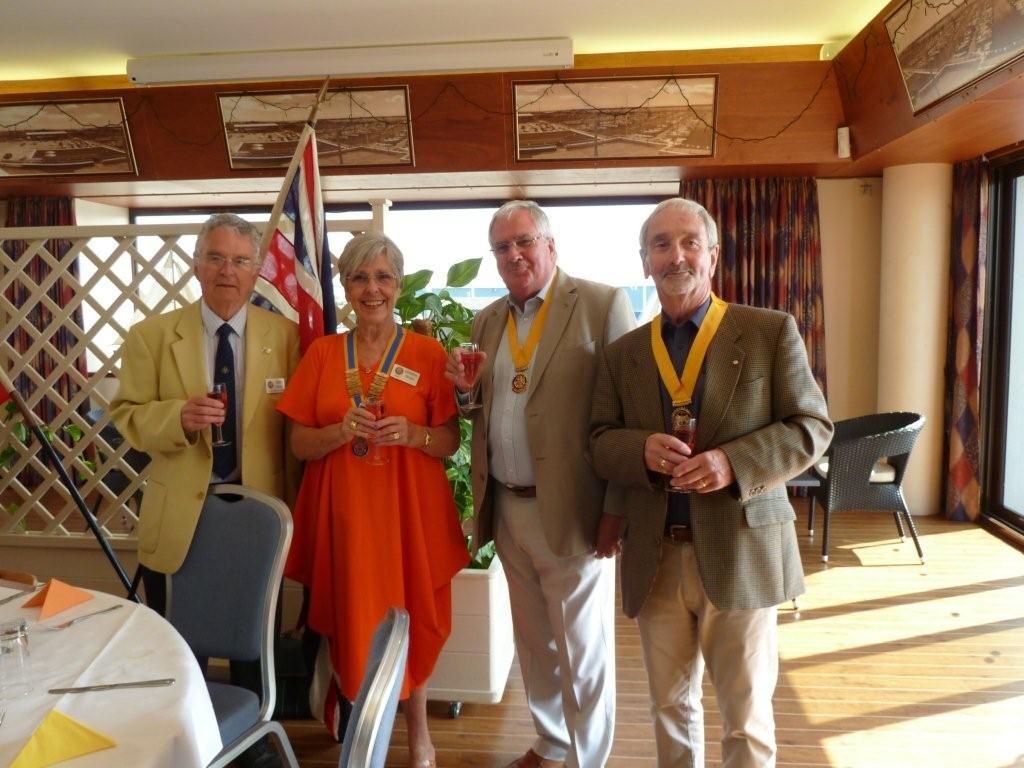 WWII Commemorative Dinner
At a special Gala Dinner held at the Miramar Hotel Bournemouth with a World War II commemorative theme, Poole Rotary raised a magnificent £3010 for charity. A small committee led by Past President Peter Brooks really got into the Forties Era with flags, reprints of posters and Ration Books and other memorabilia decorating the room and tables, and many guests dressed in period uniforms to make a very nostalgic and fun-filled event.
Current Club President Georgina Brooks in expressing her thanks said: "It was a great occasion which with the help of our friends, Business Partners and members allowed us to collect a superb total which will be shared between the Lewis Manning Hospice and other Poole Rotary supported projects."
The photograph below shows husband and wife Peter and Georgina Brooks - respectively Event Organiser and Club President - in period costume with Peter as a "dead ringer" for Winston Churchill as First Lord of the Admiralty.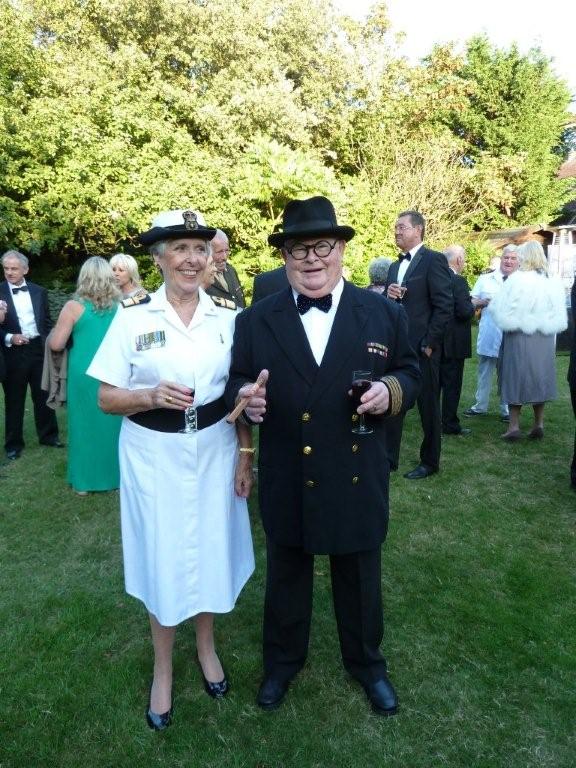 Mayor of Poole made Honorary Member
The Mayor of Poole, Cllr Peter Adams, was recently appointed an Honorary Member of Poole Rotary Club.
Accompanied by the Mayoress, Mrs Brenda Adams, he is seen here showing Poole Rotary President Georgina Brooks (Centre) a bottle of the specially brewed "Mayor's Tipple", eight bottles of which he presented to the Club.
Members auctioned the bottles in the Mayor's presence, raising £145 for his Charity Fund.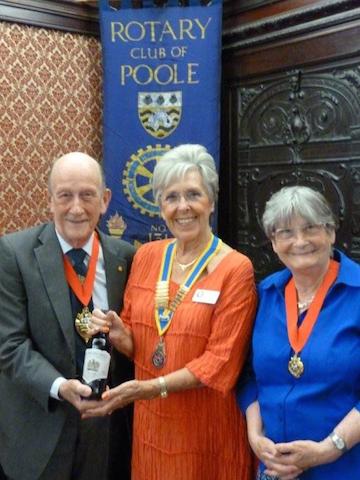 Poole Rotary's New President
Following her inauguration on July 1st as the new President of Poole Rotary Club Georgina Brooks presents her immediate predecessor, Ian Whitehead, with a Rotary plate to commemorate his successful year of office.
Georgina makes history as the first-ever lady President in the Club's 91 years of service to the community both in Poole and worldwide.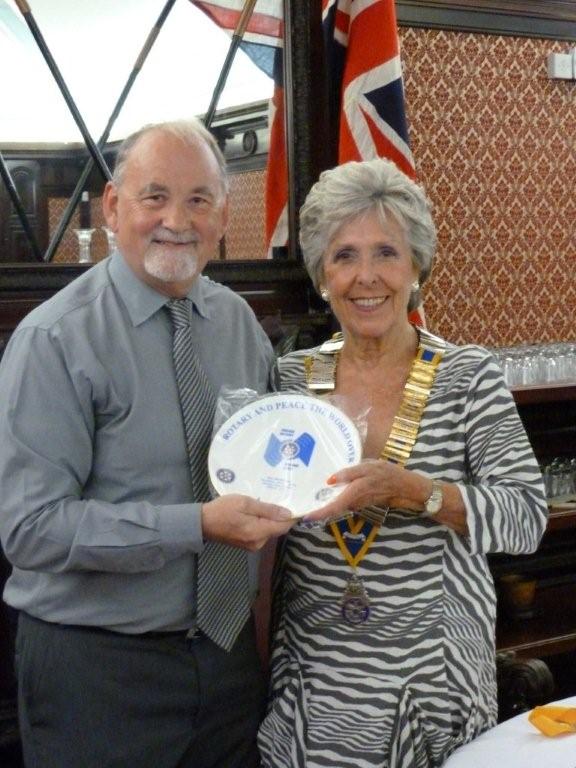 Confessions of a Pharmacist
A recent lunchtime speaker was Sandy Edington who worked as a Pharmacist at both Poole and Bournemouth hospitals but is now Associate Director of Service Development at Royal Bournemouth Hospital. Sandy gave us an interesting account of his career, amply interspersed with humorous anecdotes. He is pictured with President Ian Whitehead (on the right).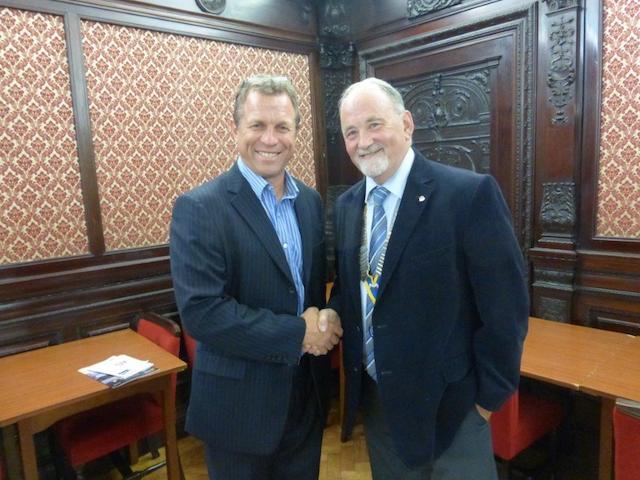 Presidents's Charity: Gully's Place
President Ian Whitehead recently presented, at his President's Night celebration, a cheque for ?2500 to Gully's Place Trust Fund. Founded in the children's unit at Poole Hospital to support children with a life-limiting or life-threatening illness, the Gully's Place Suite provides a special environment for these children and their families, with easy access to medical and other help and advice. Children's Unit Staff Nurse Sue Power is seen receiving the cheque from Ian, the Trust having been chosen by him as his President's Charity for his year of office.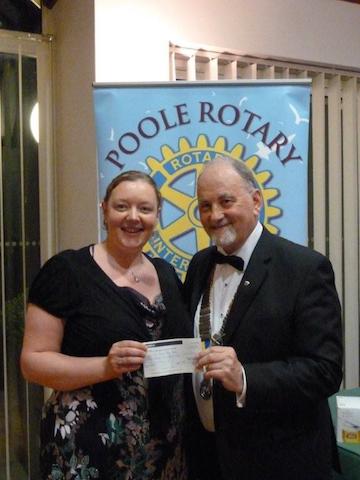 Social Nine-pin Skittles Evening
On 16th April Members and partners met at the Cobham Sports and Social Club for a buffet supper and an evening of nine-pin bowling, organised by Derek Winter. All present competed in a knock-out tournament which served to prove that some of those who had rarely played before were capable of trouncing the Club's established experts. Our photo shows the winning team of Dorothy Alder, Paddy Clement, John Duckenfield and Bill Fulton who beat their opponents 54-51 in the final. A convivial evening was had by all.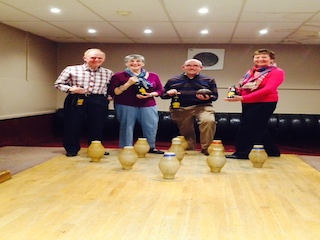 The Club's 90th Anniversary Dinner
Rotary in Britain and Ireland's national President Nan McCreadie joined the current President of the Rotary Club of Poole Ian Whitehead (Centre) and twenty-one past presidents, members and guests to celebrate the 90th Anniversary of the Poole Club. Held at the Royal Motor Yacht Club the special evening celebrated the Club's long service to the Poole community and internationally.
Accompanied by members of their link Clubs in Germany (Kiel Eider) and France (Loches) everyone enjoyed an evening of fun and fellowship in the best Rotary tradition.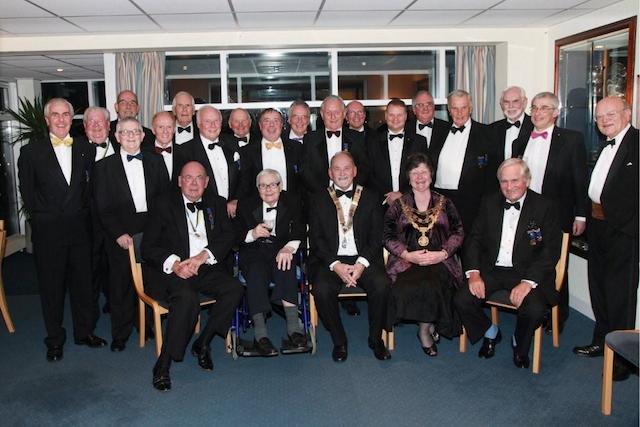 Visit by the District Governor
Poole Rotary were pleased to welcome the Wessex Area District Governor John Eade to their meeting. He is seen telling Poole Rotarians about developments in Rotary activities with Poole Rotary President Ian Whitehead watching.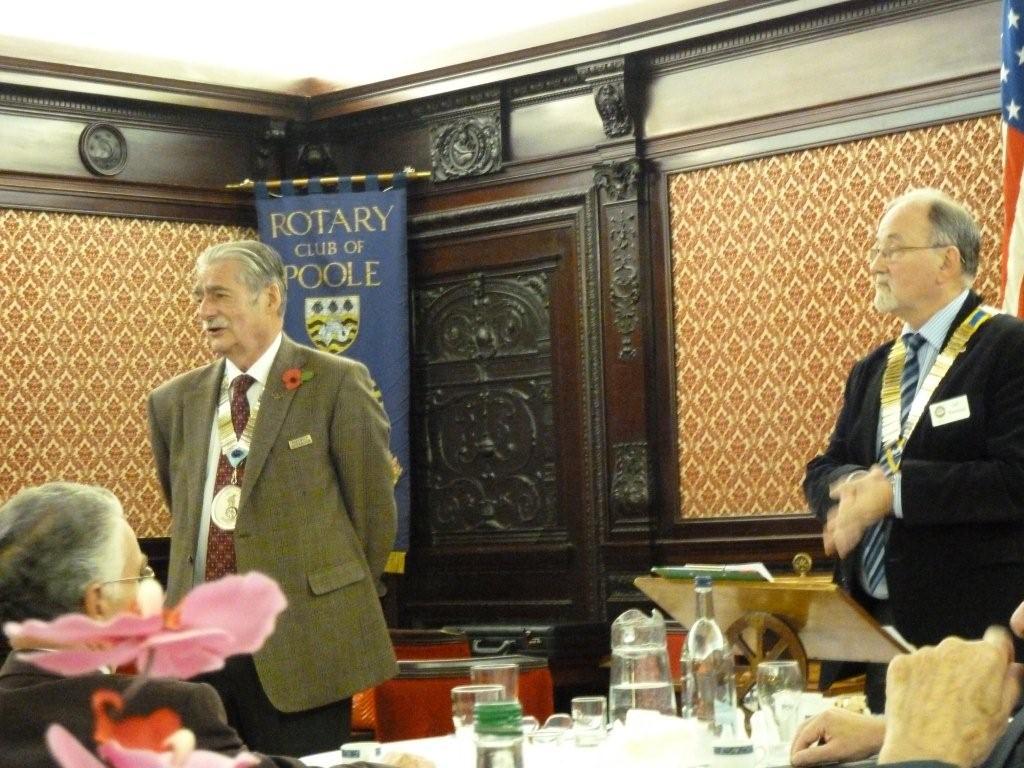 Poole Rotary pioneer honoured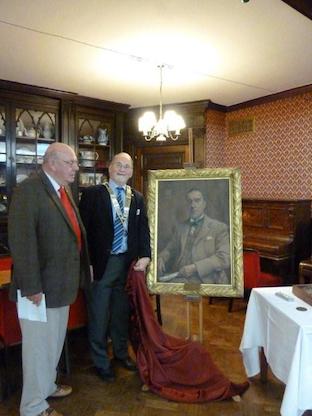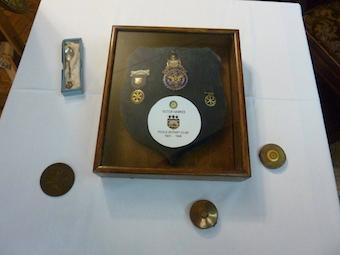 As part of the Rotary Club of Poole's 90th Anniversary celebrations a portrait of well known local businessman, the late Victor Hawkes, was unveiled at a meeting of the Club recently. As well as being a founder member of the Club in 1923 Victor Hawkes was club secretary from 1930 to 1947 and District Chairman in 1934.
The portrait was painted by well known local artist Bernard Gribble who is best known for his seascapes. It was lent for the occasion by Poole Museums.
President Ian Whitehead (Centre) and Bryan Keeping of Poole Rotary are shown with the picture.
Rotary in Poole and the Wessex Newfoundland Society
At a joint meeting of Rotary in Poole and the Wessex Newfoundland Society held at the Sandbanks Hotel the principal guest and speaker was the Lord Lieutenant of Dorset, Mrs. Anthony Pitt-Rivers (Centre). Hosted by the Presidents of the three Rotary Clubs in Poole and the Chairman of the Wessex Newfoundland Society the meeting was also attended by the Mayor & Mayoress of Poole Cllr. Philip & Mrs. Helen Eades.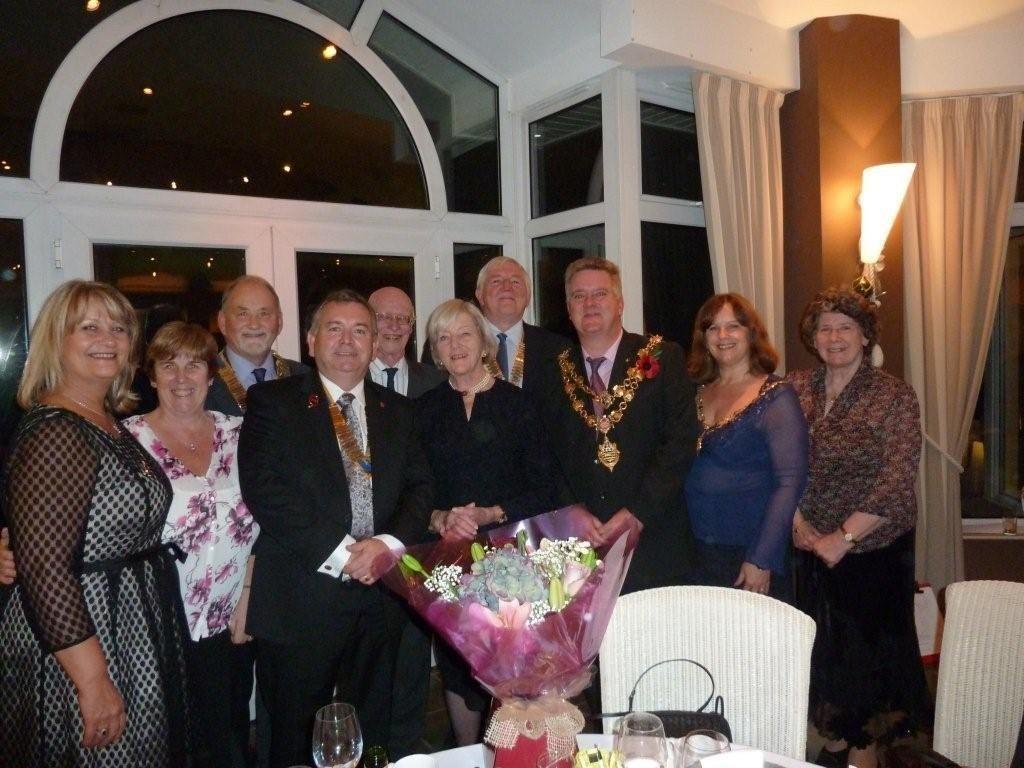 Donation to Portfield School
The left-hand photograph shows current Club President Ian Whitehead handing a cheque for £950 to Paul Reade, Autism Wessex Community and Events Fundraiser. This is the third cheque to be donated by the club with respect to 2012/13 President Tony Pawley's Charity of the Year.
The right-hand photograph shows Ian and Paul, flanked by Rotarians Barbara Siberry and Graham Ward, and Richard, one of the students currently benefiting from the education provided by the school.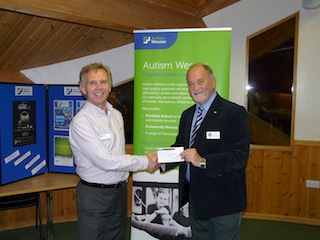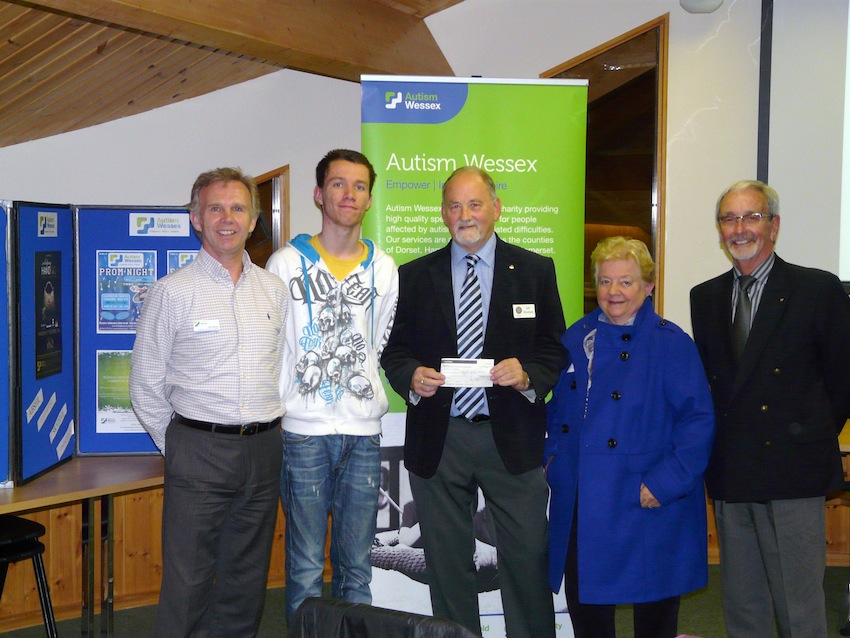 £10,000 raised for the Lewis-Manning Hospice
Group Two Clubs raised £4,000 and an anonymous donor made the total up to ?10,000 which represents the total amount required to furnish completely, including the technical hospital type equipment, one of the rooms in the completely rebuilt Lewis-Manning Hospice on Evening Hill, Poole. It is hoped to open the residential facility early in 2014 when one room will be designated as the 'Rotary Room'.
Poole Rotary contributed £400 and much of the rest of the Rotary £4,000 was raised from the catering at the Bournemouth Family Day at Meyrick Park, led by Westbourne RC.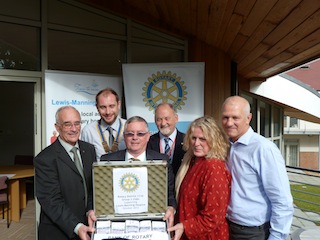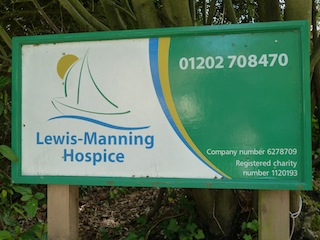 Laparascopic surgeons visit Poole Rotary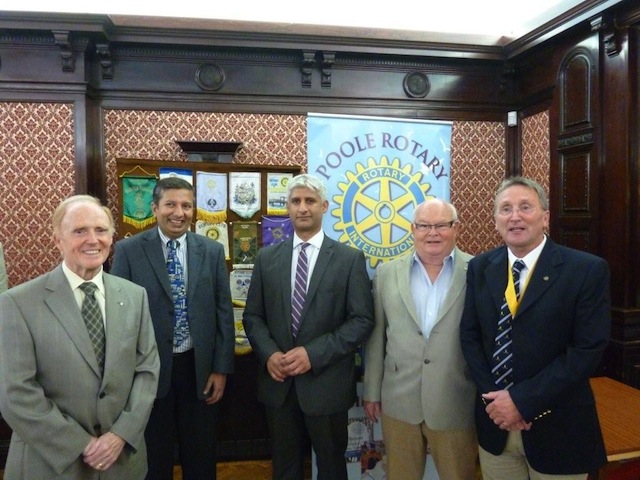 Following its success in raising funds of over £11500 in recent years for Laparascopic surgery at Poole Hospital, Poole Rotary received an update on progress at the surgical unit from Tas Quereshi, National Trainer for the ground-breaking Laparascopic Training Programme which is based at Poole Hospital.
Standing from the left : Poole Rotary past president Bill Fulton; Chaitanya Mehta, Laparascopic Fellow, Tas Quereshi, Peter Brooks and current Poole Rotary Vice-president Noel Graham. Bill and Peter had led the fund raising in their presidential years.
Brian Kingston honoured for 50 years service as a Rotarian
Long-serving Poole Rotarian Brian Kingston was honoured recently with a Rotary International 50 Year Service Award. Brian, a well known local Veterinary Surgeon and a Justice of the Peace for many years, is seen here receiving his award from Club President Ian Whitehead. Also in the picture is Anthony Yeatman (left) who introduced Brian to Poole Rotary.
The following photograph shows the actual certificate.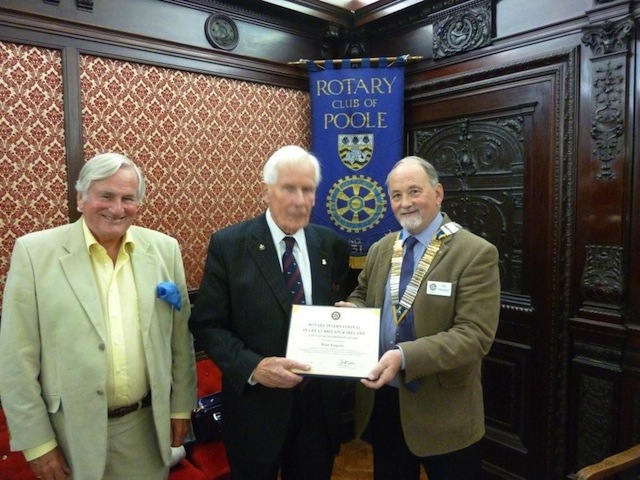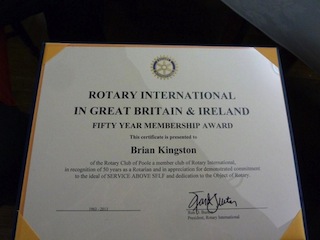 Pimms & Pate
Poole Rotary recently celebrated the start of its new Presidential Year with a Pimms and Pate party at the home of Vice-President Noel and Helen Graham. Our main picture shows in the rear from the right: President Ian and Pat Whitehead and Noel Graham; in front from the right: Sean Lawler , Helen Graham and Milli Johnstone.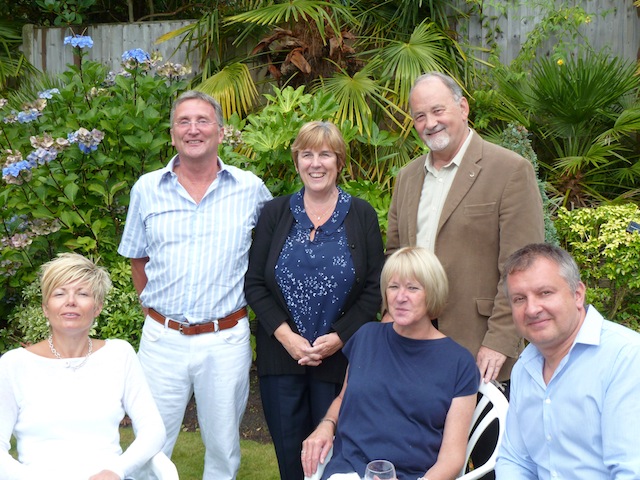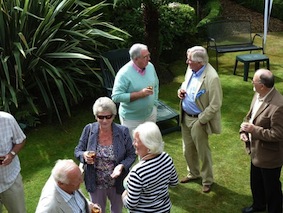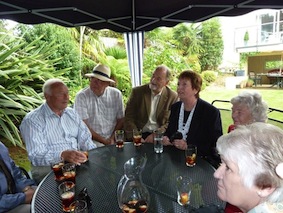 Mayor of Poole inducted as an Honorary Member
For many years Poole Rotary has elected the Mayor of Poole an Honorary Member for their year of office. Our picture shows the current Mayor of Poole Cllr. Phillip Eades accompanied by the Mayoress Mrs Helen Eades with President Ian Whitehead (right) and Senior Vice President Noel Graham after his talk to the Rotary Club about his role as Mayor and the great honour of being the 765th Mayor of Poole.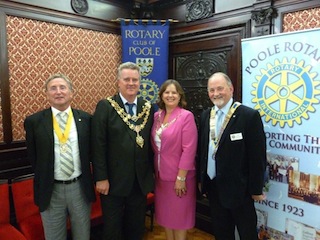 Poole Rotarian completes the trek to Santiago de Compostella
Poole Rotarian Lynn Butterworth has achieved the amazing feat of walking the Camino de Santiago (The Way of St.James). This famous 500-mile pilgrimage, from St. Jean Pied de Port in Southern France to the legendary resting-place of St. James in Santiago de Compostela in North West Spain, took her just under 40 days. Spurred on in memory of a close friend who died a little while ago, she was raising funds for Target Ovarian Cancer, a national charity supported by Soroptimists International (of which she is also a member), and for Autism Wessex which was Poole President 2012-13 Tony Pawley's preferred charity. After a short holiday to recover, she returned in time for Tony's President's Night on June 1st.
Rotarians and their friends can donate through the Poole Rotary Club Treasurer, others through Justgiving.com. Gift Aid is applicable in both cases.
The photos below show Lynn receiving a Poole pebble from the Mayor before her trek and being congratulated at a Rotary meeting afterwards by club president Tony.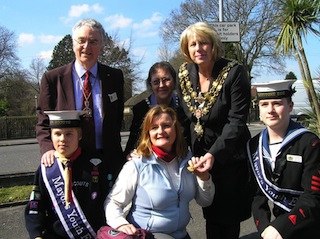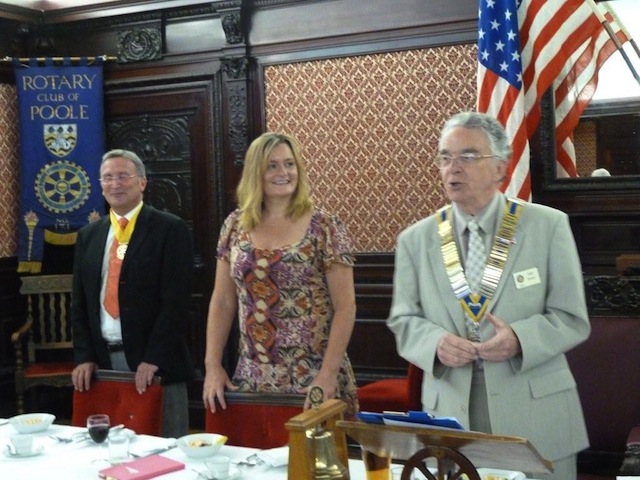 Poole Tri-Club
The three Clubs in Poole (Poole, Poole Bay and Parkstone) have continued to co-operate on various projects. The most important was the Rotary Technology Tournament which again was a great success. Organised by a small committee led by Alex Wells from Parkstone RC this involved some 120 pupils from nine local secondary schools and The College trying to solve an engineering problem in three levels of difficulty according to age. This RIBI-set problem is available to any Rotary Club, and observers from the Bournemouth Clubs were present on a fact-finding mission prior to starting their own competition next year. DG Mary Pike accompanied by David spent a busy but enjoyable day as a steward. The Southampton Football Club Captain, Adam Lalana, came as did the Mayor of Poole. One of our sponsors (Westover Group) had an electric Nissan Leaf on display.
One feature that was changed this year was the composition of the teams. The previous arrangement that teams were made up of students from one school was changed and the pupils were allocated to mixed teams .This meant that the selective schools did not win all the prizes as before, and had the extra benefit of adding to the element of team building and co-operation necessary to solve the problem. All in all a most worthwhile project. Next year's Tournament is fixed for 6th March 2014.
The National Blood Pressure Day on April 20th was marked by a stall in the Poole Dolphin Shopping Centre manned by members of the three clubs and certainly created enough interest to keep two medical professionals busy taking blood pressures all day. A good shop window for Rotary in Poole.
On Saturday 1st June we are helping Don Nutt (PP Poole Bay) and his team to run the 2nd Annual Poole Town Race which is becoming established as a great urban event in the world of orienteering. It provides a showcase for the interesting old town of Poole and of course the three Rotary Clubs.
50 years of Rotary service celebrated
Veteran Poole Rotarian Norman Pipler (left) was recently presented with a Rotary International Certificate to celebrate 50 years of Rotary Service by Poole Rotary President Tony Pawley with Junior Vice-President Noel Graham watching.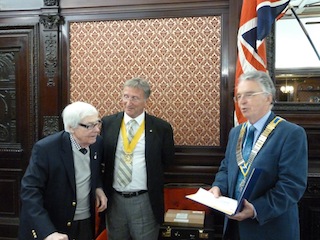 Visit by Rotarians from Essex
All Rotary Clubs are pleased to host visiting Rotarians and the Poole Club is no exception. We were recently very pleased to receive a party of five members from the RC of Billericay Mayflower who were on a ?Scatter Day?. The whole club scatter and there is a prize for the group which provides the most ingenious visit or visits on a theme around the President's occupation or business. For reasons too complicated to explain here they wanted to honour Lord Baden-Powell who founded the scout movement with a camp on Brownsea Island in Poole Harbour in 1907. We arranged for a local scout leader to talk to us at lunch and then a visit to Baden-Powell's statue on the Quay. A picture of the event was printed in the Bournemouth Echo and with our help our visitors won the prize.
This suggests a theme so if any other Rotary scatter days are coming to Poole they can be assured of a warm welcome.
Another good evening with our partners and guests
We had an excellent dinner at Corkers on Poole Quay on 26th February, with a fascinating illustrated talk by Simon Clark on "Ascending the Puma's Claw"

and a tombola to support Kids Out at Paulton's Park on 12th June
Two new members inducted at an enjoyable Christmas Partners' Evening
We are very pleased to have three new members so far this Rotary year, with Lynn and Graham inducted on 18th December at our Christmas Dinner at the Lifeboat College and Barbara inducted in October. Club members can find their contact details via the Website search facility.
Candlelit Carol Service - St James's Church, Poole, Sunday 23 December, 6.30
The service was taken by the Bishop of Sherborne. It was followed by supper at Amity Hall.
340 Christmas Parcels delivered to the needy of Poole
Poole Rotary, with Poole Lyons, Soroptimists and many others helped the organisers of the Poole Christmas Parcels Fund, now in its 80th year, to deliver 340 Christmas Parcels to people nominated by social workers, clergy, health service workers and others who understand their needs best.
Christmas Celebration - St.James's Parish Church, Poole, Friday 7th December
Another festive and most joyous occasion in aid of the Poole Christmas Parcels Fund and Hope FM, the local community radio station based at Bournemouth YMCA. Featuring the Poole Salvation Army Band, Dorset Police Male Voice Choir, Cantilena Choir (both choirs led by Dr Jane Oakland), vocalist Jonathan Searle, Kim May-Papiliou, saxophone, a Parkstone Grammar School 6th former - and lots of community carol singing.

We are very grateful to all the performers and to the Church. Over ?2000 was raised - very many thanks to our generous sponsors, advertisers, members of the audience and other supporters.
Rotary Business Partners
We are very pleased to now have fourteen Business Partners who are working with us for our mutual benefit and that of the community, including projects listed below. (Click on the blue tab on the left for more details of our Partners.) Those who have supported us for over a year have renewed their annual subscriptions, all of which go towards local projects.
Poole Rotary presents dictionaries at Turlin Moor Community First School
We had a lovely morning at Turlin Moor, giving dictionaries to the splendid Years 6 & 7 to help them develop their understanding and use of words at a time when good communications are more important than ever.
Rotarians visit Poole Hospital Children's Unit and the "About Face

"

Centre
Seven Poole Rotarians had a happy morning visiting the wonderful Children's Unit, where we provide certificates for brave youngsters in hospital, and About Face, which provides a unique support service for head and neck cancer sufferers, their families and carers.
Poole Rotary helps Poole Young Carers with ?1500 donation
The Mayor Of Poole and Honorary Rotarian, Cllr Carol Evans, presented a cheque for ?1500 to Carers Champion and former Mayor of Poole, Ray Smith for the Young Carers in Poole.
a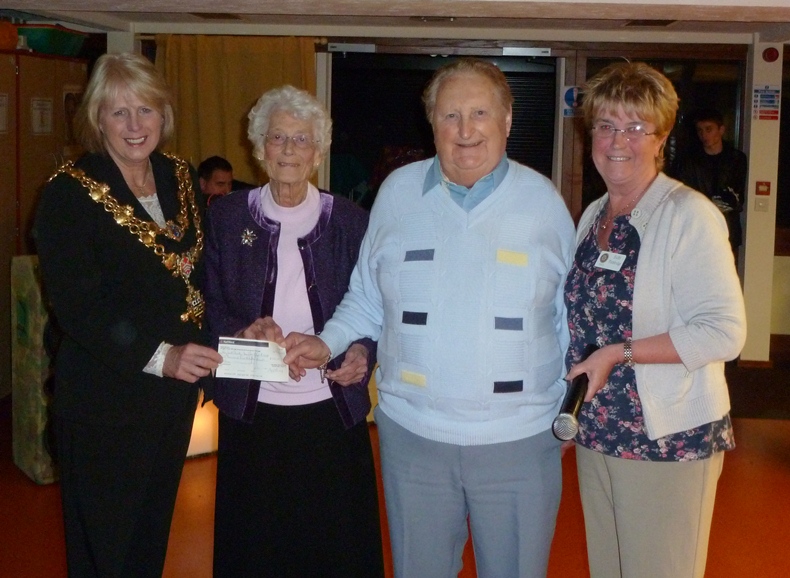 Also in the picture are Rotarian Babs Plumbridge (right), Chairman Poole Rotary Community Service Committee, and Mrs. Betty Bagley whose late husband, long-serving Poole Rotarian Gordon Bagley, was honoured by donations in his memory which formed the bulk of the total. Money was also raised with a Pimms & Pat? lunch and help from Poole Rotary Business Partners.
Support from Rotary for EDAS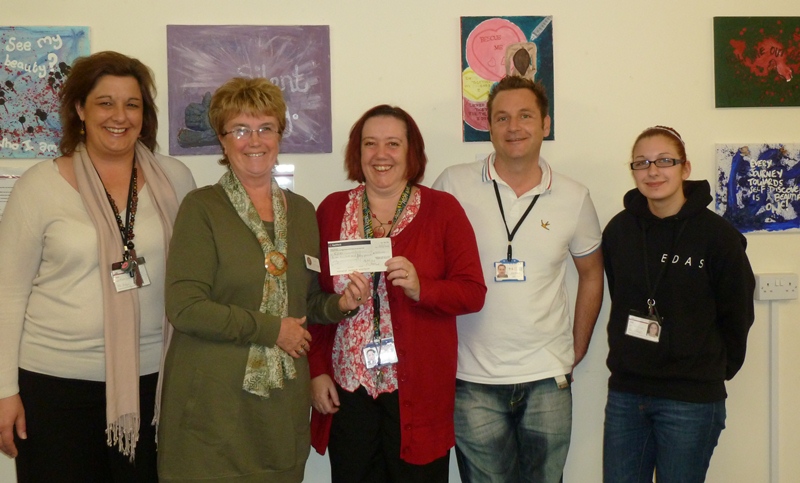 Poole Rotary Community Service Chairman Babs Plumbridge (second left) recently presented a cheque for ?350 to Annette Ivey (Centre), Young Adults Drug and Alcohol Support Team (YADAS) Coordinator and two of her team (right), with the CEO EDAS Dr Mindy Crespi on the left. The money will be used for a special Christmas lunch for young people in their scheme in Poole, with the surplus used to buy new interactive resources.
Poole Rotary presents cheque to Poole Foodbank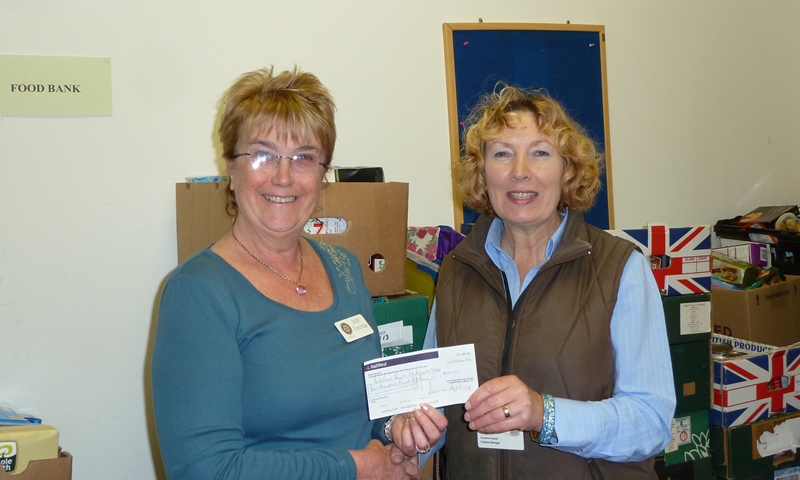 Amid the groceries waiting to be sorted at The Poole Foodbank, Poole Rotary's Chairman of the Community Service Committee, Babs Plumbridge (left), presents a cheque for ?100 to Lorraine Russell, Organiser of the Foodbank in Longfleet Road, Poole. Most of the money was given anonymously by a long-serving Poole Rotarian who forewent his birthday presents to support this charity.
Poole Rotary helps Litter-Pick at Upton House for Mental Health Week, 12th October
We joined Mayor Cllr Carol Evans & Bryan, local mental health support teams,Chestnut Nursery and Dorset Wildlife Trust to collect litter and show support for a better understanding of people with mental challenges.
We welcomed the GSE Team from the Philippines, 9th October
We hosted the delightful Group Study Exchange Team from Manila at our lunch meeting, after they had visited the RNLI headquarters. We wish them well for the remainder of their stay in Rotary Wessex.
A wonderful Rotary Gala Dinner for the Royal Marines Families Centre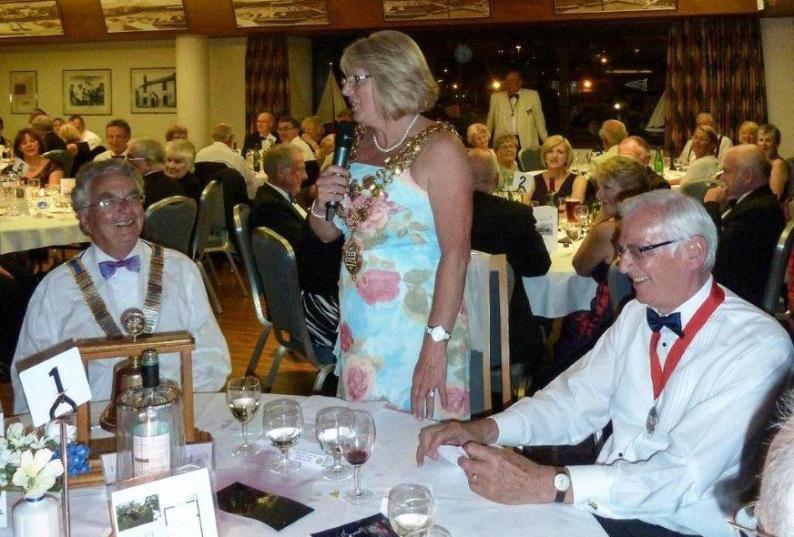 Our thanks to everyone who made this such a special occasion, raising over ?5,200 for the Families Centre at the Royal Marines base in Hamworthy.
The Mayor of Poole, Cllr. Carol Evans, is pictured addressing Poole Rotary Members, Rotary Business Partners and guests at Poole Yacht Club on 15 September 2012.
The Wessex Autistic So

ciety is the President's Charity
We have given an initial tranche of ?500 to TWAS, with the promise of more later in the year. We vis
ited Portfield School on 1717th September - a fantastic facility for our community.
Click href="http://www.twas.org.uk/">here to see the wonderful work being done by this charity.
Poole Rotary welcomes the Mayor
On 2424th July, we were delighted to welcome the 764th Mayor of Poole, Cllr. Carol Evans, and husband Bryan to our meeting and to induct her as Honorary Member. She gave an enlightening talk on her year so far, the history of the chain, her own personal history (being born and bred in Poole) and life in the Navy as a WREN.
Poole Rotary - part of an International Organisation with 1.2 Million Members
Rotarians are renowned for hands-on service in their communities and for charity fund-raising, not only through Rotary-sponsored projects but for other organisations. Poole Rotary now has 32 members and we welcome enquiries from all professional and business people, men and women, working and retired, who would be interested in joining Rotary and be part of an organisation with members in over 200 countries worldwide. Just click on 'Contact Us' and we will get back to you as soon as possible. (See below for more about Rotary in Poole, our club, our activities and our international links.)
Poole Rotary supports About Face
On 24th July, Babs Plumbridge, with Peter and Georgina Brooks, visited the href="http://www.facebook.com/AboutFacePoole">About Face Centre and presented Chairman Dr Anthony (Tony) Pigott with a cheque for ?300. This is specifically for the purchase of six ?Boogie Boards? ? a simple means to allow people challenged in using their voice to communicate with loved ones or health professionals - see here on href="http://www.facebook.com/AboutFacePoole">facebook.
Please see below and the tabs on the left to see what else we have been up to.
Cheese and Wine on the Beach, Branksome Dene - 4th July
Another successful fund-raiser, this time for the Poole Christmas Parcels Fund, founded by Poole Rotary in 1932! A most enjoyable social event - thanks to all who came and especially to organiser John and his team.
Kids Out - Paulton's Park - 13th June 2012
Seven club members and one of our wives had a great day out with wonderful kids from Sylvan First School and Longspee School in Poole and their terrific teachers - an annual event that we all enjoy.
Jubilee Celebration Picnic, Bloxworth - Bank Holiday Monday 4th June
A wonderful day that generated funds for Rotary Foundation and was great fun, with Gun Dog Demo, Fly Casting, Clay Shooting, Metal Detecting. Not a street party in sight!
President's Night - 22nd June, Haven Hotel - a great success
An excellent meal, with guests from the Osborne Centre run by the Multiple Sclerosis Society, the Deputy Mayor & Mayoress of Poole, Rotary Business Partners, visitors from several local Rotary clubs and many other friends and relations.
Visit by Kiel-Eider Rotary Club, 11th-14th May
Another very successful weekend, continuing the fellowship between our two clubs first established over 30 years ago.
Mock Interviews at Poole High School, Wednesday 21st March
A very successful day, helpful for pupils and rewarding for interviewing Rotarians. (Click on the 'Vocation & Youth Opportunities' tab on the left for more details.)
"Rotary in Poole" Technology Tournament, Thursday 8th March
30 teams from 8 Poole schools and colleges, including a teachers' team! Creative, instructive, entertaining and most enjoyable. A resounding success. More news and photos soon.
"Walk the Twin-Sails Bridge" - Saturday 25th February - Thanks Everyone
Thanks to everyone who "walked the bridge" and received a certificate in exchange for a donation. All the money will go to local charities. The weather was fine, the Bridge looked splendid - a day to remember. [Click on 'Photo Galleries' above for slide show.]
A spectacular two-hour event to mark the completion of the ?40 million project was held on the former power station site in Hamworthy on Friday 9 March 2012, followed by entertainment and fireworks on Poole Quay. On Monday 12th March, HRH The Princess Royal visited the Bridge. The Bridge will open to traffic soon - href="http://www.boroughofpoole.com/newsroom/march/twin-sails-bridge-opening-postponed/">click here.
Community Service at home and abroad: Fun and Fund-Raising
To see how we have been helping local organisations recently, please click on the 'Community Service' tab on the left. (A separate charity fund, the Gould Trust, has now been wound up and remaining funds transferred into our main charity account.)
Vocational Service & Youth Opportunities
The Vocation & Youth Opportunities Committee organises vocational visits and a variety of activities for schools including technology tournaments and mock interviews. It also presents an annual Rotary Award for Nursing Excellence. Click on the blue tab for details.
Poole Civic Achievement Award to Poole Rotarian Norman Morris
Long serving member, and Past President, Norman Morris received a Poole Achievement Award. Presented by the Mayor of Poole Cllr. Graham Wilson, this special honour commemorates Norman's long involvement with the Poole Hospital Cancer Treatment Trust and Scanner Appeal. As Chairman, he has led the appeal for the new Scanners which has reached over ?1.8M. See "News from Poole Rotary" for photos.
"Rotary in Poole"
We are working increasingly closely with the other two Rotary clubs in Poole to maximise the benefits we can bring to local, national and international projects. As well as specific joint activities, we hold joint club meetings several times a year.
Through Club Service, we have fun, build lasting friendships, and make sure that our club functions well.
Through Vocational Service, we volunteer our professional skills to serve others and promote integrity in everything we do.
Through Community Service, we address local needs and work with our community to bring lasting improvements.
Through International Service, we meet humanitarian needs around the globe and promote world understanding and peace.
Through New Generations Service, we work with young people to help them become the next generation of leaders, visionaries, and peacemakers.
Our Club
For 88 years our club has provided support, expertise and friendship to those whom we can best help. As part of a 106-year-old international fellowship organisation with over 1.2 million members, we provide help in this country and overseas, from a strong base of community service to the people of Poole.
We also support Rotary International's efforts to eradicate Polio worldwide, with $350 million additional funds kindly provided by the Bill & Melinda Gates Foundation.
The Club is privileged to be situated in a vibrant town with one of the world's greatest natural harbours, surrounded by beautiful and varied countryside. We are proud of the town's 750 year heritage.
Our Activities
You can see on the 'Meetings & Events' tab what interesting activities we have planned and the speakers we have arranged for our weekly meetings. (For the programme for the next 30 days, see foot of this page.) For past events, click on 'Completed'.
Visiting Rotarians are sure of a warm welcome. Our usual meeting time is at 12.30pm, on Tuesdays, at Amity Hall, Market Close, but please check our meeting times for variations.
To see meetings and other activities organised by our District, click the 'District 1110' link on this page and then 'District Significant Dates'.
Club members can access members-only pages by clicking on Members Login and following instructions.
International Links & The Rotary Foundation
In addition to the Rotary PolioPlus Campaign, we support other activities of The Rotary Foundation including Peace Scholars, Ambassadorial Scholars and Group Study Exchange.
We were very pleased to welcome the Group Study Exchange Team from Brazil. They are a delightful team and enjoyable company. They will remember the experiences and the people they have met and have a greater knowledge of the UK and Rotary. They will also have benefited from the accumulation of presentation skills, will be more useful to their current and future employers, have greater confidence and generally be more rounded and experienced people.
We welcomed in May our friends from href="http://www.rc-kiel-eider.de/">Kiel-Eider Rotary in Germany. Before that, one of our members and his partner visited their annual "Ducks Dinner". In May 2011, we entertained members of our French twin club, Loches Rotary, and we look forward to visiting them in May 2013. /upimages/clubfiles/670/2012-13 Events/500 Miles for Autism Wessex and Target Ovarian Cancer.pdf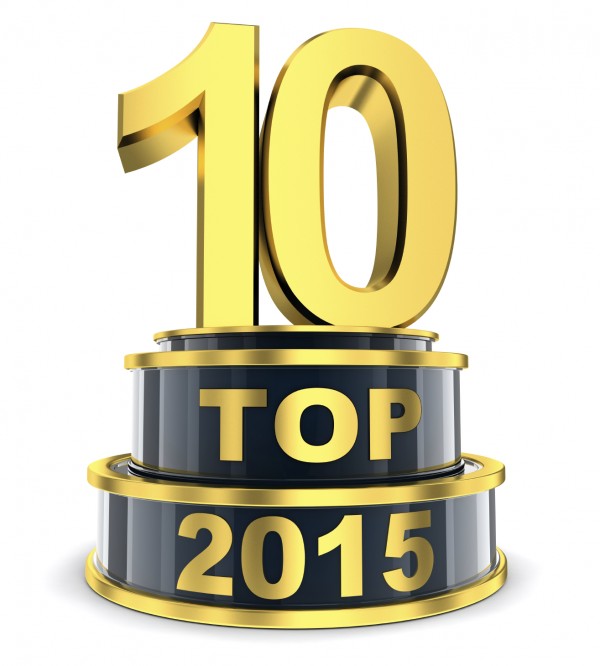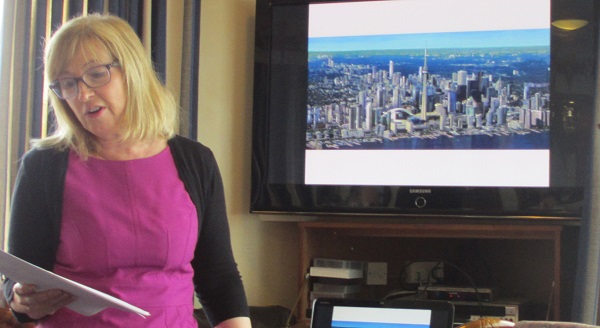 Poole Rotary continues to support many local charities
These include About Face, BCHA, Chestnut Nursery, Christmas Parcels Fund, Diverse Abilities Plus, Dolphin Marching Band, Dorset Search Dogs, Grange Cheshire Home, Harbour Challenge, Paralympic Volleyball team, Salvation Army Fund for Homeless, SBSA, Turlin Moor Community School, Wessex Autistic Society, Young Carers.
See below and on the blue 'Community Service' tab.
A wonderful Rotary Gala Dinner for the Familie

s Centre at the Royal Marines base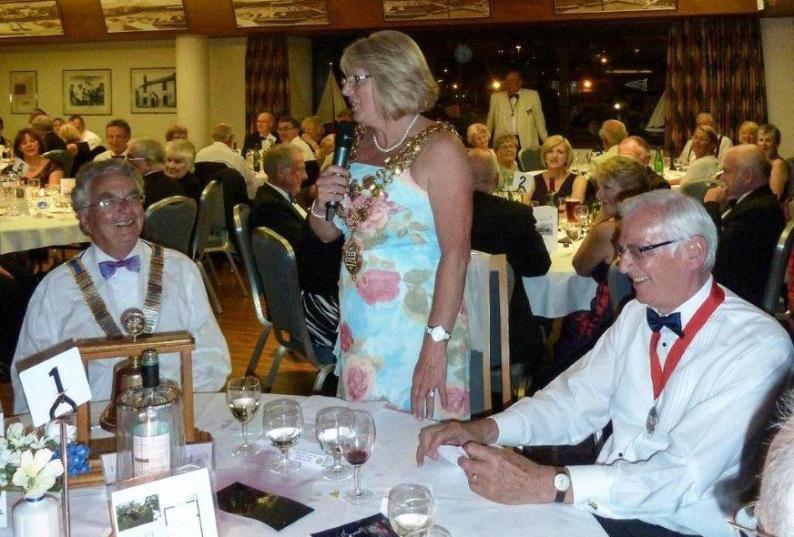 Our thanks to everyone who made this such a special occasion, raising over