Rotary Club of Plympton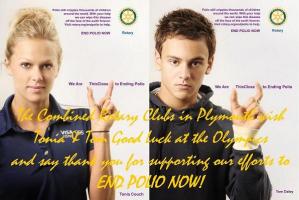 A Message to Olympians Tom Daley and Tonia Couch who support the campaign to End Polio Now
Good Luck Tom & Tonia

We at the Rotary Club of Plympton (along with all other Rotarians) wish Tonia Couch & Tom Daley - who are a couple of the local celebs who are supporting our Polio campaign - good luck in the Diving Pool at the Olympics. To read more about our Polio efforts click on the above image.
Two of the local personalities who supported our adaption of the Rotary "This Close to Ending Polio" campaign are included in Team GB's team at the Olympics.
We, as well as all Rotarians wish them well.