CLUB ACHIEVEMENTS 2012-13
ANOTHER SUCCESSFUL YEAR
June 2013. The club organised a most successful HEALTH INFORNMATION DAY at St andrews Community Centre, Enfield Town.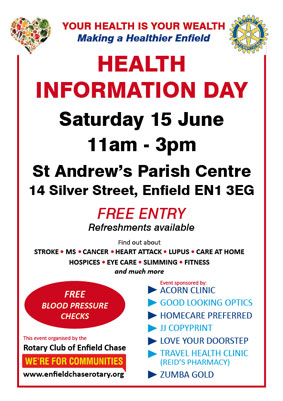 In what can only be described as a ground breaking and forward thinking event, on Friday 19th April 2013, Rotarians from the Rotary Clubs of Enfield Chase, Enfield and Southgate together with over 28 other exhibitors, the general public and local politicians and digniatories attended the Give and Take, Charity Forum event in Enfield Town.
On 14th October members from Rotary clubs in North London helped at the Rotary North London DisAbility Games.
This was the first time we had staged this event, at the Aspire National Training Centre, Stanmore and its success has confirmed that it will not be the last time!
The brainchild of just one Rotarian from Barnet club, this sports day offered numerous events, including Table Tennis, New Age Curling, Darts, Stick Ball, Indoor Bowls and Swimming in competitions. There were over 100 participants.
Clubs contributed money from their fund raising efforts to pay for the event and many members from the clubs were on hand to help throughout the day.
District Governor Eve Conway was on hand to present the medals.
From the words of one of our members who helped: "It's what Rotary is all about! A very worthwhile day spent helping others to really enjoy themselves and I had a great time too".
Kathy Worrell spoke to us at our first evening meeting on 11 October about the forthcoming Festival of Light which will be held in Enfield Town on 25th November. Members of the club will again be taking part; for more information contact the club secretary.