CHARITY SHOP
Charity Shop to open in Old Library!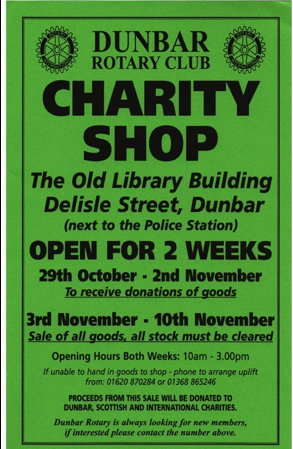 Show related pages
Does your garage or house need a clear out? Dunbar Rotary Club are soon to hold their annual Charity Shop Sale and will be collecting items from Monday 29th Oct. Anyone who can manage to deliver can hand donations in to the Old Library building where we will be open for one week to collect. We then open on Saturday 3rd November to sell. We take all household items and small furniture, no clothes sorry. Toys, books, kitchenware and crockery are always good sellers. Working electrical goods are most welcome.
If you cannot deliver the goods, please call 01620 870284 or 01368 865246 to arrange an uplift.
SUPPORTING LOCAL, NATIONAL AND INTERNATIONAL CHARITIES