Notice: Undefined index: ClubID in /home/rotaryribi/public_html/clubs/page.php on line 395

Notice: Undefined index: DistrictNo in /home/rotaryribi/public_html/clubs/page.php on line 399

Notice: Undefined index: DistPost in /home/rotaryribi/public_html/clubs/page.php on line 399

Notice: Undefined index: administrator in /home/rotaryribi/public_html/clubs/page.php on line 403

Fantastic Food from the Young Chefs 2012
Mon 26th November 2012
Six young Chefs from Mid & Upper Nithsdale showed that they can cook with the best in Thornhill & District Rotary's Young Chef of the Year Contest.
Six talented young chefs from Sanqhuar and Wallace Hall Academies battled it out in the recent Young Chef of the Year 2012 contest organised by the Rotary Club of Thornhill and District. In a keenly fought cook-off hosted by Wallace Hall Academy, Sanquhar's Murray Grierson just edged ahead with his menu of stuffed chicken followed by lemon and blueberry tartlets.
Thornhill's Buccleuch and Queensberry Hotel Head Chef Will Pottinger had the unenviable task of selecting a winner to go forward to the next round of the competition which will take place in Kirkcudbright in the New Year.
The event was sponsored by the management of the Buccleuch and Queensberry Hotel who provided each young chef with a goodie bag containing various cooking ingredients and a hotel voucher. In addition, winning Young Chef Murray has been invited to spend a full-day with Will in his hotel kitchen.
Rotarian Joan Neilson who organised the event said "I am most grateful to Chef Will for judging what turned out to be a very competitive event and to the Buccleuch and Queensberry Hotel for their generous sponsorship of the event. I am delighted that Murray will be representing us in the next round. I am sure under Will's guidance he will do us all proud."
Gordon Neilson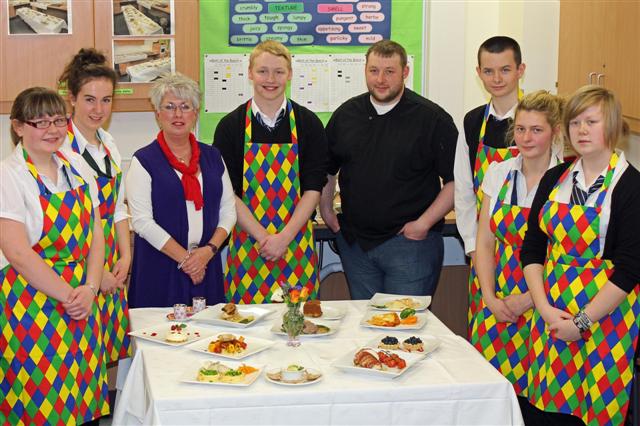 (Main photo shows the young chefs with a delighted Murray flanked by Rotarian Joan Neilson and Chef Will. )
Slideshow photos are thanks to Gordon