Picnic at Bath Island Saturday 1st June 2013
Sat 1st June 2013 at 12.00 - 17.00
Picnic at Bath Island on the Thames to welcome canoeists Richard Stabbins and Guy Wilkins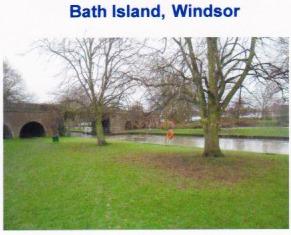 Show related pages
Details of the Event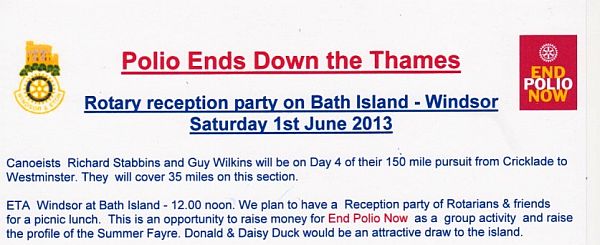 SOCIAL / FUNDRAISING EVENT - Saturday 1st June 11.30 onwards
Reception and Picnic on Bath Island by the River Thames Windsor
As many of you are aware Richard Stabbins and Guy Wilkins are canoeing down the river in order to raise money for Polio Eradication.
They shall be arriving at Bath Island at about 12.00 noon and we are proposing to form a welcoming party for them when they reach this stage.
Depending on the interest received we are proposing to erect some gazebos and have a picnic luncheon.
At the same time members will be raising money for Polio Eradication and sell tickets for the Annual Duck Race to be held at the Summer Fayre later in the month.
We want as many members and their partners, families and guests as possible to attend.If the weather is kind to us this has the makings of a great summertime event.
President's Message - how you can help
The web page for Richard Stabbins & Guy Wilkins fund raising event for "End Polio Now" is complete and I enclose the following web sites for you use. I am sure you already know that Rotary International expects every Rotary Club to raise at least