Youth Service
Excitement of Science Lecture, 25th February 2015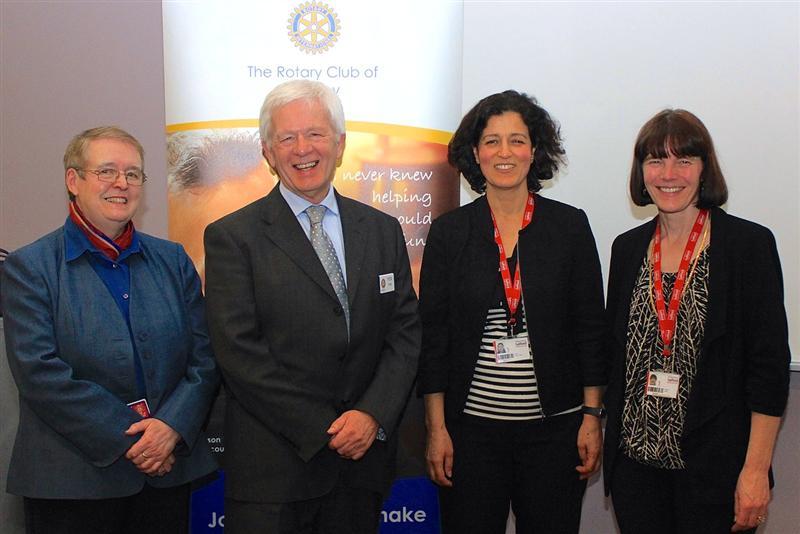 Excitement of Science 2015
''Smartphones - an engineering marvel
On Wednesday 25th February, 200 pupils from high schools in the east of the District met at Salford University's Ladyhale Lecture Theatre for this year's Excitement of Science Lecture.
The topic, highly relevant to young people who would be lost without their mobile phones, was entitled "The Smartphone - an engineering marvel" and covered the actual components of the phone, including some practical activities on their construction, along with the engineering aspects of the signalling & networks.
The Club is extremely grateful for the support of the University with this event and the excellent delivery of the lecture by Professor Haifa Takruri-Rizk and Dr. Kate Booth.
EOS co-ordinator Peter Irwin is already working at next year's lecture to be held at Manchester University and the planned date is Wednesday, 24th February 2016.''
************************************
Youth Service Committee Mike Collier Peter Irwin
Last year we had a very ambitious programme and we were able to deliver not all but most. With this in mind we will omit those projects which are out of our control and possibly add a few more to compensate.
Purple Pinkie
We intend to continue our joint effort with the Rotary Club of Walkden doing Purple Pinkie. Our first school was St Andrews Little Hulton in November 2008 and since then we have visited over 26 schools and donated over eight thousand pounds to Polio Plus. Having completed all the schools in Worsley, Walkden and Little Hulton we now have moved into the rest of the Salford schools. We already have commitments from the Headteachers of Moorside, St Augustine