ROTARY'S POLIO CAMPAIGN
MIRFIELD ROTARIANS CELEBRATE A MODERN MEDICAL MIRACLE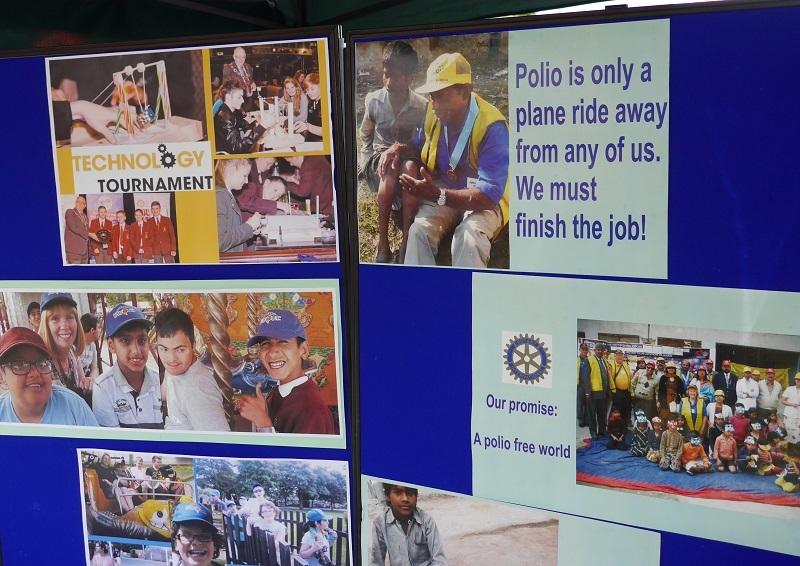 POLIO ERADICATION - OUR NUMBER ONE PRIORITY
One of 21st Century's medical miracles happened in India two weeks ago and Mirfield Rotarians are in a mood to celebrate.
The medical miracle - one of profound significance to our children - is the eradication of Polio from India.
Polio crippled thousands - mostly slum children - in India for many years, but now parents of the country's 185 million children under five can take a deep sigh of relief. There has not been single new case for the last three years and the WHO has declared India Polio free.
Mirfield Rotarians have over many years raised thousands of pounds to rid the world of Polio and are justifiably proud. India was one of the last four countries in the world which were endemic to Polio.
Yorkshire Rotary's Past Polio Officer and Mirfield's Past President Chris Philip says: 'I have led several groups of volunteers to India to support local Rotary colleagues and to immunise thousands of children there.
'India's medical miracle is a credit to Rotary and other organisations, but this is also a time to be extra vigilant. Pakistan, Afghanistan and Nigeria are still endemic to Polio. If a carrier from these countries comes to the UK, our children could be exposed to the virus. Polio is literally only a plane ride away.
'We will continue to support Polio campaigns until the world is rid of the virus. We have two fund raising events. On 24 February, we have organised a frugal supper with an up-to-date presentation about Polio. We are also collecting old clothes to raise funds.'
For more information please contact Club Secretary Paul Cusworth 07976 605670.
---
ROTARY'S VISION - A POLIO FREE WORLD
---
In 1961, 707 children were struck down by the dreadful disease - Polio in the UK. By 1988, UK was declared Polio free. But it remained prevalent in more than 125 countries.
It was Rotary's vision in 1985 which made possible this magical achievement. Yorkshire Rotary's Past Polio Officer and our Club's immediate Past President Chris Philip says: 'It has been my privilege to help the 79 clubs in this District from Scarborough to Holmfirth to keep their morale up in this end game of consigning Polio to history. We've achieved a miracle in raising funds, encouraging and supporting other agencies and being the most powerful campaigners for ensuring that Polio eradication remains one of the top health priorities of governments.'
'I've led seven teams to India to take part in immunisation days. For all of us it has been life-changing. Rotary's promise of a Polio free world is something we are all very proud of. The battle is nearly won. If you want to know more about this please send me an email.'
---