SOUP RUN
Plymouth Mayflower Rotary Club's Soup Run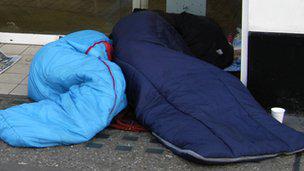 The Soup Run is a city wide service provided every night of the week, primarily through the Salvation Army.
Our scheduled soup run dates for the year can be found in our Club Main Programme.
Rota requests may be circulated in advance of each date and those collecting will be reminded at the breakfast meeting the week before.
The Soup Run is coordinated by Rotarians Jackie Carter PHF and Liz Fluellen.