Our support to international charities
The international charities we support
Supporting International Charities
Every year our Club supports international charities in multiple ways including:
Nepal and Syria Crisis supported using Shelterbox and Aquabox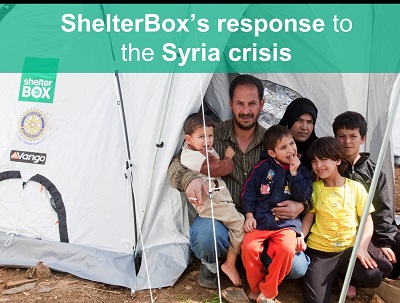 The Club has provided both Shelterboxes and Aquaboxes to support victims of the Nepal earthquake and to support refugeees displaced by the fighting in Syria. The Shelterbox was one of the first forms of aid to arrive in Nepal and the first 100 Shelterboxes to arrive were used to provde emergency operating theatres as the Katmandu hospital was near collapse.
Shelterbox is a Rotary charity and provides emergency support to families in distress through war or natural disasters. The shelterbox comes with a tent and all the utensils to set up a temporary home in an affected area.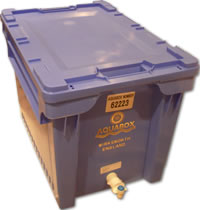 We also provided an AQUABOX, which is a robust plastic tank with a family-sized filter unit known as the AQUAFILTER and packed with essential welfare items for a disaster situation. Once the welfare contents have been removed, each AQUABOX can be used to purify up to 18000 litres of polluted water, making it safe and pleasant to drink. Thats enough for 22.5 litres/day of general use potable water for use by the family for a period two years.
Rotary Foundation: we donate to the Rotary Foundation Charity which is the largest international charity in the world. With 1.2 million Rotarians worldwide the charity raises and distributes over £100million annually for projects worldwide. One key project is to eradicate polio worldwide using the End Polio project which has reduced polio from 121 countries where it was endemic in 1985 to just 3 in 2015..
Rotary End Polio Now : each year we have donated approx £2000 to the eradication of polio campaign
Independent Charities.Each year we support multiple international charities. On average we donate £2000 per year.These include:
DoctorBank: supporting doctors who, in their spare time, give their services free of charge, to disadvantaged areas from war, famine or poverty.
Marys Meals: a charity who provide food for hungry schoolchildren in Africa allowing them to learn and break the cycle of poverty.
JaipurLimb: who provide prosthetic limbs for people affected by poverty or war.
SmileTrain: where plastic surgeons offer their services free of charge to correct cleft palates and other facial disfigurements which blight childrens lives in the poorest areas.
Wateraid: who provide water and sanitation to areas in poverty.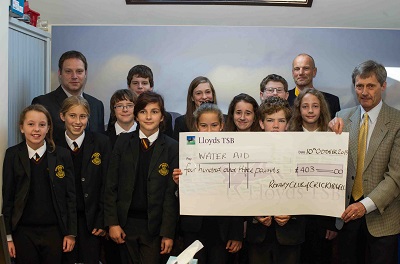 Links with the Schools: we facilitate charity giving with the local schools by providing talks and offering to match their fundraising with our own. The photo shows our International Chairman Brian Brookshaw( pictured right) who presented a talk to pupils at the High School on the WaterAid charity which enthused the pupils to arrange a non-uniform day to raise funds for the charity. Our Club agreed to match the sum raised by the pupils with an equivalent Rotary donation. The photograph shows Brian presenting the Rotary cheque leading to nearly £900 being donated to WaterAid and a greater awareness of international issues for the pupils.
End Polio Now awareness in Schools: : we are supporting the national campaign to raise awareness of the final push to eradicate polio from the world facilitated by Rotary and the World Health Organisation.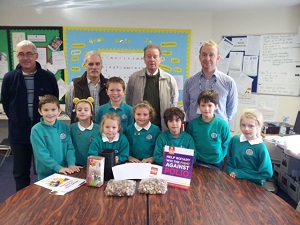 We have provided each school with crocus bulbs for the pupils to grow. We visit schools and present the current progress on polio eradication to raise international awareness of an issue that doesn't affect the UK but has a big effect on the 3 remaining countries where polio is endemic. The photograph shows the Primary school pupils receiving the crocus bulbs.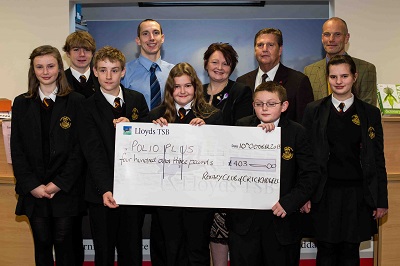 In addition, Rotary gave a presentation to the pupils who undertook a fund raising effort and Rotary agreed to match the sum the pupils raised. The photograph shows a cheque of £403 being presented to the school making £806 being sent to the End Polio campaign.
Fundraising for International Charities: each year our International committee stages a fund-raising event to support international charities in addition to our other activties. Over the last few years this has been a Male Voice Choir evening and a Race night which typically raise between £1500-£2000 all of which is donated to international charities..