Colchester Rotarians Collect For Phillipines
Rotarians Collect For Phillipines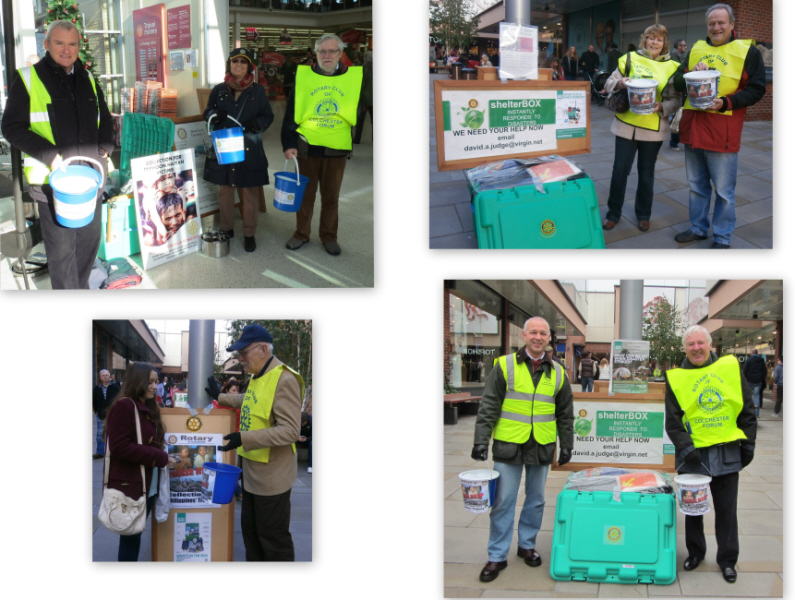 aa
ROTARY RAISE THOUSANDS FOR PHILIPPINES
Rotarians from the five Colchester-based clubs have raised thousands of pounds in aid of the Philippines tragedy in the past few days. Collections were made at the weekend at Sainsbury's Tollgate, Lion Walk Shopping Centre, Colchester and in Tiptree. This was a combined effort made by the five local clubs, The Rotary Clubs of Colchester Forum, Colchester Trinity, Colchester Centurion, Colchester and Kelvedon.
Much of the money raised will go to providing ShelterBoxes. Since their inception in 2000, Rotary-backed ShelterBox have responded to earthquakes, floods, volcanoes, tsunamis, hurricanes, landslides, typhoons and conflict, delivering emergency humanitarian aid to families in need on every continent.
The collection in Lion Walk Shopping Centre, where a ShelterBox was on display, raised £975.07, and Sainsbury's Tollgate £2,580. There was a similar success in Tiptree.
President Irene Kettle of the Forum Club said: "This shows Rotary at its best. It is able to respond quickly to critical needs whether globally or locally. Representatives of all the local clubs were delighted with the generosity of shoppers. Clubs will also be using their own funds to buy additional boxes."
Each large, green ShelterBox costs £590 and typically contains a disaster relief tent for an extended family, blankets, groundsheets, water storage and purification equipment, cooking utensils, mosquito nets, solar lamps, a basic tool kit, a children's activity pack and other vital items. ShelterBoxes are stored in strategic locations around the world so they can be dispatched within hours