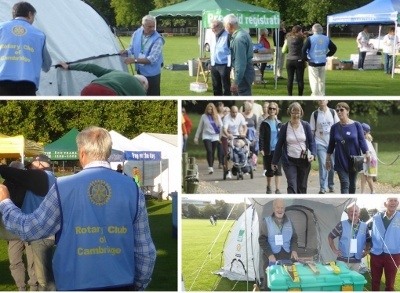 Bridge the Gap
The annual Bridge the Gap walk gives everyone the opportunity to take a leisurely stroll and visit some of the beautiful Cambridge Colleges, whilst raising money for a good cause.
This well-loved event invites you to join us to support Arthur Rank Hospice and Press Relief, two charities directly benefiting our local community. For the first time in its fourteen year history, the event began on Parker's Piece from 9.30am, right in the heart of the city centre. This year's route led walkers around Emmanuel, Christ's, Jesus, St. John's, King's, Pembroke and Downing Colleges, exploring some of their most picturesque and intriguing places.
During the day teams of Rotary volunteers under the guidance of Rotarian Paul Henry helped erect gazebos, distribute water around the site and many other tasks.
On display we had a Shelter Box (follow this link for more details) with all its contents displayed which is a Rotary initiative to provide shelter, cooking, clean water and other basic needs to those made homeless by various natural disasters around the world.
Working with the Cambridge News, Cambridge University and other sponsors.
Official Supporter