Guest Evenings
At our last Guest Evening Dame Fiona Reynolds (recent Director General of the National Trust) and Lewis Herbert (Leader of Cambridge City Council) provoke debate on the environment.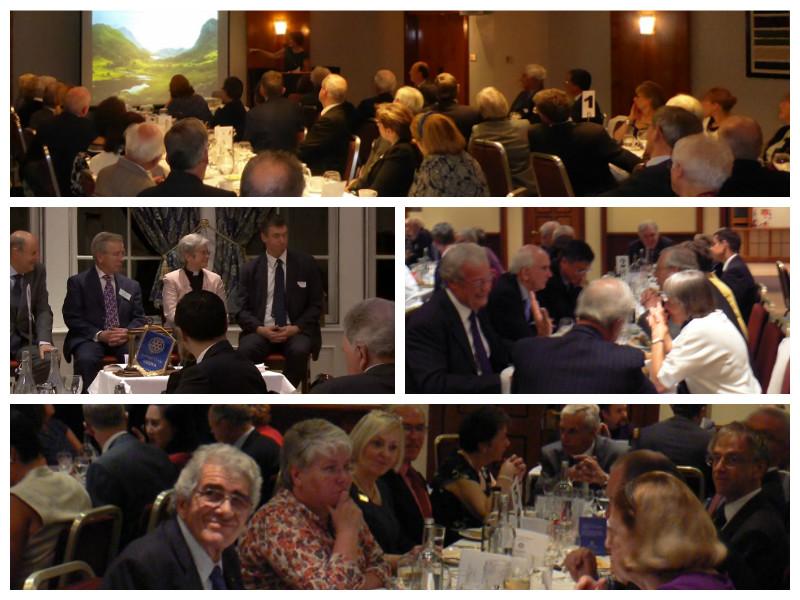 Please use the links below for a synopsis of some of our more recent events
Art in Cambridge and Primavera - Jeremy Waller
The Universe of the Third Age - Don Ezra
Writing the History of one's own time - Professor Lord Hennessy
If you scroll down you will find summaries of some of our previous talks
Russian Perspective and Ukraine - Sir Anthony Brenton
Brittle Britain: cause and cure - Dr Frances Ward
If you scroll down further you will find a list of some previous Guest Evenings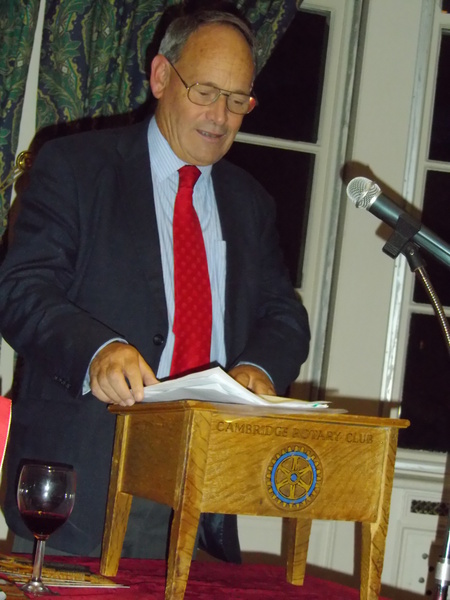 Russian Perspective and Ukraine by Sir Anthony Brenton

Speaking in March 2014 at a Rotary Club of Cambridge Guest Evening Sir Anthony Brenton, British Diplomat and UK Ambassador to Russia 2004-08 brought us up to date in a fast paced speech giving us a fascinating insight into the Russian perspective.

Russians are proud of their history;
Moscow, after the fall of Constantinople in 1453, became the centre of the Orthodox Church, 'the place from which salvation will come'.
From 1547 the Tzars were the sole Emperors of [Orthodox] Christendom, the Caesars of a civilisation that was a 'Third Rome'. And even Bolshevik Communism might be interpreted as a great saving faith, intent on saving mankind.
Fact; the Russians are all too aware of their setbacks.
The collapse of the Soviet Union in 1989 was bitter and humiliating. They did not appreciate the crescendo of corruption, nor the tramp of Western carpetbaggers, mixing with the Russian black economy of entrepreneurs; nor the crime, nor the dismemberment of the satellite States, nor Europe's and NATOs overtures for tempting those States away. Again history reminds the Russians of European aggression, and invasions, starting with Poland [1605], Sweden [1707], France [1812], and finally Germany [1941] in which 27 million Russians died.
So does this explain Putin and his popularity ?
Russians appreciate a strong leader.
And Putin has delivered; he has shown strength, and pride, and leadership. On his watch, the Army now includes an elite volunteer force of three hundred thousand. He has tamed the oligarchs. In 1999, in Chechnya, he responded to terrorism with overwhelming force.
From collapse, Putin has given order; from anarchy, he has shown pride. Unfortunately, Putin does not respect the West, and has an ingrained suspicion of our motives; a suspicion that is widely shared and supported.
Also, the Ukraine is very much considered to be theirs and is known as 'Little Russia'. At one point, Kiev was the capital both of Russia, and the Russian Orthodox Church. And Ukrainians permeate Russian history, in the same way that the Scottish peoples impact on ours.
Therefore, Putin does not like the Ukraine's drift to the West. In 2004, rigged elections brought in the Russophile Viktor Yanukovych. This triggered the Orange Revolution, led by Yulia Tymoshenko, demanding a re-vote. Putin, and Russians alike, view this as gross meddling by the West, confirmed in their view, by the recent illegal protests of 2013, which ousted Yanukovych.
Crimea is another area close to Russia's heart. A truly beautiful peninsular, with the magnificent Naval base of Sebastopol. Crimea has always identified itself with Russia, and was not happy about being merged with the Ukraine in 1954, by Nikita Khrushchev. This unpopular arrangement was continued in 1991, with subsequent misrule doing nothing to win hearts and minds. So the Crimea was, and is, a clear candidate for splitting away from the Ukraine [akin to Eire breaking away from Great Britain in the 1920s].
However, Sir Anthony was surprised by Russia's use of force.
Is this use of force an alarming precedent?
As a diversion from the Russian economic recession, [and the monopolies run by his supporters], Putin's military grandstanding has made him immensely popular.
So, will there be more of the same? And will the West react?
The EU, economically relies for 25% of it's gas from Russia. And European defence budgets are low, so sabre rattling is impracticable, as well as inappropriate, while the freezing of assets of certain oligarchs are likely to be reversed, so little will be done.
Also, Putin can argue that Russia has shown restraint. To date, only two districts have been split away. Georgia, [which included ethnic cleansing in 1992-3, caused by Abkhazin separatists], and now the Crimea.
The future ?
Russia may be getting less prickly. Since, apart from short term popularity, arguing with the West is not in their interests.
Also Ukraine has serious challenges with corruption and politics. Perhaps Russia and the West can help. Perhaps the IMF Bank loans will not be squandered, nor their loan conditions trigger unrest. Wages are low, and pensions on the breadline, so the Ukrainians have a hard road to tread.
Is Putin, in fact, weak, and looking for ways to prop up his power?
Sir Anthony thought definitely not. For example, Putin recently released, in December 2013, the imprisoned oligarch Mikhail Khodorkovsky, who is not now causing waves . This was not an act of weakness. Indeed Putin is important to his colleagues. When he looked like stepping down in 2008, all sorts of cracks started to appear. But today, he is firmly in the driving seat, and popular, with a mandate until 2018 and possibly on to 2024. Successors? Sergei Ivanov might be a name to watch.
One of Putin's strengths, that Sir Anthony identified, is his loyalty; a quality, which he showed to President Yeltsin in 1999, and which he continues to give to his colleagues.
Sanctions ?
Economic sanctions, might work.
Or, Putin may unilaterally choose to diffuse matters, despite his view, that our footprint in the Ukraine, is unwelcome.
Which just shows, how complicated diplomacy is.
Many thanks to Sir Anthony for lifting a veil on such a fascinating people, proving yet again, that Churchill was right ! Russia remains 'a riddle wrapped in a mystery inside an enigma'.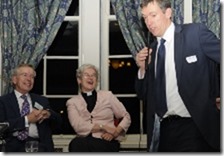 Brittle Britain: cause and cure

Former Rotarian Dr Frances Ward, Dean at St Edmundsbury Cathedral, was Principal Speaker at The Rotary Club of Cambridge's Guest Evening on 26 November 2013, speaking on 'Brittle Britain: cause and cure'.
In August 2011, riots flashed out of nowhere. In London, gangs of youths swept through pubs, openly robbing customers. In Tottenham Hale, Hackney, Brixton, Chingford, Walthamstow, Peckham, Enfield, Battersea, Croydon, Ealing, Barking, Lewisham and East Ham, mobs swept through the shops looting and burning.
This was a rising of criminals and the discontent. An opportunity to steal. A moment, when the rule of law retreated, with violence and anarchy slipping through. It was a reminder that, for some, our Britain is not a green and pleasant land, but rather a place of distrust, and disappointment; a place of discontent, or abuse.
Frances Ward's assessment went straight to the fundamentals. She described the boy gangs, their tribal loyalties, their emphasis on pride, extremism, and status; their 'Them & Us' attitudes; their tendency to retreat into the security of their cults. These, she termed self-centred 'collectives'. 'We all have our cults/collectives', she added, giving golf club members as an example!
Rowan Williams had identified unstable family settings, constant suspicions, and discrimination as contributing to this powder keg, with the disaffected railing against authority.
Frances argued that a 'corporate culture ': 'we' rather than 'I' - was essential to any solution, giving the example of Christianity with its message of inclusion, morality, and its mission of friendship.
In particular, she compared;
Love, and stability versus desperation
Individual character & imagination versus uniformity, and one size fits all
Coping with disappointment, and failure versus the cult of success
She argued that education is fundamental and should encourage individual character and curiosity, and nurturing the wish to contribute to the common good
Frances reviewed some less satisfactory alternatives, such as secular humanism, socialism, and atheism - which had attempted to do better than recognised religions - with their ideas on happiness, and rights, relativism, and equality of outcomes. But their purposeful optimism did little for those left behind, 'a darkness at the heart of the secular soul'.
Frances then came back to the importance of the 'corporate', with a message that is beyond our own individuality, or time, or place, and which is tied up with virtue. She discussed the immeasurable benefits of friendship and of play, both in child- and adult-hood. She compared the differences between the cooperation of individuals within an orchestra (a 'corporate'), and the tribal sameness within a gang culture (a 'collective').
She emphasised the open nature, of character and of virtue as opposed to the blinkered narrowness of gang identity. To be trusting, kind, brave, generous; these are the values that Christianity encourages.
Not in everyone. But enough to matter.
The subsequent vigorous Discussion was opened by John Hipkin, long-time member of Cambridge City Planning Committee, and leading educationist Stephen Munday, Executive Headteacher of Comberton Academy Trust.
Future Guest Evenings in 2015:
Some previous Guest Evenings:
Charity: minding the gap Andrew Phillips (Lord Phillips of Sudbury)
Science & Society Lord Oxburgh
Homelessness Terry Waite
The Sky's not the Limit Professor Sir Martin Rees
Understanding Islam Tim Winter (Abdul Hakim Murad)
How the World Works Professor Alan Macfarlane
Trust Baroness Onora O'Neill
India's Unending Journey Sir Mark Tully
Security Sir Richard Dearlove
Understanding Russia in an Uncertain World Dr Bridget Kendall
Rules: if I ruled the World Lord Bingham
What's wrong with our Parliament? Lord Robin Butler
Let's discuss the Drugs Problem Dr John Barrett, Tom Lloyd, Dr Polly Taylor
Peace the World over? General Sir Mike Jackson