Annual Charity Walk 2017
thumbnail page
Annual Charity Walk May 14 2017 starts at 9.45
A Chance for Your Charity to Raise Money
On Sunday14 May 2017
at
The Rotary Annual Charity Walk 2017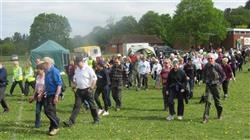 Sunday May 14th 2017 will see the Annual Charity Walk take place again with a route planned and marked out by the Rotary Club of Guildford District. This year there will be two walks, one of 10k and a new 5k walk, both starting from Shalford Park.
This year the walk is in the particular memory of Rotarian Geoff Rouse who for many years organised and ran this event and sadly passed away recently.

This walk is an ideal way for clubs and charities to raise money as it is free of charge. The important thing is to galvanise your supporters to get sponsorship and come along and walk. The Charity keeps all the money raised. Bring the dog who will enjoy a relaxed walk through truly beautiful countryside. The dogs absolutely love it. Registration starts at 8.15 and the walk starts at 9.45. You need to register so we know you have started the walk and we can look out for you.
There will be Check Points, where you can also get a drink, and also there will be Medical services provided as well asburgers, rolls and beverages available before the event starts. An ice cream van will also be there to help you to cool off at the end on what, hopefully, will be a glorious Spring day. All we ask you to do is complete a sponsorship form which can be printed from the related file, located to the right in 'Walk Sponsorship forms and maps.'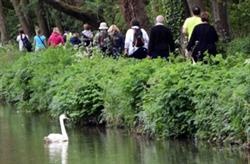 For further details please contact Jane Hindley on 01483 417682. You can also email us at charitywalk@guildforddistrictrotary.org.uk. There will be plenty of us on hand to help out on the day, you can't miss us, we're the ones wearing bright yellow tabards!

This year the Rotary Club of Guildford District is supporting an excellent charity, the Purple Community Fund, who collect used can ring pulls, old ties and leather belts which are then transformed into saleable items by ladies in places such the Phillipines and Pakisitan thus providing work and income for some of the poorest people in those countries. We are helping the charity to expand this work to Tanzania and so, when you come to the Walk, please bring any old ring pulls from your cans, old leather belts and any ties that you no longer wear with you and we will make sure that they get to the Purple Community Fund - website: www.p-c-f.org.
We look forward to seeing many old friends and a great number of new faces.
Contact Jane Hindley about this page: