NEWS
NEWS and INFORMATION
INVITATION TO MASQUERADE BALL
Tuesday 17th October 2017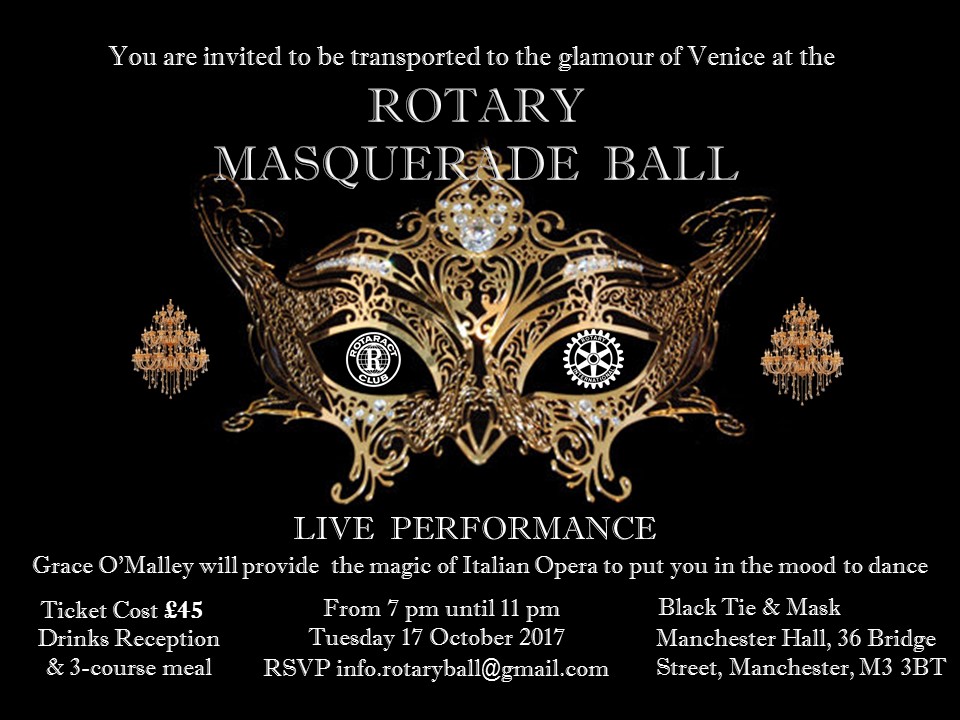 The Rotary Club of Manchester and Rotaract Manchester International would like to invite you to the magic of a Venetian Masquerade Ball on Tuesday 17th October 2017. The funbds raised will contribute to the WOW water project.
We believe it is not right that children get their drinking water from a pond that cows use as a toilet. But this was the case in the community of Fievie in Ghana. The Chief in the community said," People are now just waiting for God to take them and move them on"
Fievie is one of many communities in South Tongu district where abouy 40% of people don't have access to a permanent source of clean drinking water. In the tainy season, people can collect drinking water from their roof. But for the rest of the time , the local authority hasn't enough money yo connect these communities to the water mains. Water from the nearby river is too polluted; and because the area is close to the sea, a borehole brings up salty water.
The situation in +Fievie has improved. People don't have water in their homes, but there is a connection to the mains supply that works for much of the time, and six stand pipes where people can get access.
The money raised from the project will go towards installing large polytanks to store water for when it is not flowing through the mains,and to start to connect outlying villages to the mains
The total raised so far is £8,000 , with a target of £15,000 .
If you would like to help us towards meeting this target whilst enjoying a fabulous evening with dinner and entertainment, join us by booking your place through Eventbrite:
https://www.eventbrite.co.uk/e/rotary-of-manchester-masquerade-ball-tickets-37663443373
Or pleasew write a cheque for £45 per person to the Rotary Club of Manchester
Please RSVP by the 5th October (orsend queries) to info.rotaryball@gmail.com
Further details can be found on the above poster
DISTRICT ROTARY FOUNDATION DINNER/SEMINAR
STATHAM LODGE, LYMM
THURSDAY 30 NOVEMBER.
7pm – 10pm: £12.50 only.
Names to Bill Laidlaw before 23 November.
Know Your Blood Pressure / Stroke Awareness Promotion
Each year, in April, the Stroke Association, the Rotary Club of Manchester, St John Ambulance and the University of Manchester School of Nursing and Midwifery and the MLP, join together to hold a Know Your Blood Pressure and Stroke Awareness promotion in Manchesters Arndale Centre, we hope by offering free blood pressure checks and health advice to members of the passing public, to raise awareness of Stroke and its effects; Stroke can happen to anybody, at any time, although lifestyle and age may contribute to the likelihood of stroke, children and young people may also suffer.
Each year an estimated 150,000 people in the UK have a stroke
Stroke is the third most common cause of death in the UK, and the leading cause of disability.
The whole event is run by volunteers, and the MLP volunteers, both medical and non medical students, make a significant contribution to the success of the promotion, medical / nursing students to take blood pressures, and non medical students engaging with members of the passing public, encouraging them to have a free blood pressure check, followed by health information and how to recognise the signs of stroke. A full pre-event induction is given, and the whole event is supported by comprehensive Public Liability Insurance. On average we test around 525 people, of these some 15/20% will register abnormal readings, and will be signposted to an on-site doctor, and usually advised to see their own GP within one month, however, around 5% of the total tested, register severely abnormal readings, the advice then is to seek medical help within one week, in recent events however, two gentlemen (one under the age of 30) were found to be so much in danger of cardio-vascular attack, that immediate hospital admission was advised.
As you can see this promotion is a significant contribution to Public Health, and the MLP volunteers from previous events have always given positive feedback about their experience.
If you want to help in April 2018 , please send an email using the contact us on the home page and we will get back to you