Just another photo opportunity!
Fri 11th April 2014 at 12.00 - Sun 13th April 2014 - 13.00
RIBI Conference 2014
This is a useful insight as to what happens at the Annual RIBI Conference. Whilst it is an expectation that the Club Officers attend it is both a great weekend and a real opportunity to learn much more of what Rotary is about and if you get the chance you should take the opportunity and join the other members of the club - you'll be most welcome.
A number of the club officers attended the RIBI conference in Birmingham as your representatives.
Firstly, I am pleased to report that this year all your voting delegates did manage to validate their credentials and voted on your behalf at the Business Meeting.
Whilst we continue to do very well with our own numbers, as I will discuss at the AGM next week, the numbers of total members for RIBI continue to be in decline, with a 3% drop in total numbers, and the closure of 26 clubs this year, including locally the Camperdown Club, which inevitably means a smaller income for RIBI.
The RIBI element of our Annual Subscription was agreed at £48 per member. This is an increase of £2 per year, which you will be pleased to hear that we plan to absorb from our reserves rather than pass on to you!
There was a further proposal for an additional £5 levy to cover the continuation of the Public Image and Awareness Campaign, but at a higher level than the £2.75 levy that was charged for the past three years. This resulted in a lot of very impassioned discussion and a good debate, primarily against the proposed increase, and indeed against the whole concept of advertising for members in local and national newspapers, pay-per-clickon Google, on-line banner adverts on e-bay, posters in post office queues, and doctors surgeries! The key is vibrant clubs, a local marketing campaain..which costs us nothing...and personal contacts, to give successful recruitment...as we do within our club. I am pleased to say that the proposal for the £5 additional levy was rejected.
As far as the Conference itself went, there were some outstanding speakers including Major General Rutledge, from ABF The Soldiers Charity, who spoke about the "Brighter Future" project for Wounded Injured and Sick service leavers, for which we will hopefully be one of the piloting Rotary Clubs in Scotland; Lord Digby Jones of Birmingham who gave us an hilarious, but very serious message about the importance of business to the UK economy, and live transmission of the BBC Rotary Young Citizens of the Year Award, with reports by Konnie Huq, former Blue Peter Presenter, on some quite inspirational youngsters, which left us all feeling very uplifted.
To follow, there was a very sobering message and disturbing account from Martin Bell, speaking as an Ambassador of the United Nations International Children's Emergency Fund, on some of the quite appalling sights he had seen as a reporter in various war-torn parts of the world. Sights from which we, in our very sheltered lives, are thankfully spared, but which we as Rotarians can help though our fundraising efforts for the Rotary Foundation Charity. It really put all that we do in perspective.
On the Sunday, we had scheduled in the Programme, Sarah Brown, wife of Gordon Brown MP, speaking about the importance of global education, and as a surprise highlight, an appearance by Malala Yousafzai, the inspirational Schoolgirl from Pakistan who stood up for education for girls and was shot by the Taliban. I don't think there were many dry-eyes in the auditorium.
And with the addition of some really good evening entertainment, including the Treorchy Male Voice Choir and the Birmingham Symphony Orchestea, and the company of my fellow Rotarians, it really was a very worthwhile conference, and I do recommend people to attend the RIBI conference as and when they get the opportunity.




As the following photo shows PP Alastair never fails - best watch out Ron that £500 is far from safe!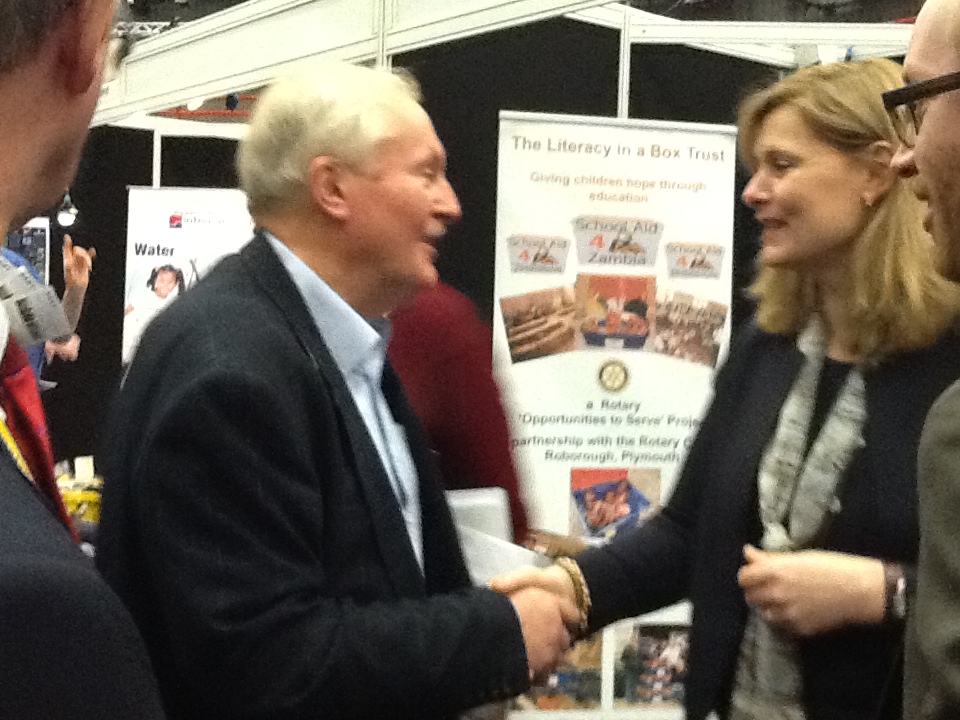 PP Alastair talking to Sarah Brown