Rutherford supports Arthur Rank Hospice Charity
Cheque for £10,000 presented on 24 September 2015 at Queens' College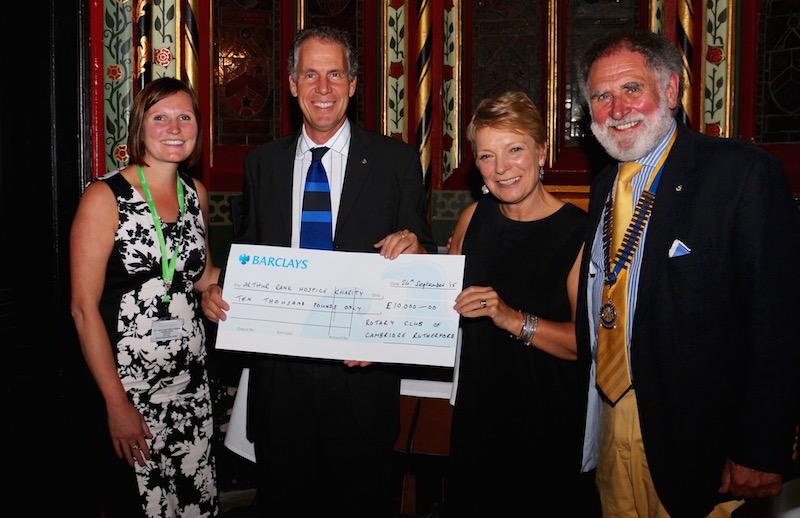 Cambridge Rutherford's chosen charity during year 2014-15 was The Arthur Rank Hospice Charity which is dedicated to providing specialist palliative care and support to adult patients and their family, friends and carers throughout much of Cambridgeshire. A total of £10,000 pounds was raised through the fundraising efforts of the Community Service and Worldwide Committee, chaired by Guy Turvill.
The funds were raised at three events during the year- an Antiques Roadshow, our 19th Charity Golf Day and a Silent Auction.
At a dinner held in the Old Hall, Queens' College on 24 September 2015 a cheque for £10,000 was handed to Arthur Rank's Chief Executive Officer - Dr Lynn Morgan and Director of Fundraising and Communications - Donna Talbot. Dr Morgan in thanking the Club said that this generous donation will help Arthur Rank equip its Spa Therapy unit. Pictured above, from left - Donna Talbot, Guy Turvill, Lynn Morgan and Rutherford President Michael Hellowell.
Rutherford members and guests were entertained by our guest speaker Chris Delf, Past President of the Bury St Edmunds Speakers Club, who provided and most interesting and amusing talk on the subject of "Idioms and their Meanings". Chris selected some sayings and then tested us to identify the correct origins of "A Dead Ringer", "Rule of Thumb", Going at Full Tilt", "In the Offing" and "Clapped Out". Needless to say Chris had some very original tales as to how these sayings came about and we were pretty much split identifying the correct answers! Chris pictured below with President Michael.