John Batchelor - Book on Stamps
Thu 12th June 2014
Talk by John Batchelor, one of the most prolific and published illustrators alive.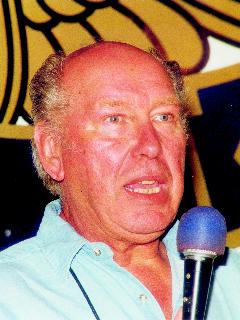 The world-renowned artist and technical illustrator John Batchelor, MBE gave an absorbing illustrated lunchtime talk to the club on 12 June. One of the most prolific and most published of living artists, he is best known for his cutaway drawings of aeroplanes, vehicles, ships and military equipment, and his illustrations of firearms. He is also a leading designer and illustrator of postage stamps, having produced many hundreds for some 50 different countries.

His mastery of the specialised technique of the cutaway drawing was demonstrated by an incredible slide of the American aircraft carrier USS Abraham Lincoln, the astonishing detail of which was nothing short of awe-inspiring.

Surprisingly, he recounted that he was refused entry to art school as a youngster. His account of how he secured his first commissions for the boys' paper "Eagle" was a prime example of how to succeed by perseverance and by flatly refusing to take no for an answer.
John Batchelor, one of the most prolific and published illustrators alive. His love for illustration and painting combined with his technical knowledge and skill make him a formidable technical illustrator and stamp designer.
Eagle Boys Paper

Cutaways and Features

Numerous Children's Publications

Line drawings & Illustrations

Dover Publications

Colouring, Postcard Books, History Books etc

Purnell's History of the 2nd World War
Purnell's History of the 1st World War

}1163 Illustrations in total

History of Second World War

Part Works for France and Holland

Part Works

War in Israel, War in Algeria, Journal de la France

Marshall Cavendish

Military History of the United States

Ballantine Publications

World War Pocket Books -150 Volumes

Franklin Mint

108 Aircraft Cutaway Illustrations

Time-Life Books

Multi Volume Sets - Seafarers, Epic of Flight, History Second World War,
History of Third Reich, Australians at War, Vietnam Experience

Time-Life Books

Aviation: A Century Of Triumph 2003

Book Publishers

Illustrations provided for over 100 Hardback Books

Readers Digest

World War II Books

Phoebus Publishing

World War Specials - Originated & Illustrated Series (20 million copies sold)

Phoebus Publishing

History of Weapons & Warfare - 24 Volumes

Books Under Own Name

History of Artillery, Tanks, Fighters, Bombers, Handguns, Machine Guns, Submarines, Rail Guns, Helicopters, Battleships, Secret Weapons, Naval Aircraft, Encyclopaedia of Flight, History of Flight, Sea Power, Air Power.

Multimedia Publications

Microsoft U.S.A. and First Information Group U.K.

Postage Stamps

Design and Illustration for 40 Countries

Magazine Contributions

Popular Mechanics, Air & Space, Radio Times, TV Times, Int. Combat Arms,
Air Classics, Ship Classics, Int. Defence Images, Combat Weapons, Readers Digest, Lexicon, Air Combat, Scale Modeller, Hot Rod, Wheel And Track, Historia, Yachting Magazines, Flying, Wings, Air Power, etc.

Ceramic Illustrations

Royal Worcester Ltd, Wedgewood Ltd., and Instar Enterprises of New York.

Exhibitions

Aviation and Marine Paintings: Paris Air Show; Farnborough Air Show;
Washington DC; New York, N.Y.; Boston, Mass; London and other places in the UK - many with demonstrations of techniques.

Awards

Design Annual, Award of Excellence; American Inst. Graphic Arts, Certificate of Excellence; Society of Illustrators, Certificate for Merit;
Art Directors Club, Gold Award.
The information above courtesy of:
Publishing Solutions WWW Limited, The Old Brewery 14/15, Mill Lane, Wimborne Minster, Dorset BH21 1LN