Presidents BBQ - July 14
Sun 13th July 2014
The sun shined and the sausages sizzled at the Presidents BBQ.
Show related pages
As well as good food, good company and the Presidential 'Goodwins Guzzler' real ale on offer, it was the competitive nature of the 'Presidential Egg and Spoon Race' that helped make the day.
Dick 'the sprint' Greenwood shared his race tactics and strategy in the post race analysis interview.
'I decided to stay in the slip stream of the other competitors as it was a breezy day and to conserve my strength for the sprint finish of a lifetime. I've been training for this event ever since I was 6 years old.
My entry was a wild card as one of the ex Pres' stepped down at the last minute presenting me with the opportunity to show what I could do. I didn't hesitate to take the chance offered. I am only thankful I had enough left for the final burst.
I paced myself waiting for my chance. I saw a gap open up between Stan 'the egg and spoon man 'Toplis and the flower bed and I took it, surging forward to the finish. It was both exhilarating and emotional. It was a tough race with such strong opponents!"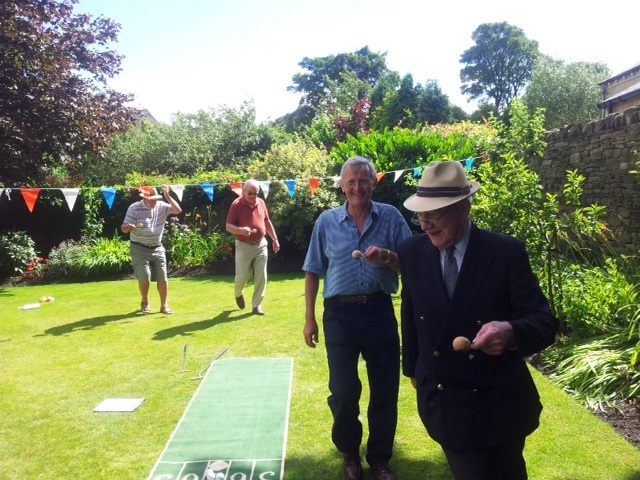 Ken's sure fire attempt to win the ex Presidents egg and spoon race is hampered by low hanging bunting.
A stewards enquiry rejects his appeal due to a penalty awarded for holding his egg on his spoon with a thumb earlier on in the race.!
Derek soldiers on steadily overcoming the mechanical challenges brought about by too much give in the egg to spoon ratio with tolerances that would make Rolls Royce engineer break into a sweat.
Allegations that Robert McKenzie had a distinct advantage having intimate knowledge of the course for many years was over ruled and rejected as being argumentative.