A Walk to End Polio
Fri 24th October 2014 at 08.00 - 20.00
It may not end this crippling disease, but it has certainly helped ...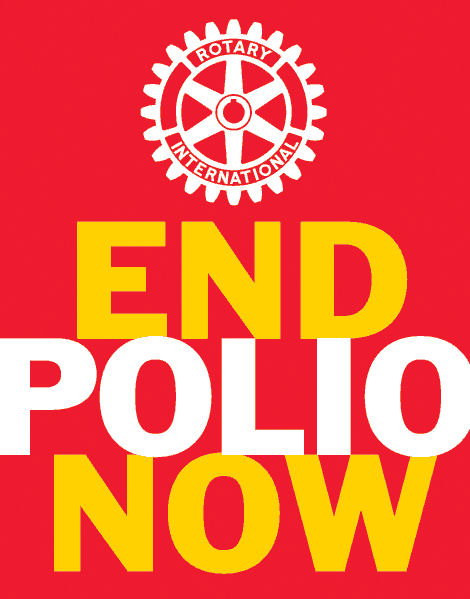 David Yates, our President, walked and occasionally jogged round the outdoor track at the Graham Sports Centre, Maiden Castle, Durham, for a full twelve hours, from 8:00am 8:00pm!
We lost count of the number of laps but he must have walked over 30 miles supported throughout the day by fellow Rotarians, relatives and friends. In particular we thank members of the Durham Bede, Houghton-le-Spring, Derwentside and Hartlepool Clubs, as well as District Governor Jean for their support.
All this to raise awareness and money for Rotary's Polio Eradication Campaign

Enjoy the slide-show above, describing David's magnificent endurance.

The event was featured in the next morning's edition of the Northern Echo.
Remember -- for every £1 donated, the Bill & Melinda Gates Foundation will add £2 - your donation will be trebled! And, of course, we'll recover Gift Aid wherever possible - another 25%.
It's too early to know how much will be collected but preliminary indications are that it could be in excess of £1,000 so, with Gift Aid and the 2-to-1 matching described above boosting this to around £3,000, David's efforts could fund the immunisation of over 7,000 children!

To learn more about the End Polio Now campaign, click on the image below to download a four page pamphlet.
... And read about the Rotary Crocus Campaign ...
The Graham Sports Centre at Maiden Castle is part of Durham University (Team Durham) and we are very grateful to the University for providing access to these great facilities.

If you need to contact David, please use the email form below or phone him on 0191 3866989.
Sponsorship forms and monies should be returned to David at:-
5 Durham Moor Crescent
DURHAM DH1 5AW