Testimonial Page
Testimonials from participants in "Nailsea Walks and Runs" annual event.
The Eighth Annual Nailsea Charity Walks & Runs, Sunday 9th June 2019
NAILSEA WALKS and Runs ~ Testimonials
From an Individual Walker

I think that this is a great initiative and I'm very impressed by the energy and enthusiasm of the people who organise it. I should add that we really enjoyed the walk itself on Sunday, even though the weather turned a bit towards the end. We thought the new routes were excellent, and we're looking forward to repeating it all next year - possibly dragging along some more of our family to take part as well.We were very grateful to all concerned for all the work that went into putting on such a smooth and professional event.
Martin Brasher, June 2019
---
Young Carers Development Trust
I want to thank the Rotary team for all the hard work that went in to organizing Sunday's walk. We were so happy to be part of it and it went so smoothly for all our participants!
Ali Groves, Young Carers Development Trust, June 2018
---
Young Carers & Young Adult Carers Service
"The Nailsea Charity Walks are a fantastic way to raise money for the Young Carers Service, and it's also great to be out in the fresh air with the young people we support, giving them a break from their caring roles. We chat to so many people along the way, raising awareness of what these amazing youngsters do and finding out about other charities in our community. It's so easy to get involved, everything is organised expertly by the Rotary club and the medals at the end always go down very well with the kids and adults too!
Many thanks, Georgia
eorgia Prentice, Young Carer & Young Adult Carer Team Leader", June 2018
---
Crossroads North Somerset
I just wanted to thank the Rotary Club of Nailsea and Backwell for arranging such a well organised event yesterday. It presented a fantastic opportunity for the community to have a great day out and support locally operating charities. It wasnt just the organisation on the Day (which was impeccable), but the lead up to it with publicity and sponsorship. Im sure that all participants were grateful to your team for the excellent signposting of the routes. We had a target of 25 walkers to mark our 25th anniversary of supporting carers in North Somerset and we exceeded that and I am grateful to each of them. Im sure that Mark will let you know how much we raised.
John Oldham, Chairman, Crossroads North Somerset, 23 June 2014
---
From an individual walker
The walks you and colleague rotarians organised the Sunday before last were excellent; the 20K was a real challenge; excellent directions, helpful way markers strategically placed. I'd certainly like to do it again next year hopefully with members of the Friday walking group I've joined.
Mike Hatch, July 2014
---
Childrens Hospice South West
"We really enjoyed taking part in the charity walks organised by The Rotary Club of Nailsea & Backwell. The route took me to parts of Nailsea that I didnt even know existed! We walked with some lovely Rotary club members who helped us with the route. It was also great to see all the different charities being supported at one event and with so many different types of people taking part it really brought the community out and about!
Louise Turner - Children's Hospice South West"
_ _ _ _ _ _ _ _ _ _ _ _ _ _ _ _ _
"I just wanted to say a huge thank you for having us at the Nailsea Walk this year, I will be coming every year from here on – we had such a fantastic day, amazing route, fantastic support along the way and loved the medals and certificates. (2018 event)
Kylie
Kylie Gallagher
Community Fundraiser (North Somerset, Sedgmoor, West Mendip & South Somerset)
Children's Hospice South West"
---
Nailsea Uganda Water Project
"We thought the Sponsored Walk/Run was well organised and was very enjoyable - well the walk was, but not so sure about the run, that seemed very challenging! The weather contributed to the enjoyment and we saw parts of Nailsea we hadn't been before. And the money raised was amazing and which required minimal organisation on our part -Thank You Rotary Club. Please repeat the event next year.
Nailsea Uganda Water Project"
---
Nailsea District Leg Club
Nine enthusiastic people joined in the Rotary Charity Walk on Sunday 26th June 2016 and have raised in excess of £1,200 for the Leg Club! It was a fun day out, if rather tiring, and made us appreciate our legs to the full! The picture shows us (except for the photographer of course!) wearing our volunteer tabards, which helped to strike up some interesting conversations with other walkers along the way! We had a great day and the organisation by the Rotary Club was brilliant, as ever!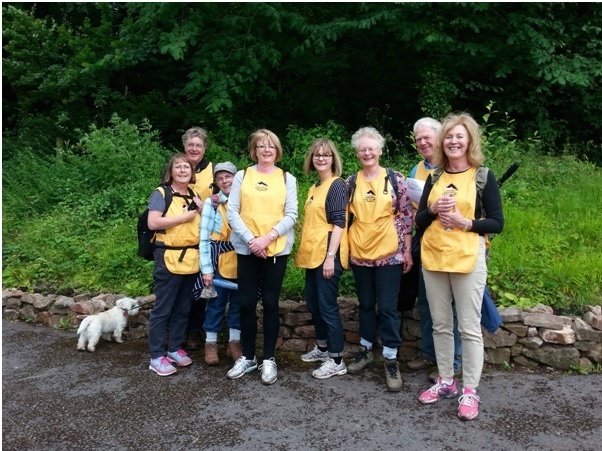 Carole Brooke, 5th July 2016
--------------------------------------------------------------------------------------
2018 event on 10th June 2018
"Hi Graham, well done for such excellent organisation on Sunday - we really enjoyed the route and the weather was kind. You all do a great job with this particular event, so thank you for all your hard work.
Carole Brooke
Chair, Nailsea Leg Club, 14 June 2018"

---
From an individual walker
I just wanted to say thank you to you and the Rotary Club for such a well organised event. My husband and I did the 20k walk for Cancer Research and we raised just over £800 (without gift aid). The walk itself was beautiful, and credit needs to be given to whomever wrote the directions as they were crystal clear and made the day thoroughly enjoyable. "
Many thanks, Kathy Thorpe 24 June 2018
---
Alchemy Trampoline & DMT Club
"The Rotary walk, which Alchemy Trampoline & DMT Club is proud to have been part of for the last 2 years, is a great opportunity to not only get club members out and about enjoying the beautiful countryside around Nailsea & Backwell, but also an amazing opportunity to help in raising much needed funds, which will benefit both the club and others locally too.
Alchemy is going to purchase a string bed with the help of the money raised from Nailsea Charity Walks & Runs 2016 to upgrade one of our trampolines making it more suitable for, among others, younger children, because there is no rough stitching on a string bed. "
Jon Webb
Alchemy Trampoline & DMT Club, 2016

---

Please "like" our Nailsea Charity Walks page on Facebook.