Wadebridge Club's Success at Quiz
Members of Wadebridge Rotary Club come first at the Annual Quiz Night to raise funds for the Wadebridge Hospice.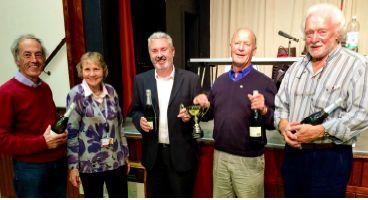 Show related pages
North Cornwall's Quiz Night - A Great Success for the Wadebridge Hospice Fundraising Team & Rotary.
The Annual Quiz Night, held recently in Wadebridge Town Hall, raised a total of £760 for the Wadebridge Hospice Fund Raising Team, making a total raised so far for this year of over £10,000 at various events.
Wadebridge Rotary Club entered a team and, to their surprise, won the Quiz this year. Pictured with the local fundaraising chairperson, Fern Thomas, are club members, John Pomeroy, Stuart Hutchison, Wayne Mitchell & Geoff Nute.
If you would like to know how you can help raise funds locally for the Hospice and enjoy yourself meeting new friends then contact Jaqueline Pomfret (j.j.r.pomfret@btinternet.com) of Jeanette Knight (jak@thegrangestkew.co.uk