The Rotary Club of Lowestoft East Point
Rotary Club of Lowestoft East Point A brief history and our aims-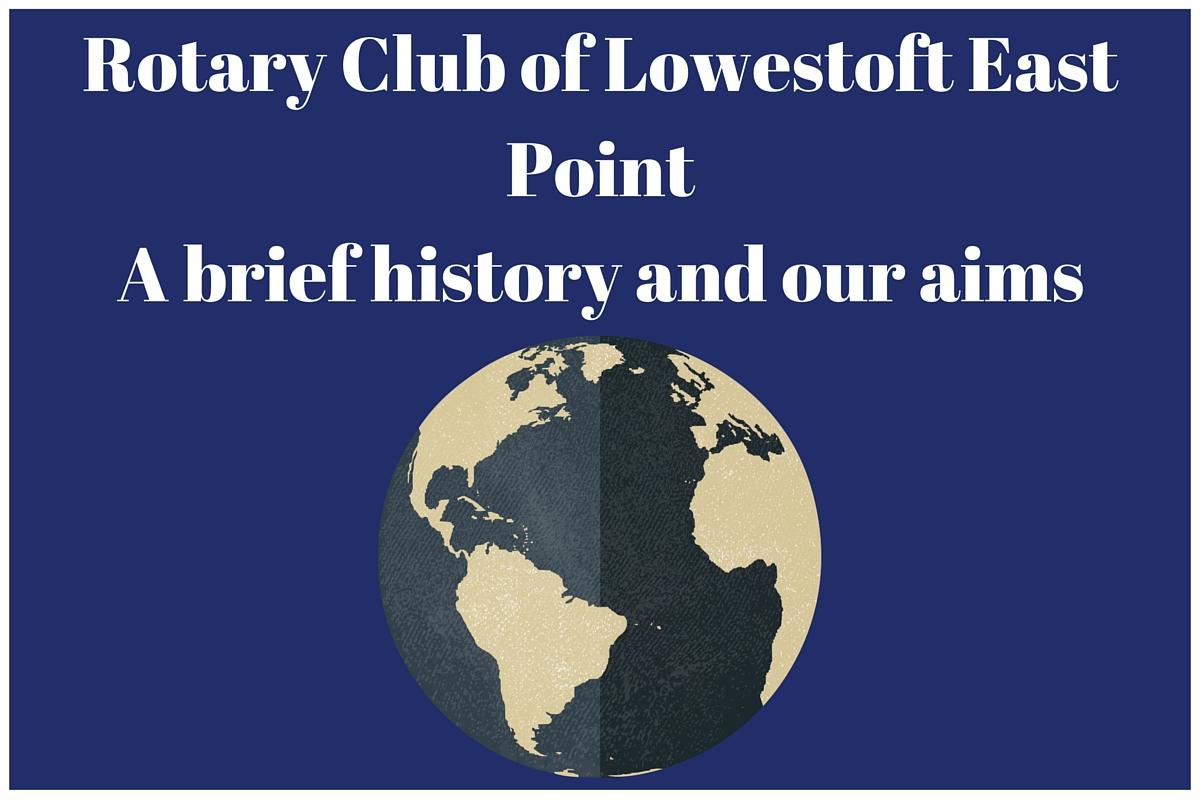 INTRODUCTION
The club was formed in 1997 by a group of experienced Rotarians and some new to Rotary who all agreed that Lowestoft needed a twilight club with meetings commencing at 6.00 for 6.30pm thus allowing members to attend the weekly meetings after leaving their place of work but be home by 8.30pm. Chartered in 1998 as a dual gender club we have 35 members and one honorary member, meeting are held at the Hotel Victoria, Kirkley Cliff, Lowestoft, NR33 0BZ (01502 574433) every Tuesday when we enjoy a meal and very often listen to an interesting speaker. A vibrant club united in the purpose of service above self we are part of Rotary International formed in 1905 in Chicago USA by Paul Harris a lawyer who wanted a forum where likeminded people could meet, talk, and help others in the community who are less fortunate.
When the club received its charter it joined a worldwide fellowship of 34,164 clubs in 210 countries with over 1.2 million members. In the UK there are 1,850 clubs and over 53,000 Rotarians. This clubs is one of the 77 in Rotary District 1080 that covers Norfolk, Suffolk, Cambridgeshire and part of Essex and Hertfordshire. All Rotarians are welcomed at any of the over 34,000 clubs worldwide, contact details are available to the members on the Rotary International website Members Section if you are travelling a Rotarian should be only a phone call away. Rotary International in Great Britain & Ireland (RIBI) holds an annual conference (2014 in Birmingham). Rotary District 1080 also holds an annual conference. (2014 in Norwich), more information on what we do and the Rotary family is available at www.rotary-ribi.org and www.rotary1080.org.uk
With its motto of Service Above Self Rotary has developed into one of the largest service organisations in the world. Whenever and wherever disaster strikes Rotary is often one of the first groups to offer help. This Club supports local, National and International good causes and make an annual donation to the Rotary Foundation which is one of the largest charitable organisations in the world. In 1985 Rotary International started its drive to rid the world of polio; with the help of large donors, notably Bill and Melinda Gates, and the support of various governments it expects to fulfil its aim by 2018. We have given financial support to the campaign while spending the largest proportion of the charitable funds that we raise on local good causes. Over the last 14 years over £135,000 has been distributed from our Charitable Trust Fund with donations going to many local organisations and charities that provide much needed support and assistance to those less fortunate or who have fallen on hard times.
In 2007, after discussions and focus groups involving all members, we produced our first Club Development Plan which sets out our aims and objectives for the next five years. The plan covered all aspects of the Clubs activities from the meeting format to the amount we seek to raise annually for our charity and the percentage that is spent locally, nationally and internationally. The Plan was revised and updated in January 2012 after all members had been consulted on what they wanted the club to achieve over the next 5 years.
We provide an opportunity for all our members to become involved in a Vibrant Club United in the Purpose of Service Above Self, enjoying first rate fellowship while putting something back. We organise social events involving partners including an annual weekend away. Over the last 15 years some of our members have served on the District Council in senior positions, each year members elect the Club Council which is headed by a President who serves for one year. Rotary is fun, a chance to meet likeminded individuals from a wide range of backgrounds who share a common cause while enjoying first class fellowship.