Rtn David Shaw invested with MBE
Fri 5th December 2014
Rotarian David Shaw invested with MBE for services to Scouting and the Community of Windsor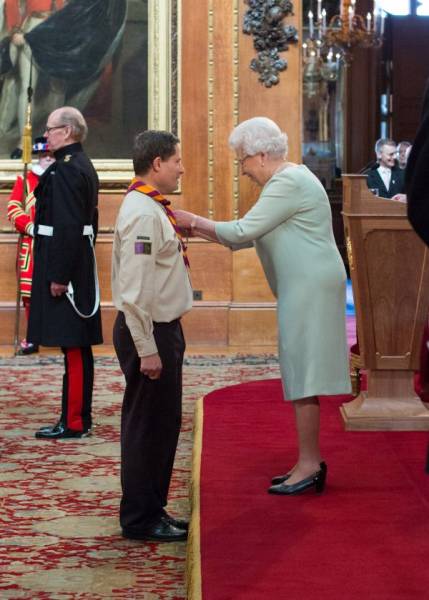 On Friday 5th of December David Shaw and his family attended Windsor Castle to be presented with his MBE for Services to Scouting & The Windsor Community.

His Wife Catherine and daughters Abigail aged 20 & Rebecca 22 accompanied him on this unique special occasion.

The event was so well organised and the recipients went into a private State room to be prepared whilst the families sat in the Waterloo Chamber to watch patiently.

The Queen spoke to David saying that he did not have too far to come!! She asked him about his work with the Scouts at The Garter Service and The Windsor Castle Ambassadors Scheme plus the recent Ascot Race Day for The Prince Philip Trust Fund which HM said she had heard had gone very well ! The New Governor Admiral Sir James Perowne read out all the citations at the investiture.

After the Investiture the Shaw Family were very fortunate to be invited to join the New Governor & constable for drinks & canaps in the Norman Tower. His daughters especially enjoyed this very kind invitation from Admiral Sir James & Lady Nicola Perowne.

Lunch followed at The Castle Hotel with Family & close friends including Fred King Rotary DG Elect which was first class and a great thank you to all their staff for looking after us so well. David thanked especially two people Diana Corcoran who proposed him and his wife Catherine for putting up with him for 25 years!!

Then later on 250 Scouts & Guides attended the Panto at The Theatre Royal. Kevin Cruise kept mentioning MBE throughout the whole Panto & interviewed David during the performance!! Catherine his wife arranged this unknown to David after Kevin helped with the Rotary Fayre in June.

Afterwards The Shaws all we met up with Davids fellow Scout Leaders in the Three Tuns Pub and the celebration was complete.

What a day.