2014-15 Activities Update
July 2014-June 2015 Events & Activities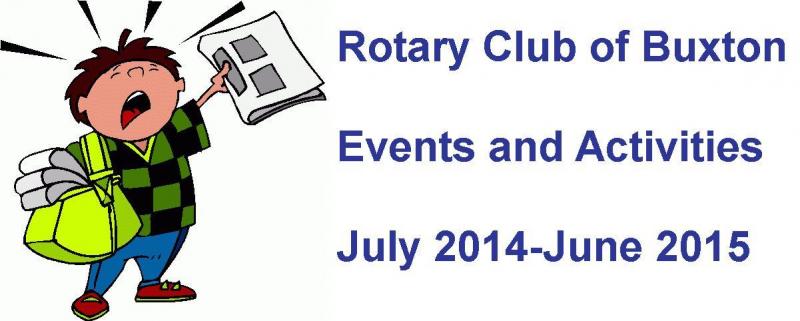 This is a rolling update of our 2014-15 Events/Activities:
Since 1 July 2014, we have (most recent at top of list):
delivered practice interviews to St Thomas More School students on 16, 18 June

held a very successful Summer Fair & Charity Bazaar in Buxton Octagon on 6 June

heard a very interesting Club talk by Buxton & Leek College Principal, Len Tildsly, as to why BLC was the best FE college in the region


given St Thomas More schoolteacher, Roland York, £100 towards his fundraising for MS by cycling the length of Britain in July. Support him at http://biketheusforms.org/cyclists/detail.asp?cid=682
presented member, and retired vet, David Hopkins with a Paul Harris Fellowship award to recognise his service to communities near and far. David is Chairman of our International Committee
sponsored six Year 11 students from St Thomas More and four from Chapel on a Rotary Youth Leadership Award (RYLA) Weekend, 8-10 May at White Hall Centre
retired Big Dog Parker End Polio Now from fundraising. Thanks to a very generous bequest, and members ensuring he would reach his £1000 target, he almost doubled it: £1947.65 in all meaning £5842.95 for End Polio Now because of the Bill & Melinda Gates Foundation's 2-to-1 pledge

demonstrated Aquabox's filtration method at our Buxton Spring Fair Rotary Stall

raised £1489.96 for Nepal at Buxton Spring Fair (£1389.96 street collection + £100 given outside the collecting time)

organised public blood pressure measurements at The Devonshire Dome and The Springs Shopping Centre (

of 197 people screened, four were advised to seek urgent help)

had a Club visit from 10 Rotarians from RC Kettering

saw the unveiling of King Sterndale Community's defibrillator and had delicious cakes in the church hall
had very interesting talks at Club e.g. about Nestle Water, running Higher Buxton Post Office, Vision Buxton, Community Policing and Buxton Civic Association
celebrated Club Historian Peter's and his wife Jane's 60th Wedding Anniversary
collected £264.40 (4 April 2015) for an AquaFilter Community Aquabox for Vanuatu
joined Streetlife (local online network)

started booking stall-holders and outside attractions for our 6 June Summer Fair & Charity Bazaar
delivered practice interviews to 76 St Thomas More School students
received £200 from Rotary District 1050 towards a defibrillator for the King Sterndale Community making our total donation £400; the British Heart Foundation will pay the balance of the defibrillator's cost
attended Buxton's Vision 2020 Conference (25/2/15) organised jointly by Buxton Town Team and Vision Buxton
donated £500 towards Buxton Talking Newspaper's new digital technology
donated £200 towards a defibrillator for the King Sterndale Community and are seeking a grant for the £200 balance (as King Sterndale must pay £400 towards the defibrillator's cost)
held two 'Singing Santas' carol sessions that raised £392.09 for the Club's Bikes4Africa project (sending old bikes to The Gambia to help secondary school students who walk miles to school);
sent off our first batch of unwanted bikes and are on our way towards our second batch;
had an enjoyable President's Evening party at the Old Hall Hotel;
delivered practice interviews to 79 Buxton Community School students;
collected £150 from members for The Rotary Foundation in #GivingTuesday response to #BlackFriday;
sent two batches of Teddies for Tragedies for Aquaboxes;
sold and delivered 17 dozen Cwmbran Vale Rotary Christmas Puddings in aid of the Stroke Association
given Christmas Puddings to Charis House for their Christmas Day dinner (and to Cancer Research Buxton & High Peak Hospice for prizes);
nominated local students for the November Rotary Youth Leadership Awards (RYLA) weekend at White Hall Centre, and helped run team tasks;
held an enjoyable Quiz Night at Burbage Institute with Inner Wheel Club of Buxton;
helped make the 2015 Grinlow Arts Trail happen by pledging £100;
Moved to The Old Hall Hotel when we could no longer meet at the Buckingham Hotel;
thanked John Cornwell, former chef at the Bickingham Hotel, for looking after us so well;
made visits to other Rotary Clubs;
sent Big Dog Parker on fundraising visits for End Polio Now (£1000 target), with his first fund-raising being at Buxton Literary Festival;
collected £315 for Children in Need's Rickshaw Challenge and met Pudsey!;
sponsored Jane Arnfield's riveting solo theatre adaption of Holocaust survivor, Zdenka Fantlov's story, The Tin Ring at St John's Church;
held a bric-a-brac sale at Buxton Methodist Church;
donated to the brain cancer charity Brainstrust (£250) and to other good causes e.g. WaterAid's 'To Be A Girl' Campaign (£500, which was doubled up to £1,000 by the UK Government);
Supported member John Cassidy in his personal fundraising of £346 for Brainstrust;
sponsored Buxton Festival artists to entertain members of the Peak Visually Impaired People and Macular Degeneration Support Groups;
marshaled at the Buxton Carnival and at Buxton Community Fireworks events;
provided volunteer drivers for Buxton & District Summer Club;
hosted a number of entertaining speakers at our Club twice-monthly evening meetings;
Made £470 from a Flat Caps & Ferrets race night up to £1,000 for End Polio Now from other Club social events and 50:50 club; the Bill & Melinda Gates Foundation's 2-to-1 pledge made this £3,000.