THE BAND AIDS ROTARY & RAISES £800
Cowes Rotary Club and the IW Youth Concert Band joined forces to stage a special charity concert.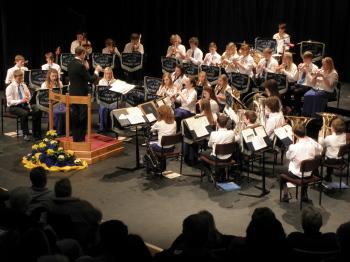 Medina Theatre, Newport on Sunday 1st February 2015 was the venue for this outstanding and professional Band to say a 'Thank You' to the Cowes Rotary Club.
Cowes Rotary has supported the Band for many years, and the Band wanted to return the compliment, so the concert was in aid of the Rotary Trust Fund, which helps many causes for young people on the Island, and raised £800.
An audience of over 150 came along to support the concert, a great turnout for a freezing February day.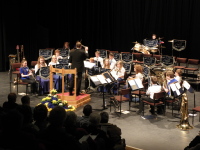 Both Junior & Senior Bands, under the Directorship of Martin Stroud and compere Michael Arnell, played a huge variety of music from 'Colonel Bogey' to 'Les Miserables'. The second half of the concert opened with a 'Big Band' feature performing such pieces as 'Take The A Train' and 'Satin Doll' with several members playing alternative instruments. Band Oboist Polly Green sang a beautiful and professional rendition of 'The Wind Beneath My Wings'.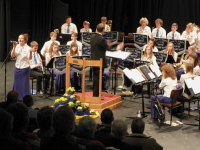 The finale of Trevor Sharpe's 'Fanfare and Soliloquy', performed by both highly talented Senior and Junior bands together, was a fitting end to a wonderful concert.