Turnpike Challenge - 2018
The Turnpike Challenge just gets better and better!
Saddleworth Rotary Club Fathers Day Sportive
Cycle ride in Aid of Prostate Cancer
The Turnpike Challenge just gets better and better. Last year with the fantastic sunny weather the event saw its highest number of entrants. Eighty six riders turned up for the challenge of a 25 mile ride up into the Pennines. The hot weather did take its toll on some of the riders, but the Clarion team members stuck to their motto of "no one left behind" and brought everyone safely home. All were treated to refreshments including Jo Castle's famous meat and potato or cheese and onion pie, which as usual went down a treat.
Chris Moreman: Co-founder of the Turnpike Challenge commented "As the event grows, we see that it is attracting a broad spectrum of riders, which helps to create a great atmosphere and camaraderie during the ride".
A big thank you should go to Jo Castle of the Diggle Band Club for giving her time to help run the event, to all the Clarion riders who provide support to the riders, to Saddleworth Rotary members for standing on the corners of the streets directing the riders down the correct route, to The Cycle Centre Oldham for providing mechanical and medical support. Also we need to thank Becca an Marilyn for running the feed station which was in great demand for water and the special flapjacks provided by the staff of North Ainley. Finally we must give a big thanks to all the riders who as of today have raised over £1000 for Prostate Cancer UK – once again this is a record amount!
Ride Details for 2018
· Start and finish at Diggle Band Club, Saddleworth, OL3 5PJ
· 25 mile ride on A and B roads, which includes two moderate climbs onto the Pennine Moors
· Half way refreshments/aid point
· Roaming van and for mechanicals and returns to base
· Start time is between 8:30 and 9:30 AM on Sunday the 17th of June
· End of ride hot food, tea and cakes
Requirements
· Road or Hybrid bike in full working order
· Riders must wear helmets to validate insurance cover
Cost for 2018
· On line application £12:50
· On the day £15:00
On-Line Application via the British Cycling Website:
A GREAT FAMILY DAY OUT
It is designed to be a challenge for beginners and intermediate riders who want to get stuck in to this beautiful and worthwhile event.
THE ROUTE: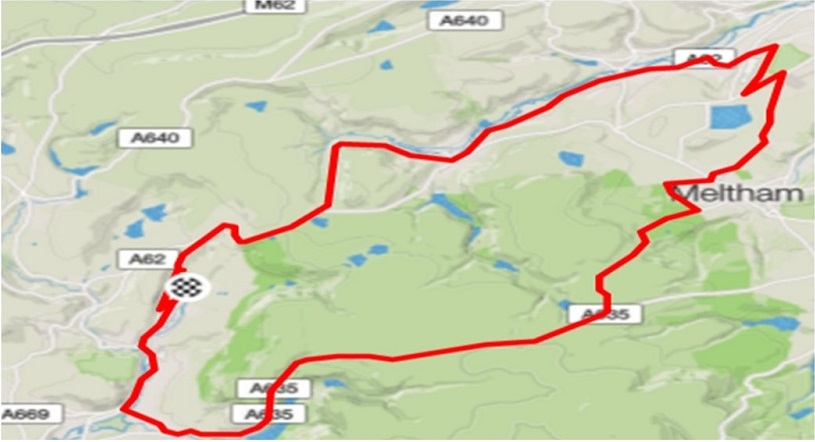 We are delighted to welcome The Cycle Centre Oldham as our partner for The Saddleworth Turnpike Challenge. CycleTech will provide free mechanical support on the day to help you get around the course. They will ONLY charge for parts and will be happy to give advice on bike fit and set up if you need it.
The Cycle Centre Oldham are dedicated to delivering the very best advice and guidance to their customers and are currently offering some great pre-ride discounts. See their web site for more details.