Turnpike Challenge - 18th June 2017
thumbnail page
Turnpike Challenge 2017 will be held on 18th June
Saddleworth Rotary Club Fathers Day Sportive
Cycle ride in Aid of Prostate Cancer
The third Turnpike Challenge Charity Bike ride will be held on the morning of Father's day, 18th June. Once again it is a joint venture between Saddleworth Rotary and Saddleworth Clarion Cycle Club.
In 2016 the weather was kind to the riders and all completed the 25 mile round trip over the tops of the Pennines. Chris Moreman, the event organiser commented that again he was very pleased with the turnout and is looking forward to running the event in 2017.
The ride started and finished at the Diggle Band Club where the returning riders received welcoming hot drinks and a steaming plate of pie and peas provided by Jo Castle. Jon Stocker from Rotary said that the riders really appreciate the hot drinks and food when they finish the ride and also really like the flapjacks at the half way feed station, which were kindly baked by the staff of North Ainley Solicitors.
We also had to thank Paul Smith of Cycle Tech Oldham for giving his time to make any necessary repairs to the bicycles, the Rotarians and volunteers who stewarded and manned the feed station and the Clarion Cyclists who went round with the riders offering support and making sure no one got left behind. Last but not least we would like to thank the riders that turned out with their hard earned cash to support the event, and in some cases had been organised enough to get some valuable sponsorship for their efforts. Special mention to Nigel Hill of Saddleworth Round Table/41 Club. With their help we have raised over £750 for Prostate Cancer UK. Well done to everyone, and see you next year!
Ride Details for 2017
· Start and finish at Diggle Band Club, Saddleworth, OL3 5PJ
· 25 mile ride on A and B roads, which includes two moderate climbs onto the Pennine Moors
· Half way refreshments/aid point
· Roaming van and for mechanicals and returns to base
· Start time is between 8:30 and 9:30 AM on the 18th of June
· End of ride hot food, tea and cakes
Requirements
· Road or Hybrid bike in full working order
· Riders must wear helmets to validate insurance cover
Cost for 2017
· On line application £12:50
· On the day £15:00
On-Line Application via the British Cycling Website:
A GREAT FAMILY DAY OUT
It is designed to be a challenge for beginners and intermediate riders who want to get stuck in to this beautiful and worthwhile event.
THE ROUTE: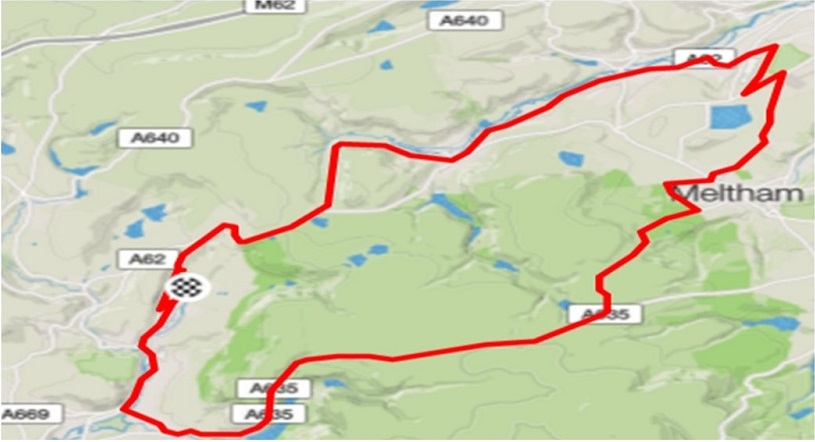 We are delighted to welcome CycleTech Oldham as our partner for The Saddleworth Turnpike Challenge. CycleTech will provide free mechanical support on the day to help you get around the course. They will ONLY charge for parts and will be happy to give advice on bike fit and set up if you need it.
CycleTech Oldham are dedicated to delivering the very best advice and guidance to their customers and are currently offering some great pre-ride discounts. See their web site for more details.
www.cycletecholdham.co.uk/home/special-offers/
Contact Jon Stocker about this page: