Ron Worsdall Outstanding Young Person's Award
Ron Worsdall Young Person's Award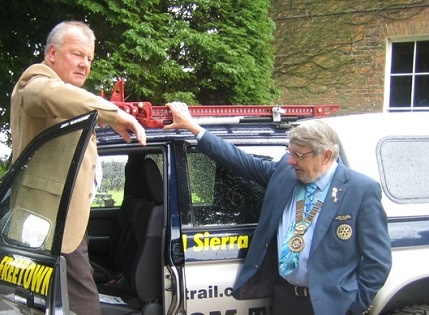 For a number of years, the Club has awarded a sum of money to a local, young person, who has shown exceptional ability and promise in either sport or the Arts.
In 2010, following the sudden death of Ron Worsdall, a former President of the Club an active member, the Award was re-named as the Ron Worsdall Outstanding Young Person's Award in honour of Ron and his contribution to supporting and developing the potential of younger people.
Ron is pictured on the left with the first of five Hull Freedom Trail vehicles, which went to Hull's twin city of Freetown in Sierra Leone in 2007.
Ron made a significant contribution to community projects, and in particular, to projects benefiting young people and was also a former Chair of the Club's Community and Vocational Committee.
In 2015, Ron's widow and honorary member of the Club, Chris Worsdall, presented the Ron Worsdall Outstanding Young Person's Award to Emily Taylor. Emily has a particular talent for singing and won the local Junior Talent Trail. She has performed at charity concerts in front of thousands and sings in a very successful trio.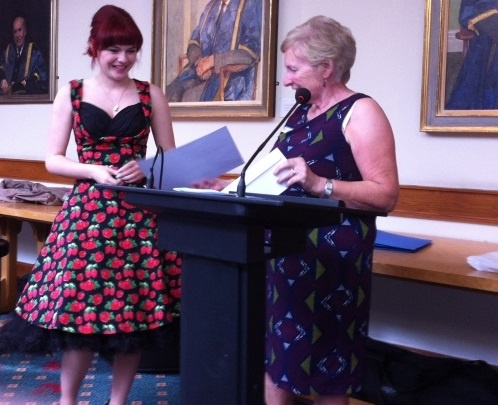 Pictured above is Emily receiving her Award from Chris Worsdall at our 21st anniversary Charter Celebration on 21st June 2015. Emily was awarded the sum of £300.
Congratulations also to the runner-up, sports young person, Christopher Brown.
Previous winners of the Young Person's Award have included Thomas Bertolotti in 2008, who scored the highest mark in the country in his grade 7 cello exam at the age of 13. Thomas subsequently gained his grade 8 with distinction, and the ABRSM Diploma, which is usually only reached by undergraduates. Thomas was selected as a member of the National Youth Orchestra at the age of 15, and was awarded a scholarship to study cello and piano at the Royal Northern College of Music at the age of 16. Thomas has since gone on to study at the Royal Academy of Music and now performs across the country.
Tragically, John Hibbard, close friend of Ron Worsdall, and active member of the Rotary Club of Hull Paragon, also died suddenly on the same day as Ron Worsdall and in his memory the Club organises the John Hibbard Cycle Ride, in which club members get some fresh air and exercise on bicycles on a different route on each occasion but always ending up at somewhere nice for lunch.