History of Rotary International and the Rotary Club of Hull Paragon
Information about Rotary International and the Rotary Club of Hull Paragon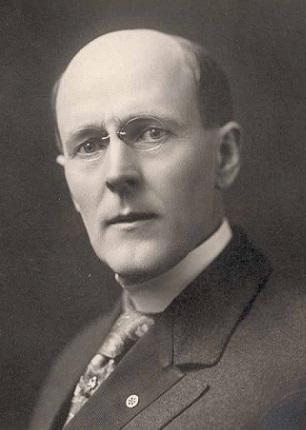 About Rotary International
Rotary International was founded in Chicago, USA by a young attorney, Paul Harris, (pictured) who invited three business friends and colleagues to join him meeting at each others' houses for community and friendship just after 1900 and this laid the foundation stone for Rotary International to develop in 1905 into an organisation, which currently has 1.2 million members around the world, who come together to create positive, lasting change in our communities and around the world.
Our differing occupations, cultures, and countries give us a unique perspective. Our shared passion for service helps us accomplish the remarkable.
Learn more about Rotary's history
HOW DO WE WORK?
Our impact starts with our members - people who work tirelessly with their clubs to solve some of our communities' toughest challenges. Their efforts are supported by Rotary International, our member association, and The Rotary Foundation, which turns generous donations into grants that fund the work of our members and partners around the world. Rotary is led by our members -responsible leaders who help to carry forward our organization's mission and values in their elected roles.
HOW DO WE USE OUR FUNDS?
Responsible leadership means more than just doing good work - it means making the most out of every donation we receive.
WHAT CAUSES DO WE SUPPORT?
We have identified specific causes to target to maximize our local and global impact. At the same time, we understand that each community has its own unique needs and concerns. Through our network of resources and partners, we help clubs focus their service efforts in promoting peace, fighting disease, providing clean water, saving mothers and children, supporting education, and growing local economies.
Learn more about the service projects that support our causes
About the Rotary Club of Hull Paragon
We were established in May 1994 and celebrated our 21st anniversary with our Charter celebration in June 2015.
The Club has always welcomed members irrespective of gender and has a relaxed, informal atmosphere. We still have a number of founder members as current members. Members come from a wide range of backgrounds including education, the legal profession, manufacturing, the service industry, Higher Education, accountancy and engineering.
We are part of Rotary District 1040, which includes other clubs from Hull and the surrounding area and clubs in Yorkshire. We moved into District 1040 when District 1270 was disbanded. We are Rotary Club number 30193.
The Club's structure is led by 'officers' - the President, Secretary and Treasurer, and Chairs of Community and Vocational and International areas. There is also usually a designated member responsible for leading on Rotary Foundation, Membership and retention and Compliance. The officers of the Club change each year with effect from 1st July.
The Club has an annual Charter or Anniversary celebration, which is normally held in June.