NEPAL EARTHQUAKE - Rotary in Action
Rotary GB&I have now set up the RIBI Donations Trust for the Nepal Earthquake appeal.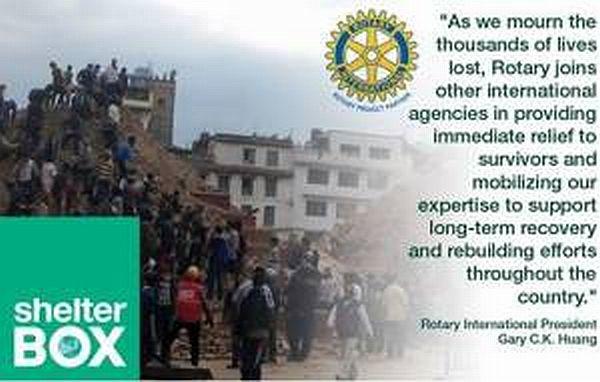 Nepal Compendium of known District projects as of 28.4.15
Please note the following complements the RIBI Donation Trust and the previously announced Nepal Rotary District appeal
D1040 - Stephen Ellis, Rotary Club of York Ainsty, District 1040 International Service Chairman
Tel: 01904 791244, Mobile: 07831 225168, email: stephenjamesellis@hotmail.com
We are now seeing on the media the harrowing scenes of death and destruction unfolding in Nepal, a country heavily supported by several Clubs in District 1040, which will result in hardship for the people of Nepal for the months to come.

The Ilkley Clubs held International collections at the weekend and I am sure many of you will be considering similar events, I would like you all to consider the following statement which I think is very pertinent to our efforts and how we use our resources.

'Like most disasters it is the immediacy that attracts Rotarian's humanitarian thoughts, however often Rotarians can add greater value by working on community focused sustainable projects once the really large charities have reacted and the local population then need assistance to rebuild their lives'

We have Clubs in our District who have been working out there for many years and have contacts on the ground who will tell us exactly what is required to help and make a difference. Mike Bamford is in Nepal at the moment and is OK.
Mike reports that food kitchens are been set up by Rotary and need money to run them, this is an immediate need that Mike can fulfil with the support of the District before he returns on Thursday.

So Rotarians, I am setting up the District 1040 Nepal Appeal to help our friends in Nepal rebuild their lives. If you can help by organising fund raising events over the coming months, or can make an immediate donation into the Appeal from your Club, then please send your cheques to the District Treasurer, payable to 'RI DISTRICT 1040' and marked 'Nepal Appeal' on the reverse.
If individual Rotarians wish to make donations, or Clubs who will be organising fund raising events for members of the public to donate, please refer to Nepal Earthquake Appeal page that has been setup on the District Charitable Trust's site on MyDonate as follows: http://mydonate.bt.com/events/rotary1040/224487
Donations can be made by credit or debit card and MyDonate will claim gift aid automatically on behalf of the Charitable Trust.
This money will be held in the District Charitable Trust Fund until such time as we can identify suitable Projects.

This initiative does not stop you from supporting Shelterbox, Disaster Aid UK and Aquabox who are all at present sending out teams to evaluate the immediate need.

I look forward to your support. Regards Stephen
D1200 Mike Love, - Chairman of the Nepal Trust

I am sure you are all aware of the devastating earthquake that hit Nepal yesterday. We believe the best way to provide immediate support is via water survival boxes.
Humanity First UK will be sending a team to assist in Nepal; they are very experienced and have the necessary permissions to operate in many countries that are prone to disaster. Their teams are specially trained to operate in disaster conditions and have been very effective in managing the distribution of waterworks aid in the past.
WorldWaterWorks have offered Humanity First the bulk of their existing stock of water survival boxes. Each Grifaid Aquafilter will deliver up to 100,000 litres of potable water. Although designed for a family of five for up to five years, in this situation they could be used for much larger numbers over a shorter time.
The boxes are ready for despatch but require funding to get them air freighted to Nepal. The average shipping price per box is around £35. If we can help with the funding, WorldWaterWorks hope to have a consignment of 200 boxes ready for shipment early next week.
Are you able to make a donation to assist in this vital aid work? If so, please donate via the bank details below, with 'Nepal disaster' as the reference. Please circulate to anyone else you think may be able to help. Online donations can also be made via www.worldwaterworks.org
Bank: CAF Bank, West Malling, Kent, England
Bank Code: 40-52-40
Account: Worldwaterworks Ltd
A/C No: 00020591
Donations from outside Great Britain should include:
IBAN: GB48MIDL40053072138549
SWIFT: MIDLGB2141W
D1200 - Hugo Pike, Director of Operations, Worldwaterworks Ltd, Chelwood Bridge Rotary
NEPAL EARTHQUAKE DISASTER – WATER-SURVIVAL BOX APPEAL – MATCHED FUNDINGAs of midday today, 28 April, Worldwaterworks Limited has been accepted as one of the charities for which matched funding will now be available to donations intended to support our appeal for the Nepal Earthquake Disaster. You can access the online donation site at https://secure.thebiggive.org.uk/projects/view/22821&run-search&search=a5a57e69-fa55-4d43-bd38-770dd15ff866 or via our website www.worldwaterworks.org
We currently have 500 boxes ready to go to Kathmandu as soon as we get the green light from our partner aid agency – Humanity First UK whose 12 strong medical/logistics team leave Heathrow for Nepal this evening. Please note that matched funds will be limited and at some point will be exhausted. However, this is a great opportunity to 'double your money' and help us to raise funds to send more Water-Survival Boxes to Nepal.
From – James Lovatt, RotaryGBI Secretariat's Newsletter
International Service: Nepal Earthquake Appeal
Following the tragic earthquake that hit Nepal this weekend, Rotary International in Great Britain and Ireland has pledged its support to help victims with long term support.
Rotary's Donation Trust has been set up for the Nepal Earthquake Appeal, which will provide support for sustainable community projects once the immediate emergency has been dealt with.
How to donate
If you would like to support the Nepal Earthquake Appeal, you can:
• Use our online payment option through our BTmyDonate website
• Send a cheque, payable to RIBI Donations Trust, to: RIBI, Kinwarton Road, Alcester, B49 6PB.
Additionally the International Service Committee's monthly newsletter features our Kenya Crop Appeal, Eye Surgery in Calcutta, Medair as well as other topics of interest. It may be downloaded here anytime - please be aware the May Newsletter was produced prior to the Nepal Earthquake, hence the separate appeal for both the public and members above.
D1290 - John James, DISC 2014-15, john@jamesgulval.plus.com
Following the terrible earthquake in Nepal, I know many clubs will want to see what they can do to help, especially as many of us have close links with clubs in Kathmandu. The situation is fast-moving, but so far:
· A Shelterbox team is already in Nepal. A small stock of boxes is already in Kathmandu, but more boxes will be needed.
· Three Rotary Districts in India are also sending disaster relief teams to the country.
· Note from David Jones (RC Hayle): If any club wants to give an immediate donation of £100 (or more), we can do this via the District Foundation account (this won't count as a Foundation donation) and the money will be sent directly to RC Kathmandu Midtown. A/C "Rotary District 1290 NGS", Barclays Bank St Austell, Sort code 20-74-20, A/C No. 73588181, or send a cheque via Rtn Paul Brocklebank, New Park Lodge, New Park, Wadebridge, PL27 7PL
· Water Survival Boxes have sent this message. Humanity First UK (one of our regular aid agencies) are considering sending a team to assist. We have offered the bulk of our current stock of packed Water-Survival Boxes (providing they can cover the cost of air freight). We expect a decision from HFUK in the next day or so. The alternative route would be via Rotary District 3292 that includes Nepal. Funds are urgently needed to cover the cost of air freight for the existing stock and to pay for more boxes that may well be requested given the scale of this disaster. Donations can be made by bank transfer to: Account: Worldwaterworks Ltd; Bank: CAF Bank, West Malling, Kent, England; Sort Code 40-52-40; A/C No: 00020591
· Aquabox have boxes in District 3292 and they will be distributed immediately. 180 Aquabox Golds and 20 Community Filters have been released to the Devon and Somerset Fire Brigade who have close contacts with Nepal and are sending a team out to assist.. Aquabox also have contact with the Ghurkha regiment who have distributed boxes in the past. More boxes are available and more are being packed subject to funding.
· However, please note: Like most disasters it is the immediacy that attracts Rotarians' humanitarian thoughts; however Rotarians can often add greater value by working on community need sustainable projects once the really large reactive charities have assisted and the local population need assistance to rebuild their lives.
· Rotary GB&I have now set up the RIBI Donations Trust for the Nepal Earthquake appeal. This is for the long term, sustainable community projects we will support once the immediate emergency has been dealt with. Donations can be sent to Elisabeth Tritschler at Alcester or: online through our BTmydonate page https://mydonate.bt.com/events/rotarynepal/224458
From - WaterAid, Girish Menon, Director of International Programmes wateraid@wateraidukmail.org
The epicentre of the quake was the Gorkha district, where our work is concentrated. With aftershocks continuing, people are sleeping out in the open and electricity and water supplies have been badly affected.We are assessing the damage on the ground as we speak and will know the extent of the damage over the next few days.

We know that in disaster situations, it's crucial that people can access safe water and that human waste is safely disposed of. Without these measures, outbreaks of diarrhoea, cholera and typhoid can pose a serious risk to survivors long after the tremors have stopped. This is why we must act immediately.

Our first priority is to work with our partners to assess what is most needed in the communities where we work. This is likely to include emergency water supplies, hygiene kits, water purification tablets and emergency trenches for sanitation. WaterAid is not an emergency response organisation. However, we do respond when disasters affect the communities we work with directly, and when our local partners on the ground are ready and able to take action. Thankfully all our local staff are safe. The situation is changing by the hour.
D1150 – Brynmawr Rotary's Lifestaws via Facebook
2000 personal Lifestraws and 80 family units left our storage facilities heading for RAF Lyneham this evening (April 28th) for delivery to Nepal via 244 Signals Squadron. We have a Vestergard representative in Nepal to assess the situation to ensure questions and representations can be sorted out if needed. If you wish to assist with a financial donation to enable us to send out further consignments. Cheques should be made out to RC Brynmawr Water Projects and sent to Lifestraw - RC Brynmawr Offices. 7 Market Square. Brynmawr. Blaenau Gwent NP23 4AJ