OVER 7,000 'WALK THE WIGHT'...........
Sunday 10th May saw fine weather help thousands walk across the Island raising funds for the Earl Mountbatten Hospice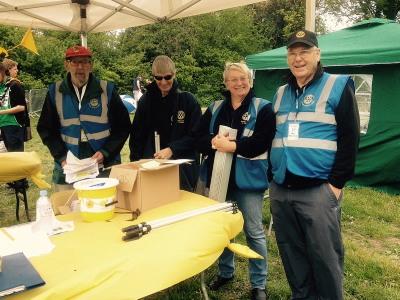 Rotary Club of Cowes organised the Carisbrooke Check Point for the annual Walk The Wight event which covers 27 miles from Bembridge to the Needles. On the day participants were registered, time cards marked and vehicles/buses marshalled at the Drop Off/Pick Up point. The event raises over £250,000 for the Earl Mountbatten Hospice.
The Rotary Team, consisting of Jamie, who arranged the whole day for the Club, Max, Mike, Patrick, Lesley, Barry, Jane, Tony, Keith, John, Simon, Bob and David, was in place by 7 a.m. and all were kept busy until 2.30 p.m. when the site was dismantled and the last weary walker having moved on or departed back to Newport by bus.
The Rotary Team even had its own Tea Truck for the day supplied by Barry & Lesley.