Rotary Fellowship Malt
.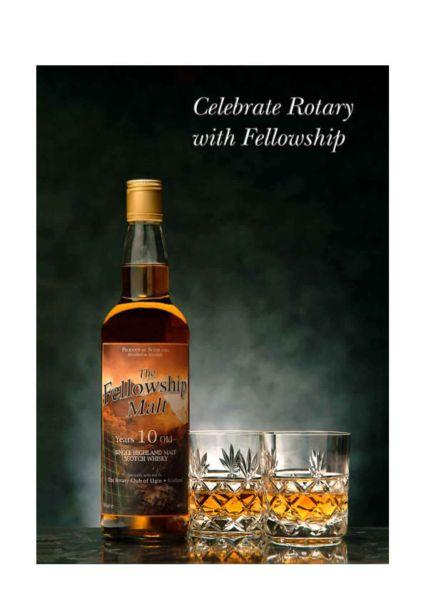 The Rotary Club of Elgin has been successfully promoting the sale of a 10 year old Speyside single malt Whisky for some 12 years and has generated over £40,000 with all commissions going to Rotary Foundation to support the End Polio campaign. This will have covered the cost of over 100,000 inoculations against polio.
Whilst there will always be special offers available in supermarkets, we at the Elgin Club have intentionally priced the Fellowship Malt very competitively offering a top quality 10 year old Speyside single malt at an excellent price of £29.50.
Presentation tubes for the bottles of Fellowship Malt are also available so for just £30.00 you can purchase a quality Whisky in a beautiful Gift tube.
Click here to order on line direct from our suppliers or email "fellowship@elgin-rotary.org"
What is 'The Rotary Malt'
In the 2001 – 2002 Rotary year, in the time of President James Clark, 'The Rotary Malt' was launched upon the world to generate profits per bottle for the benefit of the Rotary Foundation.
This was after much research and planning led by Past President Glen Elliot who obtained District approval for the whisky – he auctioned the very first bottle at a District Meeting in Aberdeen .
Move the clock on, on 1 July 2003 – a quiet summer led to an edict to me by email in the month of September from The Legal Department of RI in Evanston instructing the Elgin Club to cease trading 'the Rotary Malt' immediately. The Rotary wheel emblem had been exhibited on the bottle label, the word 'Rotary' was printed in the labels as was the word 'Foundation' all of which RI owned as Intellectual Property ie Trade Marks, and these could not be used without approval in the form of a licence granted by RI.
Then we discovered that we would not be allowed to buy a licence as RI does not issue licences on alcoholic beverages - our national drink was being attacked from on very high in a far off land and, lo, that did not please anyone in the Elgin Club!
So The Fellowship Malt was born – no Rotary wheel but the wording and labels have the approval of On High in the far off land– and we can sell the whisky where we want.
The Rotary Malt is technically an illegal product and returning to that name certainly has a lot of attraction as it remains the desirable name.
To change the name, web site, order forms etc. would cost in the order £1000 so I for one would rather use that £1000 for charitable purposes rather than spend on a rebranding, especially at a time when the number of bottles being sold per annum is slowly shrinking.
****PLEASE NOTE*****
The Fellowship Malt team in the Elgin club have some important news : our supplier of 'Fellowship' has decided to stop all their operations involving private labelling of their single malt whisky. And that means The Fellowship Malt ! Rather drastic news : there is limited stock available for ordering in the normal way up until the end of September 2018: supplies will continue to be delivered in cases of 6 bottles free of cost to the UK mainland until that date or until stocks sell out. The bottle price will remain at £29.50: if presentation tubes are requested, a further £1 per tube needs to be added: tube numbers are also limited.
We are in the process of contacting our regular customers as a first priority: our advice for anyone wishing supplies of 'Fellowship' is to act quickly and orders will be fulfilled as long as stocks last.
We must thank everyone who has supported the Fellowship Malt project over the past 14 years : this is greatly appreciated by everyone associated with the 'Fellowship' project. And, as you will know, thousands of inoculations against Polio have been purchased through your orders and our final sales will support another push against Polio.